As a growing proportion of aircraft operational data is moved to cabin connectivity and terrestrial cellular networks, and as expectations grow for enhanced safety services applications, the price for safety services via satellite will require review, Inmarsat has intimated.
"For years, the thing that we called safety services were underpinned by operational data. The split is roughly 80/20, operational data and safety services," said Inmarsat SVP of airline and operational services John Broughton. Safety services include transmitting ACARS, FANS, safety voice and other cockpit comms functionality.
But in a paradigm where ops data is increasingly migrated to other networks — think airplane health monitoring, real-time electronic flight bag applications, and credit card transactions — then, asked Broughton, "how does the industry support safety services on a revenue basis which, just viewed in a small thing in itself, may look like it's starting to shrink?"
"How the industry pays for safety services, and the increasing performance it needs for safety services, is one of the dynamics which will be playing out in the next number of years," added the Inmarsat executive.
Over 12,000 aircraft use Inmarsat's Classic Aero safety service over oceans when industry is not grappling with a global pandemic. Pricing satcom for safety services is a delicate dance. When Inmarsat contemplated a price hike of its Classic Aero service in 2016 — in the context of a gradual migration to its nextgen SwiftBroadband-Safety service — it met with some industry opposition. Executives warned of the "moral" implications of such a move in part because, at that time, buildout of the Iridium NEXT constellation had been delayed due to rocket problems, leading to concerns about a potential lack of competition in the market.
Classic Aero services are accessible over both Inmarsat's I-3 and I-4 satellite systems, while SwiftBroadband-Safety is provided over the newer I-4 constellation.
While legacy Iridium satcom systems support some safety services, Iridium's nextgen Certus service operating over NEXT satellites is now expected to be recommended for safety services in 2021. Certus solutions have been positioned as less costly than those supporting Inmarsat's Classic Aero and nextgen SwiftBroadband-Safety services, though Broughton said things viewed on graphs "always seem to cost less than real terminals".
"I tend not to comment on other people's claims, let's see what happens if and when service hits the marketplace."
Broughton believes a dual-dissimilar approach to safety service operations — whereby both Inmarsat and Iridium L-band are exploited, allowing operators to remove an HF system — will increasingly become standard. "If you look at what the industry is doing, the industry's expectations around the performance of systems and the availability of systems, particularly when the step is made to finally move way from HF, I think the only way you can meet those requirements is a dual-dissimilar system."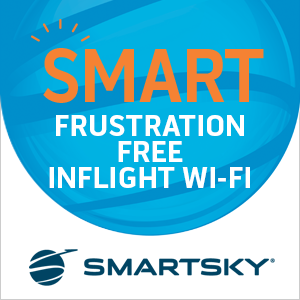 But in terms of pricing safety services in particular, for Inmarsat, "one of the things that comes with being the thought leader is occasionally you've got to take on these industry level problems, these tough issues that need to be faced and addressed", said Broughton.
So when you compare what these services cost airlines to the utility they deliver "you always come back to the price of safety services to the airlines is absolutely minuscule compared to the benefits they deliver, in terms of flying routes efficiently, and packing airplanes ever tighter in the big oceanic corridors", he said.
The core benefit of safety services hasn't gone away but services "like Iris" — the satellite-based datalink communications solution which aims to relieve pressure on congested VHF radio links in Europe — are "increasing its scope beyond oceans to intercontinental operations". There is also a cost associated with meeting stringent cyber security requirements. Iris is capable of allowing aircraft to be pinpointed in four dimensions, known as four dimensional (4D) operations, which include latitude, longitude, altitude and time.
"We come back to that core … and realize these services over satellite is a bargain compared to what they deliver," said Broughton.
Related Articles: