When will electronically steerable antennas be ready for primetime in commercial aviation? COVID has kicked the proverbial can down the road a bit. And according to a growing number of inflight connectivity stakeholders, meaningful industry adoption is still years away.
Hughes
Hughes Network Systems has an interesting position in the discussion. Under an agreement forged late last year with LEO satellite operator OneWeb, Hughes is to develop and manufacture the core module for OneWeb user terminals – for both electronically and mechanically steered antennas – including for the aero market and other verticals.
Company vice president Reza Rasoulian told Runway Girl Network that while ESA technology "continues to get better and better" and will likely be beneficial to the aero ecosystem in time, Hughes expects them to be fielded "over the next three to five years".
We are eager to add ESAs to our toolkit to help airlines achieve their connectivity needs. We don't really see any solution in the near-term. There are still some challenges that folks are trying to solve.
Flat panel antennas with a mechanical component, such as ThinKom Solutions' VICTS antennas, offer big promise, however. According to Rasoulian, Hughes has seen "rock solid results" with the GDC Technics-developed Falcon 300 terminal for Texas-based Hillwood Airways, a system that builds on ThinKom's Ka2517 antenna and is paired with Kontron wifi and media server elements. Hughes' Ka-band GEO satellites power the service.
"The Hillwood aircraft has been flying on our network for close to a year now and we're seeing fantastic performance," Rasoulian confided earlier this year.
That also bodes well for the new Inmarsat/Hughes GX+ North America solution, which uses a GDC Technics terminal comprising the Ka2517 antenna and Kontron hardware.
Inmarsat
Indeed, Inmarsat is positioning GDC's new terminal – with ThinKom VICTS – as not just an integral part of GX+ North America, but a global solution for global GX transmissions, available alongside Honeywell's mechanically-steered JetWave hardware for GX.
"In the long term, ESA antennas are expected to become the standard for the industry, however the date by which a cost effective, highly functional ESA solution will be available continues to move to the right. We continuously work with antenna providers, including of ESA solutions, to test these solutions on the Inmarsat networks," said Inmarsat Aviation SVP, inflight business Niels Steenstrup.
Honeywell
For its part, Honeywell wants to be out in front of developments in electronically steerable antennas for aviation, especially given the build-out of low-latency LEO and MEO constellations but the hardware has got to have the right size, power and cost.
"We're not quite sure that it's ready yet but it matures every year," said Honeywell vice president and general manager, aerospace and connectivity services John Peterson, noting that Honeywell has some of the best RF people in the world.
What we're doing is being very careful to make sure that any hardware investments that we make have to maximize the most market that can be captured. That's the responsibility of any prudent investor in hardware.
Honeywell isn't precluded from working with other ESA providers, with Peterson noting that the firm "has a couple of things that are secret sauces and one of them is our software. Our ability to track and locate and switch … and we also have a lot of really good software with routing and with managing networks specific and unique to aviation. It's not unusual for us to see ourselves as a software industrial company."
With the right ESA hardware, Honeywell could be "an amazing software integrator and someone else could manage the hardware. That's not unusual for us these days."
Gogo
Intelsat-owned Gogo Commercial Aviation sees a similar timeline for the introduction of viable ESAs in aero.
The entire industry sees ESAs as "the next logical step" in antenna evolution, Gogo Commercial Aviation president John Wade told RGN in December 2020, "but we believe they've got quite a long ways to go before they're going to be ready for primetime, and even then they won't be able to offer the same level of performance that we can get from ThinKom's antennas that we use for 2Ku."
He continued:
So we think the timeline is longer than … is a little further away than the guys making the antennas, at least, would have us believe. And it's not just a question of is it available, but it's a question of what's the reliability? What is the RF performance, etc.?

We're seeing incredible performance from the ThinKom antennas today. They've always performed extremely well in terms of their RF performance. But now their on-wing reliability is huge. It's measured in hundreds of thousands of hours now. You're very aware we went through the deicing issue a few years ago. And all the lessons we learned from that means we've now got antennas which perform better than any antenna I can think of.
Gogo famously white labeled the Ku-band version of ThinKom's VICTS antenna as Gogo 2Ku. It is interesting that 2Ku will compete with GX+ North America (as well as GX globally), each with hardware from ThinKom.
It is often assumed that business aircraft operators will be the first to adopt ESA antenna architecture, but Wade thinks we might see ESAs "emerging first on larger commercial transports" given the limited fuselage space on most business aircraft, though he allows that he could be proven wrong.
The Gogo Commercial Aviation president added: "I don't know which aircraft would take advantage of it first, but I think the industry is aligned that whoever leads the way in terms of the flurry of people that are developing the ESAs, there will be two or three that stand ahead of the rest…"
Qest
Management at antennamaker Qest disagree with Wade's prediction vis-à-vis where ESAs will first emerge in aviation. In an interview with RGN, Qest chief commercial officer Michael Stobinski and CTO Michael Seifried suggested that phased array antennas for LEO and MEO constellations will initially enable connectivity on smaller sized regional jets and business jets.
Large bizjets have tail-mount or fuselage-mount, but a huge number of smaller bizjets only have L-band connectivity today, especially outside of North America. "The big strength of LEO systems will be getting the terminals small and really efficient. That's the big selling point of them in the end."
Qest's next generation Ka-band antenna is mechanically-steered, but the company is keeping its fingers in the ESA pie as well, recently forming a sister company to advance its phased array work. Noting that readiness "really depends on when LEO constellations are ready", Seifried shared his personal opinion that ESA readiness for aero will take at least two years, maybe more.
The Qest executives also weighed in on rival ThinKom's Ka2517 antenna, suggesting it might be good for the United States, but doubting it's a good and efficient international terminal "at least from what we know from requirements which come to us from satellite operators".
That doesn't mesh with ThinKom's experience.
"[We] wish to point out that the likes of Gogo, and (more recently) Inmarsat, Hughes, Thales, and (soon to be disclosed) others have diligently evaluated the full-range of available (and even 'soon to be available') IFC antennas and suppliers, including the full spectrum of phased-array and gimbaled flat-plate antenna technologies," said ThinKom CTO Bill Milroy.
"Based on their findings, and including all of the key IFC-specific metrics including price, performance, size, reliability, power consumption, coverage, GSO/NGSO interoperability, Satellite OPEX, weight/drag/fuel-burn, etc., they've ultimately chosen to go with ThinKom."
SmartSky
Phasor Solutions, which was acquired out of bankruptcy by Hanwha Systems, is widely assumed to be among the top aero ESA contenders. The former CEO of Phasor, David Helfgott, is now the CEO of SmartSky Networks.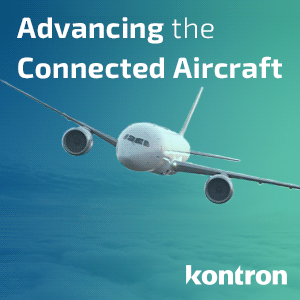 While ESAs aren't specifically relevant to SmartSky's nextgen air-to-ground (ATG) inflight connectivity solution, the company tracks adjacent technologies. For the uninitiated, passive arrays are lower cost, and lower performing. "They don't beam form as accurately, they don't scan as accurately. That makes them ill-suited to aviation for sure because you have adjacent satellite interference, and the gain of the satcom bandwidth is poor," Helfgott explained.
Active arrays, meanwhile, such as from the likes of SatixFy, Collins Aerospace and Phasor tend to be chip-based, actively scanned arrays. Usually, they offer higher performance "but they tend to be more expensive and more power consumptive so the trick is can these type of antennas come down fast enough", he noted.
So a compromise is ThinKom's flat-panel VICTS, he said, noting that VICTS is very good technology, but heavy so you wouldn't equip it to a classic business jet, for instance.
NXTCOMM
A new flat-panel antenna maker on the scene, NXTCOMM acknowledged the challenges of cracking into aviation with ESAs when GEO satellite constellations are powering most IFC solutions. But perhaps unsurprisingly, the company takes a rosier view of the ESA market for commercial aviation, though it's focusing its efforts on defense in the near-term.
"IFEC stakeholders more likely believe that ESAs may not be the right product to support GEO constellations for the right price. I'd expect today's ESAs to be cost competitive to mechanically steered antennas with higher reliability. The ESAs promised in the last decade never delivered on their promises, and their poor aperture efficiency only made the potential offerings significantly larger than what NXTCOMM envisions bringing to market. Larger sized ESAs almost always equate to more cost, and lower reliability as well," suggested NXTCOMM chief commercial officer Stephen Newell.
"The same IFC stakeholders now see LEOs on the horizon, and that revolution cannot be unlocked with the current crop of mechanically steered antennas. LEO networks complement ESAs, allowing for smaller antennas and more bandwidth. All the IFEC providers see this conundrum: LEOs will be awesome but aren't here yet, and they've built out huge networks and deployed thousands of antennas for GEO networks."
For now, however, it would seem that ThinKom's VICTS is sitting pretty.
Related Articles: