Designing "third places" for passenger experience will continue to grow in importance, especially with an increasing post-COVID premium leisure market for many airlines. Virgin Atlantic proposes a cosy spot for two, with space for romantic tête-à-têtes, tastings of cognac or wine, and private dining on its new leisure-market A350s.
Enter The Booth, a two-person space created by the airline and design partner Factorydesign, and which is part of Virgin's latest push into the premium leisure market. Resembling, well, a booth — in a fashionably dark corner of an upmarket restaurant more than a chintzy diner, natch — it's located right next to the forward Upper Class galley on Virgin's leisure fleet, based out of London's second airport, Gatwick, and also serving leisure markets from Manchester and Glasgow. 
These fleets have always been very light on business class: the Boeing 747-400s that the A350s replace had Upper Class only in the nose zone, together with a two-seater bar. Here, there are only four rows of the new Safran Cirrus NG seats, stretching about a third of the way back through the first zone of the aircraft.
Critically, that means that The Loft, the multipurpose lounging space for Upper Class on the Heathrow-based business-heavy routes, would have to sit between premium economy and economy. That would be, as passenger experience designers might describe it in technical terms, 'weird'.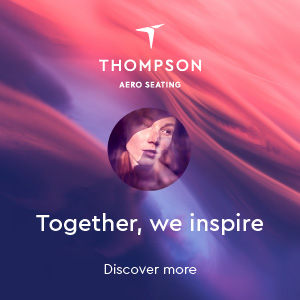 In essence, The Booth nestles into the space immediately behind door 1L at the front of the aircraft, next to the main Upper Class galley kitchen ahead of the four rows of Virgin's new business seating.
The space is free because with just 16 business class seats, the airline doesn't exactly need the lavatory that is found there on Virgin's other A350 configuration, the one that flies to business-heavy routes out of Heathrow.
(In a pinch, we imagine that Upper Class passengers can pick their way through the seven rows of premium economy to the bank of six — yes, six! — lavs that surround doors 2 between premium economy and regular economy.)
Inside The Booth, Virgin plans to offer wine tastings from The Uncommon, which it calls "the UK's number one producer of wine in a can", and which anyone Googling should note needs to be distinguished from a US maker of Arbor Mist-style fruit-flavoured wine coolers with a similar name. The Uncommon and Virgin promise that there will be three choices: English White, Rose and a Spritzer — there's both a white and a rosé in their range.
If rosé in a tin sounds a bit too @loveofhuns for your liking, there's also a tasting of proper French Cognac from Maison Delamain, partner dining, and the option of some old-school playing cards.
Introducing the Booth experiences, available in Upper Class on our leisure fleet of A350 aircraft 😍

We've got something on offer to suit everyone, including sampling leading English wines from The Uncommon. pic.twitter.com/EVOjb8vtUs

— virginatlantic (@VirginAtlantic) April 1, 2022
The partner dining, though, highlights one of the tradeoffs of Virgin's new seat compared with its 2003 classic: on the older seat, the ottoman had a seatbelt so that partner dining was available to everyone.
And, on the one hand, it's a little sad that Virgin Atlantic doesn't have a proper bar or lounge space: one of the pleasures of flying with them has always been sidling up to the bar for a lovely chat with the crew and a glass of something delightful. 
But on the other hand, it's hard to give over the amount of space required at the front of the aircraft — optimised as it is for galley space — to a full bar with seating. 
Overall, it's great to see Virgin keeping a third space on board its new planes. But could some sort of compromise, like The Booth plus an installation of Collins' M-Flex, create something that meets all those needs?
Related Articles:
All images credited to Virgin Atlantic