STG Aerospace, a long-time manufacturer of LED cabin lighting and emergency floor path marking technology for aircraft, has stayed busy with retrofit projects this year, even as the COVID-19 crisis continues to hammer aviation.
A lot of aircraft are changing hands amid the pandemic, and aged aircraft from Western Europe are moving to eastern European operators. That creates opportunities for UK-headquartered STG to assist carriers in enhancing their cabins with its cost-effective LED ambient lighting retrofit solutions, including the company's programmable blue/white system for Boeing 737 and 757 twinjets, and its configurable full-color system for Airbus A320, A330 and A340 families.
Modifying an entire aircraft with STG's liTeMood-branded plug-and-play units can be accomplished in a routine overnight stop.
"[T]he whole cabin is completely transformed and if the airline doesn't like it or wants to change the colors, they can do that on the aircraft within 20 minutes. That gives you the modularity, and it harmonizes older aircraft with the latest deliveries they get from Airbus and Boeing," said Pierre Michard, business unit director of electrical products at STG.
"A typical customer for us would have a mixed fleet of Airbus A320neos and classics and we'd upgrade the older aircraft to match that new fleet and offer a consistent experience to passengers."
STG's liTeMood LED lighting for the 737, meanwhile, can match the Boeing Sky Interior's exact color delivered from retrofit, he said. In short, mood lighting can be a quick and easy way to avoid vanilla PaxEx.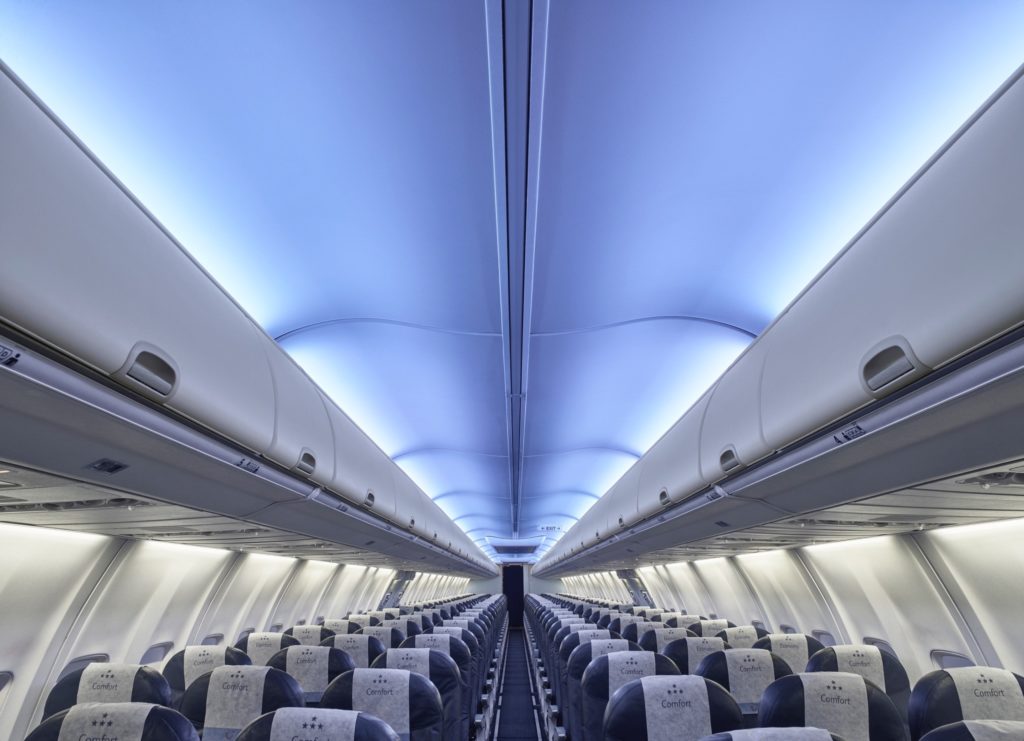 Installing liTeMood is considered a minor change for aircraft. As such, the vast majority of aircraft lessors don't ask to remove the system when an already-equipped jet moves to another operator, Michard told Runway Girl Network.
"We usually see the aircraft transition as an opportunity to engage with the next airline because [liTeMood] can be reprogrammed or reconfigured without any hardware removal," he said, noting that liTeMood allows airlines to put their own branding on a cabin without even having to change the carpet or the seat covers.
The end result is that STG "had quite a decent 2021" and is even recruiting again, offering prospective employees the option of a hybrid structure that doesn't require them to be on-site 100% of the time. "We embraced hybrid working from the start, and that's helped us attract new talent, especially the younger generation who embrace quality of life," said the STG executive.
Introducing Universal Lighting
Drawing on its extensive experience of retrofitting liTeMood to Airbus and Boeing aircraft, STG is now gearing up to unveil a new platform-agnostic Universal Lighting product family that, in effect, segments a lighting system.
Each segment is capable of behaving independently in terms of intensity and color transition, enabling operators to have multiple dynamic lighting profiles and scenarios, including across different cabin classes. As such, airlines can offer a more personalized experience to passengers without requiring a major aircraft modification.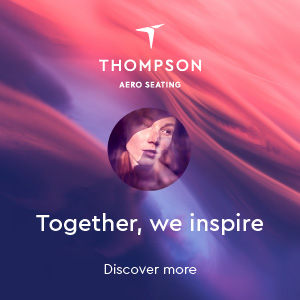 In contrast to its liTeMood retrofit work, the thrust of what STG is doing with Universal Lighting is "very much focused on the Tier 1 market" and that includes both buyer furnished equipment (BFE) and supplier furnished equipment (SFE) products. Universal Lighting is "primarily aimed at OEMs and monument interior integrators", noted Michard.
The first member of the Universal Lighting family is already available today, but the full suite — and more details — will be revealed at next year's Aircraft Interiors Expo in Hamburg.
The Universal Lighting family "is perfect" for addressing narrowbody longhaul trends, said Michard. Even in high-density layouts "you can still have all that dynamic lighting to provide a premium experience".
Related Articles:
All images credited to STG Aerospace