Flying on Air Canada from Frankfurt to Toronto, as part of a multi-leg junket, gave me the opportunity to experience the carrier's Signature Class cabin, formerly known as International Business Class.
Arriving in Frankfurt after a Lufthansa flight from Dubai, the Air Canada experience started in a lengthy security line for connecting passengers. It took almost an hour to get through, and may have gone faster were the business class priority line not closed. Boarding began on time and went smoothly despite a COVID-19 document check. Travel on Air Canada requires proof of vaccination, including for transit passengers, which I appreciate.
I settled into seat 9K aboard the Boeing 777, the first row of the aft business class cabin. A bag on the seat cushion contained a pillow, duvet, and heavy blanket. A pair of noise-canceling headphones, bottle of water, amenity kit, and COVID-19 sanitary kit greeted me on the seat's counter surface. The purser handed out menus and took orders. There was no preflight beverage service.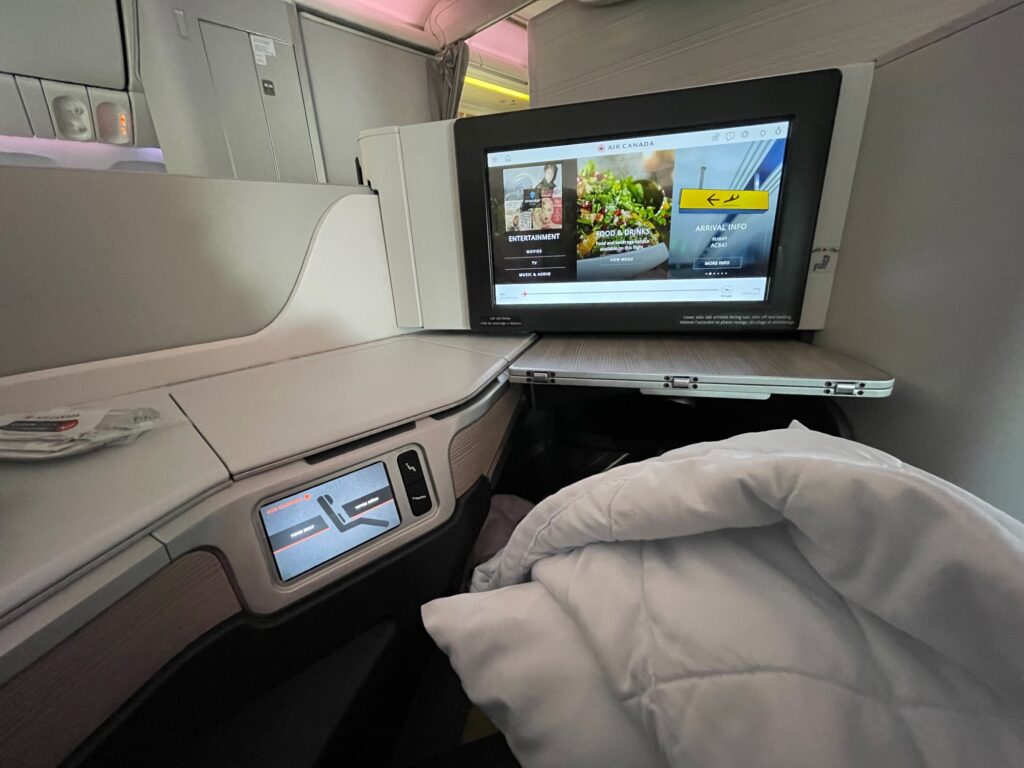 Air Canada's Signature Class uses the popular Collins Aerospace Super Diamond seat in a 1-2-1 reverse herringbone layout. It's one my favorite seats in my favorite layout, so I was excited to try the carrier's take on it.
For the most part it's a pretty off-the-shelf iteration, but that isn't a bad thing to me. Each seat has an adjustable reading light, adjustable armrest, and a surprisingly large footwell. There's a small counter storage compartment, which houses a tethered IFE remote, international power outlet, USB port and headphone jack. It also has enough space to store smaller personal items like passports or phones.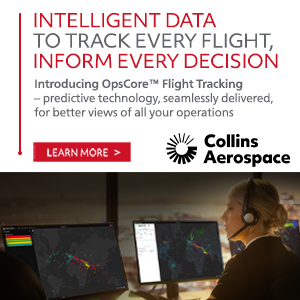 There is also a small open storage area under the armrest. It's deep but not private, and thus was great for the steady flow of water bottles being handed out, but not for much else. A large divider could've been raised to separate me from the adjoining interior seat, but it was empty so I kept it down.
Unfortunately first impressions, once seated, revealed a problem. Immediately I could feel metal bars sticking into my back. Apparently the pad inside the seat had been punctured and thus deflated at some point. I flagged the issue to the flight crew, who noted the seat could not be fixed here in Frankfurt. Luckily, the cabin was half full, and they simply moved me across the aisle to an empty interior seat instead. I thought no more of it.
Once relocated into a working seat, I could play a bit more with its functions. Two buttons controlled the main up/down presets, while a five-inch touchscreen allowed for considerably more customization. You could adjust anything from lumbar support to headrest location, plus footrest placement and mattress firmness.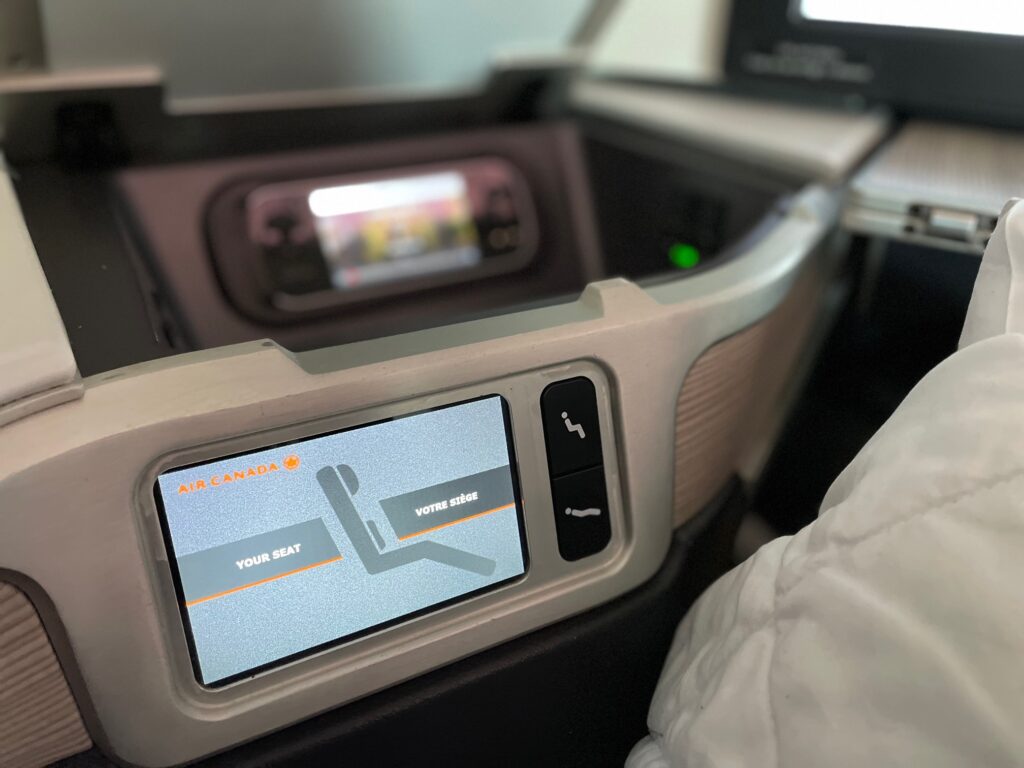 That same touchscreen also controlled other functions, including space lighting, service preferences (do not disturb), and others.
I settled into a movie moments after takeoff, which looked fantastic on the seat's crisp, 18-inch HD screen. The well-stocked Panasonic Avionics eX3-powered inflight entertainment system was, much like the outbound flight in economy, a big winner. It boasted a large selection of titles and TV, with great responsiveness and a fun moving map app.
It could be controlled via the touchscreen or by the aforementioned tethered remote. One of the plusses is you can juggle content between the two, say for watching a movie on the big screen but keeping the moving map handy on the remote's mini screen.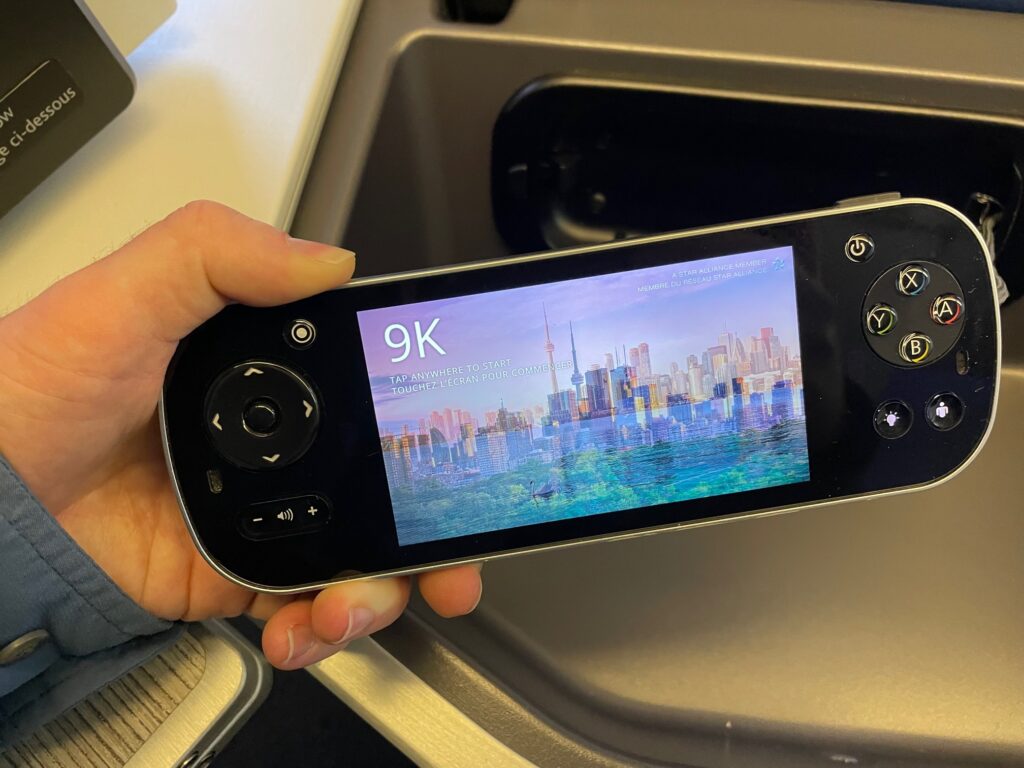 The airline-provided headphones were fine, but were annoyingly collected a full 30 minutes before landing. Crews exchanged them for single-use corded ear buds, which I guess meant I could finish my movie but also seemed like a huge waste of materials.
Wi-Fi was available via Intelsat's 2Ku system, and was available for surprisingly low rates. Choices included a basic browse option and two streaming options (fast and faster). Each of the three was available in hour-long, flight-long, and day-of-use passes if you happened to have a connecting flight. Prices started at $9CAD and went up to $35. I didn't try it on this flight, but speeds on other Air Canada flights suggested it worked very well.
The first of two meal services began shortly after departure. A large, 17-inch bi-fold table slides down from near the screen, offering plenty of real estate to eat or work or both. Drinks were offered alongside a starter of lentils and salmon.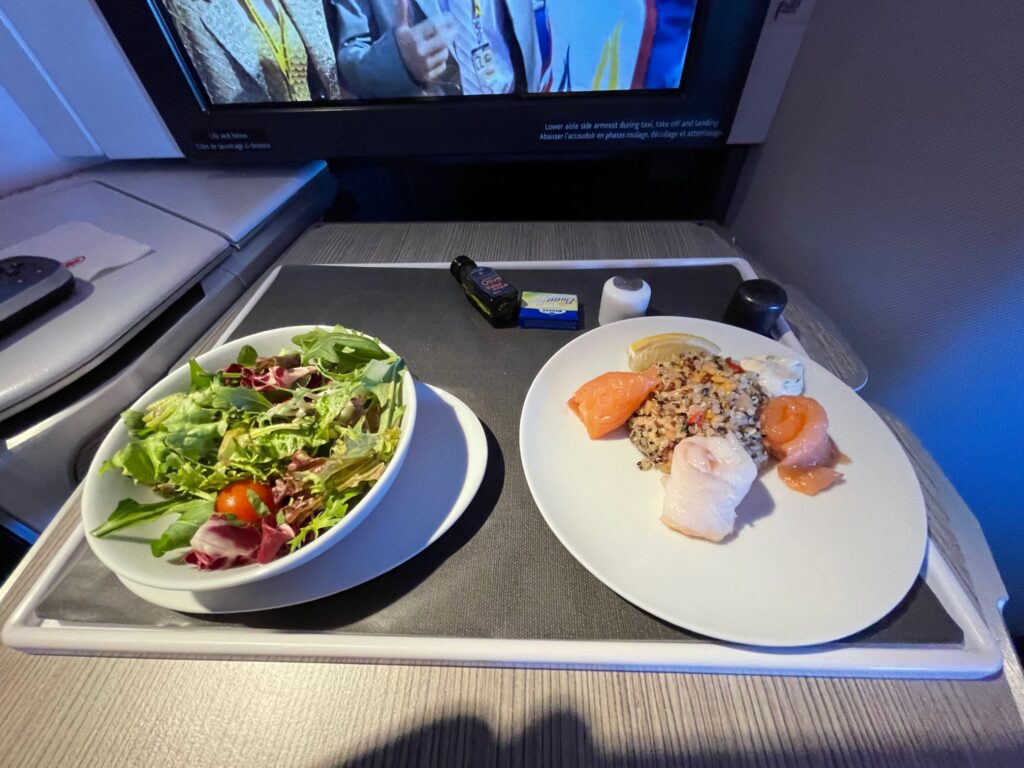 The main course of chile chicken with rice and bok choy had decent flavor but was overcooked. The brownie for dessert was just fine. Everything was covered in plastic or tinfoil, which I assume is pandemic related, but definitely didn't feel very premium. I expected better, to be honest. On the plus side the service was quick, and not a long, lumbering affair.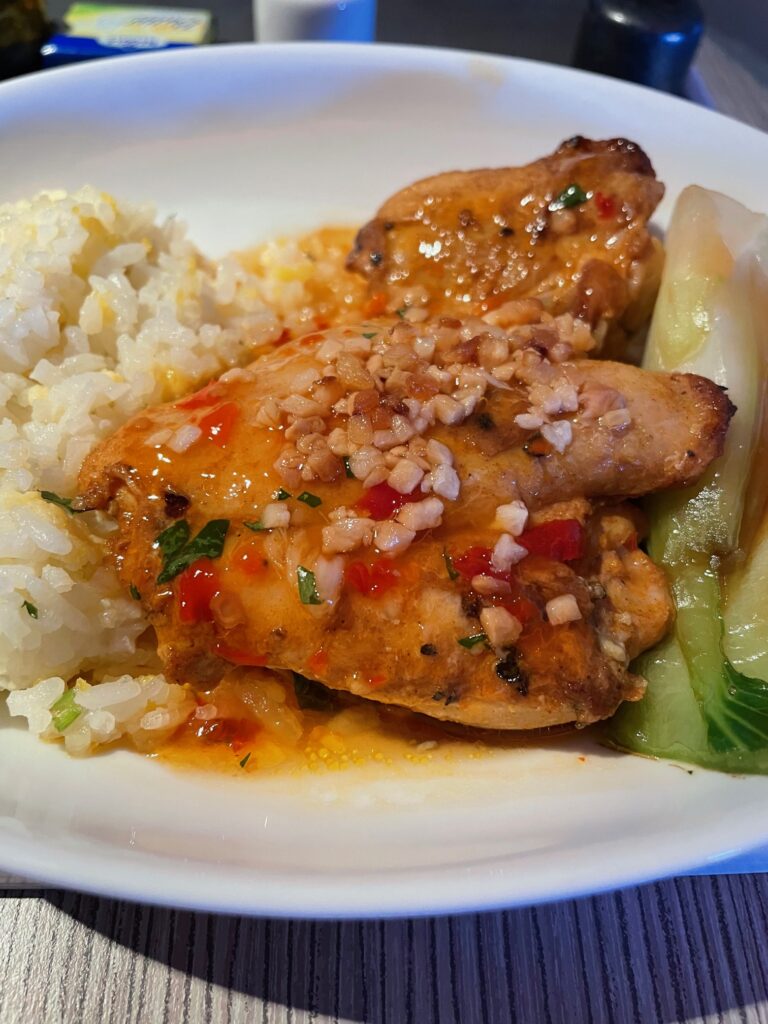 The next six hours were spent dozing, drinking the occasional hot tea, and watching movies. Fully reclined, the seat stretches to a 6ft, 2-inch bed. I slept OK, but it was hard to find a decent position that didn't constantly knock the seal of my mask out of place. It was also very easy to hit my knees on the tray table. I prefer ones that fold into the seat somewhere, and I found it to be my only real gripe with the seat.
The second meal service began ninety minutes before arrival. It was a meat plate with some pasta. The taste was good – better than the main course – but a bit too salty for my then-dehydrated self. A pair of truffles finished the flight on a tasty note.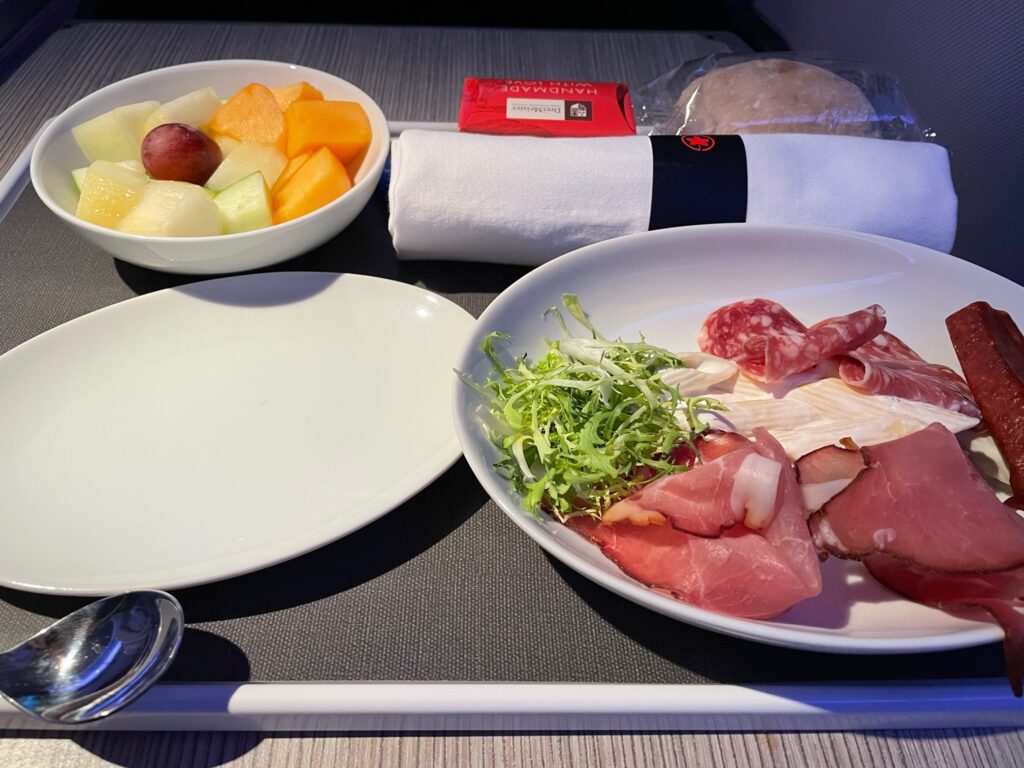 Three restrooms are available for those flying up front, and they stayed incredibly clean throughout the flight. One of them even has a window, and who doesn't love a loo with a view?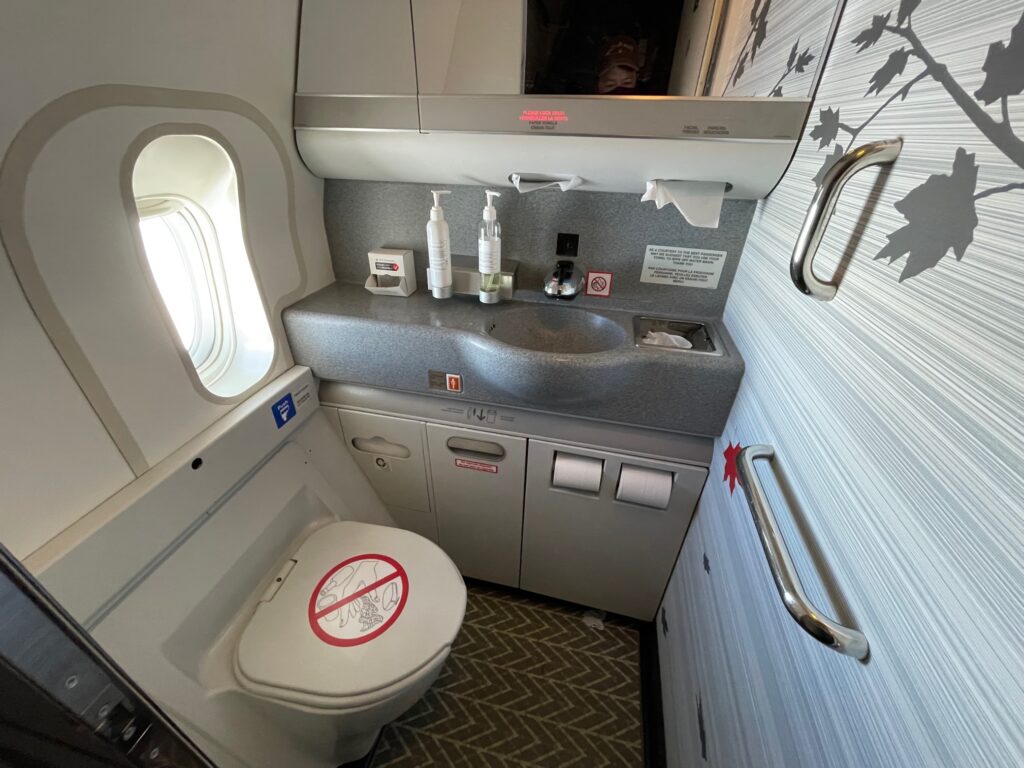 The crew asked me to file a compliant about my initially broken seat via Air Canada's app and incredibly, I was given a $500 voucher days later!
The flight landed slightly behind schedule in Toronto, but it didn't really matter as I had a five-hour layover anyways. Immigration took no time at all, especially with the majority of my information filled out in advance using the ArriveCAN app.
Overall the experience was on par with expectations. I hoped for better from the catering, but everything else hit high marks, and that voucher was an amazing surprise. I'd do it again.
Related Articles:
All images credited to the author, Jeremy Dwyer-Lindgren