Following Virgin Atlantic's decision to bring The Booth to its leisure fleet of 397-seat A350-1000 twinjets in partnership with Factorydesign, Runway Girl Network approached industry designers to ask for their take on the future of aircraft cabin social spaces. Should we expect more booths or akin to come? And what will happen to the lavish lounges and bars that we've all admired over the years?
Nigel Goode, co-founder of London-based design house PriestmanGoode believes airlines might make good revenue use of social spaces by encouraging passengers to book time at the social zone as part of a special package.
"As people start to travel long-haul more, I think it will be quite an occasion for passengers. If the airline gave its premium guests or those purchasing special packages a timed invitation to the lounge, I think it would help to reinforce a positive view of the airline and promote loyalty," he told RGN.
"As with any space on an aircraft, it must pay its way so this flexible space must be used for different uses at different times in the flight to ensure the maximum benefit for the most passengers."
Goode also pointed out that airlines have designed their premium seats so well that passengers are often eager to stay in them for the duration of the flight. But there's still an opportunity to use social zones as an incentive to return to the skies, particularly for the now more elusive business travelers.
"Maybe the airlines should look to create areas where business colleagues can meet and work together to entice back corporate clients," he suggested. "This could also include Zoom calls, so you never miss the meeting."
We asked Goode about some of the other unique challenges for designers of developing social zones on planes.
"[Y]ou cannot please everyone as passengers who are resting don't want to be surrounded by noisy passengers socializing with their friends," he said. Additionally, the development and implementation of social spaces onboard "is very expensive, so it is important that mockups and prototypes are made and well researched before implementation as mistakes are very costly."
To wit, Virgin Atlantic ran extensive customer insight sessions when considering bringing The Loft to its regular A350s, and it resulted in the airline moving on from its iconic bar. So in developing The Booth for the carrier's leisure aircraft, Factorydesign knew it would not be simply recreating a bar for the carrier, Factorydesign associate director Matthew Fiddimore previously explained to RGN.
Juliane Trummer, VP strategy & design at design consultancy Mormedi suggested that perhaps repurposing social spaces and giving more room to cramped passengers is something to consider.
"The high density that we have nowadays is almost inhumane," she said. "The pitches have been getting tighter and tighter. So, if there are now fewer people traveling business class, maybe it is the airlines' chance to actually make travel a bit more bearable —just giving a little bit of a normal pitch."
If Covid has indeed dampened passengers' appetite for socializing on aircraft, noted Nigel Goode, then those spaces may have to be converted back to seating "which would be a great shame".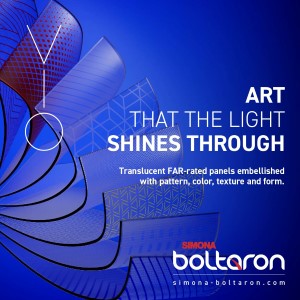 Trummer, meanwhile, believes that the whole concept of classes onboard has become a bit outdated. It might be time now, as demand has mainly shifted to affluent leisure, to rethink how airlines merchandise the cabin space onboard. That repackaging could include social zones with purpose.
"We can think about the concept where you had the choice to book a different area as a family. You can maybe book it for the whole trip or for two hours at a time. Maybe you're sitting in a seat that's no-frills travel but then, say, on a long trip to Australia, you book three hours [in the social zone] for my family to watch a movie together," she said.
"I think it will be a much more modern way to have a pay-per-use option of certain experiences, which could be around entertainment, gaming, even doing business, or enjoying some time together, say for a family traveling with a baby. This whole concept of socializing would be around safe socializing, meaning you stay within your family unit, or couples, or business colleagues."
The Mormedi executive continued, "I think it's kind of hard for airlines to think this way, but I think nowadays there's an opportunity also in partnerships. Imagine an airline partnering up with Nintendo or creating a space for gaming or partnering up with Disney and creating a space for movies or partnering up with LinkedIn to create a space for business meetings. There's a lot of opportunity for getting other types of revenues and a new business model also."
As Trummer pointed out, airlines have already set up their reservation systems to incorporate ancillary "add-ons" so allowing passengers to book a booth, workspace, or gaming room for a set time during the flight would be a relatively simple process today. The social space could still be available to high-premium paying passengers and loyal customers as part of their travel perks.
After the pandemic, we know that aviation may never be quite the same again. That's not necessarily a bad thing if it means industry designs a better flight experience.
Related Articles:
Featured image credited to Virgin Atlantic