Gogo Business Aviation has entered discussions with Low Earth Orbit satellite operators about offering an integrated air-to-ground/LEO-supported inflight connectivity product to the North American BizAv market, and a LEO-focused solution globally.
During an earnings conference call to report third quarter income from continuing operations of $19.7 million — Gogo's first ever positive net income quarter — CEO Oakleigh Thorne said the US firm, which sold its commercial aviation division last year, sees "exciting opportunities" to partner with potential new entrants in the LEO satellite service space to offer hybrid and broadband satcom connectivity to bizjets.
"Of the three LEO providers launching or are likely to launch over the next few years, two are committed to B2B models, and we are in discussions with them about us providing a LEO global broadband product to our vertical market," he revealed.
"This would allow us to add the 14,000 business aircraft outside of North America to our total addressable market, and to provide an integrated AVANCE ATG and LEO product to the North American market, which we think would be especially valuable to North American heavy jets that fly globally and use both ATG and GEO satellite solutions today."
Gogo has been eyeing the possibility of integrating future satcom technologies with its ATG solutions for at least several months, telling investors in May that when LEO satellite networks and electronically steerable antennas are ready for primetime, Gogo would have the option of offering customers of its latest generation AVANCE ATG hardware "access to those networks simply by adding a new ESA antenna on top of the plane. That antenna could plug into the existing AVANCE platform already installed inside the plane."
During management's latest call with investors, Thorne did not disclose the name of the LEO operators with which Gogo is now in talks. We know, of course, that OneWeb is in the process of building out a LEO network, and Telesat expects to launch commercial service for its forthcoming Lightspeed network in 2023. Both companies have signaled plans to support the aviation market.
A third LEO provider is Starlink, which is currently beta testing, noted Thorne, and pursuing a direct-to-consumer model for the global broadband market estimated at $350 billion in revenue this year. "They have discussed also pursuing the $80 billion military/gov market, the $25 billion connected car market and the $7 billion US commercial aviation market, among others. Business aviation connectivity is tiny compared to those opportunities, estimated at less than $500 million in service revenue this year."
Given the relative size of the business aviation market, and the fact that BizAv connectivity "is highly regulated, has complex distribution channels and has a highly fragmented customer base", he said, Gogo would "be surprised if entering our market were a high priority for Starlink".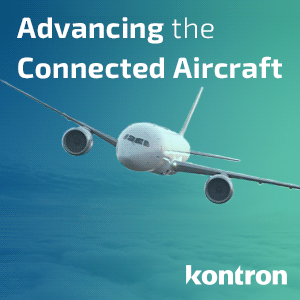 Asked about the role of Iridium Certus in Gogo's future plans, Thorne said the AVANCE line could similarly support Certus with a new antenna, but that the firm is not a Certus dealer to his knowledge. "[W]e still sell a lot of [legacy] Iridium product and we have plans around, what I'll call, the narrowband that I don't think we're really ready to talk about yet but that would not add a lot of bandwidth for us like [new] LEOs would, so we're not focused on that."
Gogo Business Aviation estimates that roughly ~85% of all broadband-connected BizAv aircraft in North America use its service. As of 30 September, Gogo reported 2,237 business aircraft flying with its AVANCE L5 or L3 systems installed, 6,154 aircraft flying with its classic ATG systems onboard, and 4,542 aircraft with narrowband satellite connectivity installed [as it offers legacy Iridium]. As demand for business aviation connectivity surges, the company plans to launch 5G ATG service in 2022, offering AVANCE customers what is described by management as a fairly painless upgrade path to 5G.
The firm presently faces competition from SmartSky Networks, a new entrant in the ATG space, as well as GEO satellite operators and service providers including Collins Aerospace, Inmarsat and Viasat. The latter, Viasat, is eager to change the narrative that ATG-based connectivity is less expensive than satcom by directly offering service plans for its Ka-band satellite-supported tail-mount system starting as low as $2795/month for 15 GB of data with "unlimited speeds".
The new service plans are part of a direct model for business aviation, called Viasat Select, which the firm announced at NBAA-BACE in Las Vegas. During the show, Viasat's head of sales and business development – business and VVIP aviation, James Person explained to Runway Girl Network that while Viasat has offered its Ka IFC solution directly to fleet operators such as Flexjet in the past, it has not sold the service directly to single-aircraft owners and operators. That changed with the introduction of Viasat Select, which sees Viasat act as the point of contact, offering customized new regional and "global" plans for Ka IFC to match a business aircraft's operational profile.
When based in Europe, operators of super-mids largely tend to stay in Europe and if they are based in the US or in Canada, they tend to stay in North America, said Person. So, the firm designed Viasat Select regional plans for North America (covering US, Canada, Mexico) and for Europe/Middle East, as well as for "global" operations covering transatlantic routes, based on Viasat's Ka satellite footprint in North America, over the North Atlantic and in Europe. These plans offer uncapped speeds insofar as there is no cap set on the speed delivered to the terminal (Viasat stopped limiting its Ka IFC service to 16 Mbps in BizAv last year), and a couple of the Viasat Select plans offer unlimited data.
Though Viasat is armed with its own future LEO satellite plan should it deem such a pivot necessary, Person suggested to RGN that to date "nobody" has been able to get to "the right price point and the right power requirements" for flat panel antennas to support LEO-based IFC. That includes Viasat, which is developing its own phased array antenna and studying hardware from third parties.
"I mean you know enough about business aviation to know what people think about their beautiful aircraft. Are they going to put a flat panel on top? I don't think so. …they'll want conformal. Well, if you do conformal then you are talking saddlebags. If you do saddlebags, you are talking port and starboard [antenna arrays], you just doubled the cost of it which was already more expensive, which uses more power, so we don't see an easy quick path to LEOs and business aviation here. Otherwise, we'd be doing it ourselves."
Related Articles:
Featured image credited to istock.com/Cavan Images