Is Airbus about to unveil a wider A350 cabin in the interest of making the ten-abreast layout on board its latest widebody twinjet palatable to airlines beyond the leisure and low-cost market — and to compete with Boeing's 777X? An aside remark at the Dubai Airshow this week suggests that it might be coming down the line in Toulouse, and soon.
A fascinating exchange between an executive (Runway Girl Network presumes of Etihad Airways) and Ahmed bin Saeed Al Maktoum, chief executive officer of Emirates, on board Etihad's second Airbus A350 was posted online.
"This machine… 372 seats… interestingly the second batch of them after the first five are very slightly wider on the airframe, so in economy we have an extra one seat per row, so it goes up to 404 seats," said the executive, who RGN has not been able to identify.
Etihad's economy class cabin on this aircraft, as shown in the video, is a 3-3-3 configuration, beginning immediately after doors 2 on the A350-1000, and the carrier has no premium economy product.
So how could this wider cabin come about? RGN assumes that this is further development of the work revealed ahead of the last Paris Air Show in 2019, by chief commercial officer Christian Scherer, then new in post. Scherer promised access to a new cabin mockup where, he promised, "with an enhanced cabin you can very comfortably go to 10-abreast seating in economy class on this airplane for long-range flying". (Snug 10-across configs are presently flown by leisure/low-cost carriers like Frenchbee and Air Caraïbes.)
Airbus clammed up about the new mockup and the cabin two years ago, but Scherer later doubled down on his assertions about ten-abreast A350 comfort to RGN. In previous years, Airbus has cited 16.4" as the width of a ten-abreast A350 seat, but in recent times it has used a 17" number.
If there are indeed changes, RGN assumes that they are in essence, slimming down the A350's sidewalls — at least in the economy cabin — to eke out extra cabin width within the existing A350 fuselage diameter, while tweaking seats.
Indeed, when Airbus first began discussing its comfort work for the 10-abreast A350 — way back in 2015 — an executive with the airframer said: "[Y]ou can play with the angles on the sidewalls and you can play a little with the armrest and then you can be very clever with the design of the seat."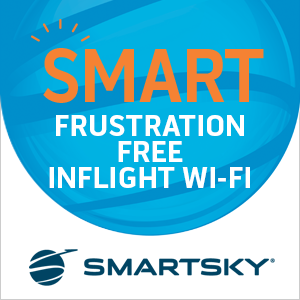 Airbus presently cites the A350-1000's cabin width at 5.61m within the fuselage width of 5.96m, leaving some 35 centimetres, or 17.5cm (6.89 inches) on each side, as space within the fuselage but unused by the cabin.
It's unclear how much of this space (17.5cm or 6.89 inches, roughly the diagonal size of your author's iPhone) can reasonably be carved out to make a difference for passengers. The A350, after all, is not a nearly 30-year-old airframe like the 777, and one assumes that Airbus didn't wantonly ignore cabin width when designing and building the aircraft.
It's also unclear as to whether this potential change would affect all aircraft after a certain point in time (in other words, after a certain MSN number in the production line), or whether it would be optional.
RGN asked Airbus' press team in Dubai a list of questions about the matter, including asking how the aircraft is wider, whether this was an Etihad-specific change, an "all aircraft after MSN XXX" change or "optional after MSN XXX" change, details of full cabin width, which variants were affected, and whether there were any other changes implicated.
Aeron Haworth, Airbus' Media Relations Manager for UK and Widebody topics, responded only: "As a leading aircraft manufacturer, we are in constant dialogue with our customers, listening to their (fleet) requirements. We are always looking into advancing our products, including cabin definition. However, we keep our talks with customers confidential."
This is, perhaps, sensible from a marketing point of view. Airbus will not wish to repeat what happened the last time that it put a densified cabin with questionable comfort up in the view of the industry, let alone journalists, with the proposed eleven-abreast A380 cabin. Nonetheless, at some point journalists will need to be shown this cabin, and for any comfort assertions to be scrutinised.
Related Articles:
Featured image of Aeroflot's 9-abreast A350 credited to Marisa Garcia