SCHWÄBISCH HALL, GERMANY — Alongside German seatmaker Recaro Aircraft Seating's recent virtual seat show and the opening of its new customer and certification testing centre, Runway Girl Network sat down with chief executive officer Mark Hiller for a wide-ranging discussion about the strategic context in which the passenger experience industry finds itself, and how the company's products are responding.
First, we asked, how has Recaro's strategy changed over the last twelve months?
"Honestly, not so much, because we've tried to stay on course," Hiller says. "For sure, there have been a couple of setbacks in the meantime, because the recovery is taking longer, and it's pretty erratic, depending on on different markets and restrictions, but besides that, there is not so much of a difference."
Beyond its new CL3810 economy class seat, Recaro was also showing off the updated CL6720 doored version of its CL6710 compact staggered business class seat. Shortly afterwards, it announced a new 10-shipset order for Air China's Airbus A350s, starting in Q2 2022. That adds to Recaro's CL6710 footprint on TAP Air Portugal's and Azul's A330-900neos and El Al's Boeing 787-9s.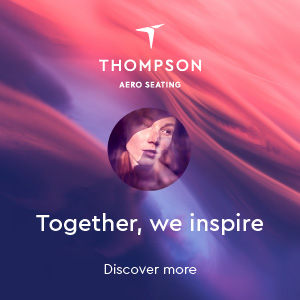 Elsewhere, "we are working on different concepts" for adding the seat to the longer haul narrowbody market like the Airbus A321XLR, Hiller notes, but cautions about overemphasising the size of the market here. "From a strategic point of view, first of all… that's the place to be. If you look into the numbers in more detail, it's still a small market, due to the lower number of pax-per-aircraft and due to the fact that it's a subfleet."
With few longhaul narrowbody operators plumping for compact staggered seats compared with herringbones — largely, it seems, owing to the additional width per passenger on single-aisle versus twin-aisle fuselages, which herringbones can use more efficiently — one might well imagine a seatmaker with a compact staggered product would take this point of view, of course.
Early deliveries of the A321XLR in 2023 will likely have made their front cabin decisions already, Hiller notes, confirming that the leadtime for selection and certification for this kind of product remains around two years.
At the opposite end of the leadtime come the Sprint, Swift and Smart slimline seating options, where customisation options are few but lead-times are remarkable: 2, 4 or 6 months.
For these products, Hiller says, "the volume for sure is normally two aircraft here, three aircraft here. If you would look into our revenue, as portion of the overall revenue, it might not be so dominant. But in terms of customers we are able to reach and approach — compared maybe to the past where either the offerings or the leadtimes haven't been good enough, or the competitive pricing was not there — it's really a great entry door."
While this naturally leans towards smaller, newer and lower cost airlines, Hiller says, "for large customers, it's also when they are returning one or two aircraft to a lessor."
During RGN's previous visit to Schwäbisch Hall— a fully-distanced, single-journalist session in a quiet factory in summer 2020 that couldn't have been more different to the (safe, but jubilant) celebrations opening the new facility — the company (and indeed the industry) had been working hard on antimicrobial materials and treatments.
Now that more is known about the primarily airborne spread of COVID-19, though, requests for these options crop up "from time to time, but for sure what the airlines are doing is assuring [passengers] with the cleaning processes."
Recaro is hard at work to ensure that the cleaning products are certified as safe.
"Normally," Hiller says, "we'd approve cleaners for our seats. In the meantime, airlines approached us and they said they decided to go with a new cleaner, a different cleaner, and then we are running the tests for the current seats to figure out if the seats are are good with this type of cleaners."
This requires a substantial amount of additional testing and approvals, as well as announcements from EASA and the FAA that Hiller sums up as "where they more or less said it's not clear what the cleaners and the cleaning sites will do to the material in the long run."
"So far, the resistance is quite good," Hiller notes. "But for sure, it's also something that we need to evaluate long term."
Related Articles:
Recaro provided travel and accommodation assistance to enable RGN's reporter to visit its virtual seat show, but all our views are, as ever, independent. All images credited to the author, John Walton