David Neeleman's Breeze Airways has unveiled the first of its 80 Airbus A220-300 (né Bombardier C Series CS300) aircraft, featuring a surprising three dozen recliners up front — a very unusually premium-heavy layout — and the larger A220-sized economy seats down the back.
Breeze brands itself as "Seriously Nice", and its equivalent of business or domestic first class looks up to brand. The front half of the A220 holds a very nice total of 36 "Nicest" seats: nine rows of four seats in what has become the standard business class layout for the A220. These are indeed the Safran Seats Z600 announced for Breeze earlier this year, which are a supplier-furnished option for the A220 family.
The premium seats are pitched at a relatively generous 39", a few inches more than most other modern recliners in the US market, and with every seat offering a legrest as well as recline, this pitch is likely to be welcome. Imagery suggests a largely grey-on-beige cabin, though the modern overhead mood lighting gives it a modern wash.
In terms of the competition, these 20.5″-wide Nicest seats will stack up against other airlines' A220 or MD-80/90/Boeing 717 first class given the relatively smaller fuselage sizes of these aircraft. Pricing-wise, Neeleman suggests a premium of $25-50 over the Nicer extra-legroom economy product, which doesn't seem like much given the airline's bundling strategy.
Down the back, there are ninety Safran Z110i seats in economy, also as announced and also as A220 supplier-furnished equipment, with pitch starting at 30" and at the A220's usual wider seat sizing of 18.8".
Each seat has a substantial headrest, and the design in the economy section rather bizarrely features a bright neon yellow reminiscent of nothing quite so much as Ryanair's strategic ugliness. Colouring the interior like a public bus might lower #PaxEx expectations.
A ten-seat extra-legroom economy section between the recliners and the back of the bus offers 33" pitch and is distinguished by a red headrest area. Neither the red nor neon yellow feature elsewhere in Breeze's branding, nor indeed the shades of its nice/nicer/nicest ticket types on booking.
Economy class looks set to offer USB-A and USB-C power, while — in something of a fudge from the press releases — only the front recliners have AC sockets (plus the USB ports).
Interestingly, Breeze seems to have plumped for a full galley at the rear of the aircraft, featuring ovens to enable hot meal service options, although no news yet on the hot food concept, while the larger lavatories trumpeted by Bombardier and later Airbus also make an appearance.
But will this end up being the final layout? Various statements by chief executive officer David Neeleman suggest that there is a certain amount of flexibility, with the idea being that during an overnight stop some of the front recliners can be swapped out for economy seats. This is, however, usually a complicated, labour-intensive task that few airlines undertake lightly.
It's not quite clear how this would work in terms of dynamic distribution, and indeed few airlines these days swap out seats on anything more or less than a seasonal basis (like, say, Lufthansa).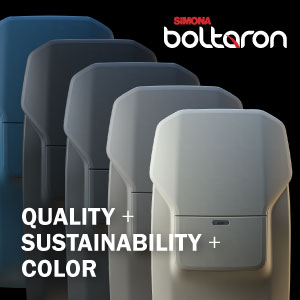 Experience in other markets where even more flexible convertible-width seats have been offered, including Qantas and British Airways over the years, suggest that the logistics here are complicated.
In addition, Breeze seems set to unveil a different product for its longer haul operations — a flatbed product is proposed here — and inflight Internet has also to be confirmed.
Management has been studying a variety of IFC options, both air-to-ground (ATG) and via GEO satellites, and even future LEO satellite-powered solutions. ATG would be able to support operations within North America; however, a satcom solution would be needed to facilitate IFC on international flights and over water.
Still, Breeze has some time to work all this out, since it will have the plane for quite a few months before putting it into revenue service — apparently to launch multiple aircraft on the same entry-into-service day.
Airbus says that "this first A220 is expected to enter service in Q2 2022", quite a ways out yet.
Related Articles:
Featured image credited to Breeze Airways