Having vowed to digitize aircraft cabins AERQ today formally launched AERENA, its modular and open IT platform for commercial aircraft.
A joint venture between South Korean multinational technology conglomerate LG Electronics and aircraft maintenance, repair and overhaul giant Lufthansa Technik, AERQ says AERENA will empower airlines to gain complete control over their digital cabin experience.‍
"Stop being dependent on others," urges AERQ in an online statement to operators. "Leveraging our platform, you are the playmaker of your cabin experience. AERQ's software architecture is designed to allow full control and customisation by the airline. Own the incredibly easy distribution of new or updated apps with radically reduced deployment times. Easily connect with app developers and content providers, or simply create your own content."
The AERENA platform consists of aircraft cabin digital signage which can be used in a variety of applications — for instance, 'welcome on board' signage, virtual windows or as a transparent class divider — and an in-seat system. Wireless IFE will not be part of the initial offering but will be offered down the road.
Crucially, a cloud-based and open software architecture allows instant onboarding of third parties. AERQ explains that a dashboard within AERENA enables airlines to design their choice of applications, media content, and graphical user interface (GUI). Using AERENA's virtual test rack, airlines can develop an app, test it within that ground infrastructure and finally deploy it to their fleet, saving both time and money.
You [the airline] log into AERENA, you log in from your desk. It's all about the deployment process, making the delivery of apps and content definitely faster than available today, being able to adjust it and update it more efficiently, and being less dependent on the IFE supplier in terms of the media content. We want airlines to be far more independent.
The data generated by an airline is owned by the airline. While AERQ is going to offer solutions in order to make the most out of this data, ultimately the airline owns the data. "By smart data capturing, analytics and matching, airlines will gain insights into and enhanced understanding of passengers to ensure accurate data-driven and intelligent decision making to grow their business," says AERQ in a statement.
Runway Girl Network interviewed AERQ managing directors Arnd Kikker and Sang Soo Lee to learn more about what makes AERENA different than embedded IFE solutions on offer from stalwart players, and how the firm aims to drive "revenue, savings and growth" for airlines, whilst enhancing the passenger experience. The interview is below.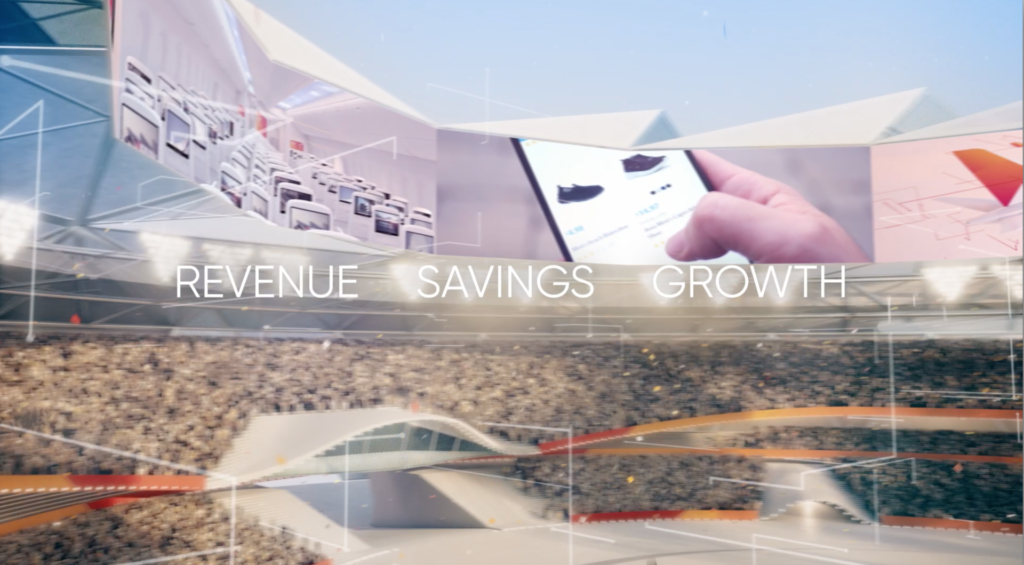 RGN: More and more airlines want control of the IFE experience; is your approach an answer to that trend? AERQ becomes a strategic partner versus, say, simply a supplier?
Kikker: We position ourselves as a 'partner of airlines' rather than a supplier to airlines. We believe that airlines need to transition from a transportation mindset (just getting from A to B) to seeing the passenger more holistically. We don't position ourselves as just a supplier of a system. We give airlines the tools to transform the business model inside the aircraft.
Lee: We can deliver some of the hardware and software content as a supplier, but our long-run business model sees partnerships as core.
RGN: What types of third parties do you envisage as participating?
Lee: There are several different layers regarding third-party partnerships. Some of them include the e-commerce area, advertising, as well as the gaming area in terms of ancillary revenue-enhancing partnerships. We do have various different partnerships and try to bring them onboard altogether by both aggregating them ourselves and negotiating with the airlines.
Kikker: We announced one of the first partnerships with ABOVE in order to automate content supply to the aircraft and the fleet. Our ambition is to cut the time to get content onboard from months to weeks.
RGN: What is the vetting process for third parties? And does the airline have to sign off on such (or will AERQ be empowered to select on behalf of the airline per its knowledge of the airline's requirements)?
Lee: Within our ground infrastructure set-up, we are establishing a high level of security. We make sure the content can be securely delivered to the customers. Airlines can select some of the content right away via marketplaces inside the ground infrastructure. Once, they select the content, they can get it immediately through the ground platform.
RGN: Regarding the three areas of benefit  — revenue, savings, growth  — let's start with the first, revenue. How do you envisage AERENA will support revenue generation – advertisements, shopping (goods, services, content), moving map on steroids?
Kikker: There will be a couple of different business models in place and what comes to the passenger is in the hands of the airline. For instance, when an airline wants to create access to superior [premium] content, our system can ensure that.
Lee: In regards to the gaming model, we are developing various different models, but we have not finalized them yet. That will be one of the options we will communicate with customers, as well as via partners.
Kikker: Regarding the moving map, we are pursuing the agnostic approach here once again. We are discussing with all of them or most of them already to see how they can be integrated. Lufthansa Technik has a solution. Obviously FlightPath3D and so forth. But exclusivity is really something we want to try to avoid. We are in touch with most of the solution providers.
RGN: Where does connectivity fit in, and is it required for monetizing AERENA?
Lee: We are in discussions with several connectivity providers. Of course, it is not our core competency at the moment to provide connectivity solutions ourselves to customers. One airline may want Inmarsat, another Viasat or another service. Certainly, we are open to all these requests, through the AERENA platform.
Kikker: There are interesting IFC models about to kick off and will be tested. We at AERQ have to go down that path as well, and see what that means for the parties involved. For the airlines, we're looking at what is the most value-creating position for everybody and this is what we're trying to figure out currently. The better the connectivity is the better our platform will function. We can work without connectivity in place. Payments, and indeed any transactional topic can function without connectivity, but the better the connectivity, the better the overall experience.
Lee: At this point, it's not just about the connectivity itself; we're trying to figure out the most valuable business model for IFC. We're discussing with partners which business model will be more valuable for all of us, not only IFC providers but also airline customers and our own benefit as well.
RGN: Regarding savings, how will AERENA save airlines money?
Kikker: We believe, in comparison to systems in place, that based on the technology and architecture we have chosen, we can achieve a weight benefit. Our system is more efficient for airlines to fly. One of the core services is improving operational efficiencies, be it cabin and crew, offering a higher level of efficiency there. For maintenance topics, we can provide operational data, and support it with the ground infrastructure.
Lee: We will save operational costs — as we already discussed — through the innovative content supply chain. Partnering with ABOVE is one of the saving points. And within our platform, we're providing the unique virtual test rack environment so the customers can test certain apps and content by our platform and save the time and actual travel costs of doing it in-person. Once customer airlines realize it's going to be much faster than the previous system, they can provide the additional services to their passengers, so ultimately the goal is to make the passenger happy. Our overall system offering is AERENA.
RGN: What are the use cases for the cabin signage?
Lee: For the signage, we always call it 'a family approach'. There are various use cases, starting with a 'welcome on board' application. There are bulkhead applications, ceiling panel applications, virtual windows and a transparent class divider application. Obviously, those solutions will be connected to the broader AERENA system, but airlines can take them separately as well. One simple use case is providing information via the transparent class divider, and monetizing via that platform. Once inside the cabin, the passenger can for example take a look at the onboard menu, or see destination information on the transparent class divider. They can then create additional input via their own devices. They can book activities at their destinations. AERENA will be the key platform in making the additional revenue in terms of the full travel chain.
Kikker: You can also use the transparent class divider to display safety topics and so forth. Other messages could alert passengers of upgrades. So, if there is an available business class seat, for instance, passengers sitting in premium economy could be alerted, and pay to upgrade to business. An airline will not just buy a screen; they want the solutions.
IoT will ultimately play a role. Sensors in the cabin is one of our action points. It's not in the beginning, but it's one of the development areas. Then, when there is more data available inside the cabin — perhaps a special discount is offered for the buy-on-board menu — you can display that information and make the passenger aware. This is a portion of the solution.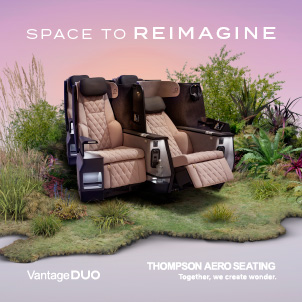 RGN: Where does passenger personalization fit in?
Lee: Once you get onboard, you can connect your wireless headset as well as your PED device, easily pairing with the in-seat system. You can personalize the experience, including customizing your preferences on the in-seat screen. For instance, if you prefer to watch action movies, you can see that related content on your screen.
RGN: What operating system have you chosen for your in-seat solutions?
Lee: There are two. We are working together with Lufthansa on the backend server, acting as the interface to the aircraft. And the core operating system for the in-seat system we are working with LG Electronics.
RGN: Will this be a wired or wireless in-seat IFE solution?
Lee: We are trying to be there as a traditional wired solution, and are anticipating at the moment the wired deployment solution. In our product roadmap, we do have a wireless in-seat solution as well.
Kikker: And it's a seat-centric solution.
Regarding the cloud-based and open software architecture allows instant onboarding of 3rd parties, how does the ABOVE joint venture fit into this? Should we assume that ABOVE is a cornerstone to what you're proposing with AERENA or are you willing to work with other CSPs offering cloud-based services (effectively, any CSP that the airline is already working with)?
Lee: One of the core ingredients and genes inside AERQ is that we see ourselves as agnostic as possible so when an airline wants another CSP on board we make that happen. But we think the ABOVE solution offers so many benefits today. We propose them as a joint offering on our end…[AERENA and ABOVE]. We are not bound to ABOVE, but know that the ABOVE solution has really groundbreaking benefits for the airlines.
RGN: Is the OLED technology still in play?
Lee: At the moment the OLED display is focused more on the media platform, the 'welcome board', the virtual window, class divider. For the in-seat solution itself — either in economy class or business class — we will focus more on using a conventional solution. But if a customer wants to differentiate between business and first class, for example, we can include the OLED screens as well as in premium class implementations.
RGN: What is the timeline for retrofits? And are you seeking linefit offerability with airframers?
Kikker: The retrofit market would likely be our starter in the industry in order to get the product rolled out. But we're also discussing linefit opportunities with big OEMs. From a core focus, we are looking at the major widebody aircraft types like the A350, A330, 787, and 777. Obviously, the long-haul, narrowbody market is quite dynamic at the moment, with the Airbus A321LR, the A321XLR and something coming up in the Boeing world. From a retrofit standpoint, the likely launch will be on a widebody. For linefit, there are hurdles to overcome, but it could be a narrowbody.
As you know and can imagine, the market was harmed last year. It wakes up now a bit, and we have now quite strong interest in the topic. AERQ is now well established in the industry, and airlines approach us and talk about their plans with us. They want to have a different kind of approach to the system in the cabin. Our vision resonates with this open platform they crave, and really enable airlines to create and shape the experience onboard. That is our core DNA. Due to the COVID-19 crisis, airlines are short on money and they don't have full pockets to invest heavily, but we always hear that digitalization is one of the core things they need to enhance because post-COVID, the industry will be even tougher than before. We deliver the tools, the system and the platform with AERENA, which enables them to really shape their differentiation.
RGN: Is it a given that LHT will complete the installs or is there flexibility there?
Kikker: We have to be flexible. Looking at the retrofit market, LHT is one of the potential organizations that could do it, but we are totally open there. So, we are not bound to anything. We can always rely on our mother here to get all the support we need…we are obviously also looking at linefit with Boeing or Airbus.
RGN? Are you still planning a 2022 entry into service, what aircraft type? Where in the world?
Kikker: We still envisage end of 2022 for the digital signage solution. The in-seat system will be slightly later, and wireless IFE after that. So, we start with the hard bit and scale with the wireless IFE.
RGN: Will you both compete with and work with IFE industry stalwarts?
Kikker and Lee: We believe so (in terms of competition on the hardware front).
Lee: But we are looking beyond competitors in terms of process. They will be our potential customers possibly later on. From a business model perspective, we can be their partner later on, effectively being the business model supplier for them, and they could be a supplier for us.
Bintaro: This approach to collaborate in the industry will create far more value for us and the industry and the airlines initially.
Kikker: In summation, we really try to close the business gap inflight because what we hear a lot from airlines is they have different touchpoints with the passengers — before flight, in the terminal and after the flight via apps and web pages and so on. But during the flight, the most valuable time with the airline, they don't have any digital touch points. This is the gap we want to close in the travel journey.
Related Articles:
All images credited to AERQ