When traveling between New York and Washington DC, I try to use Amtrak as much as possible. Flights linking these two cities are often expensive and unreliable and this is one of the very few routes in North America with something resembling high-speed rail.
Amtrak has offered some great fares for rides within the Northeast Corridor recently so I booked a ticket back to New York on Acela after a weekend getaway in our nation's capital.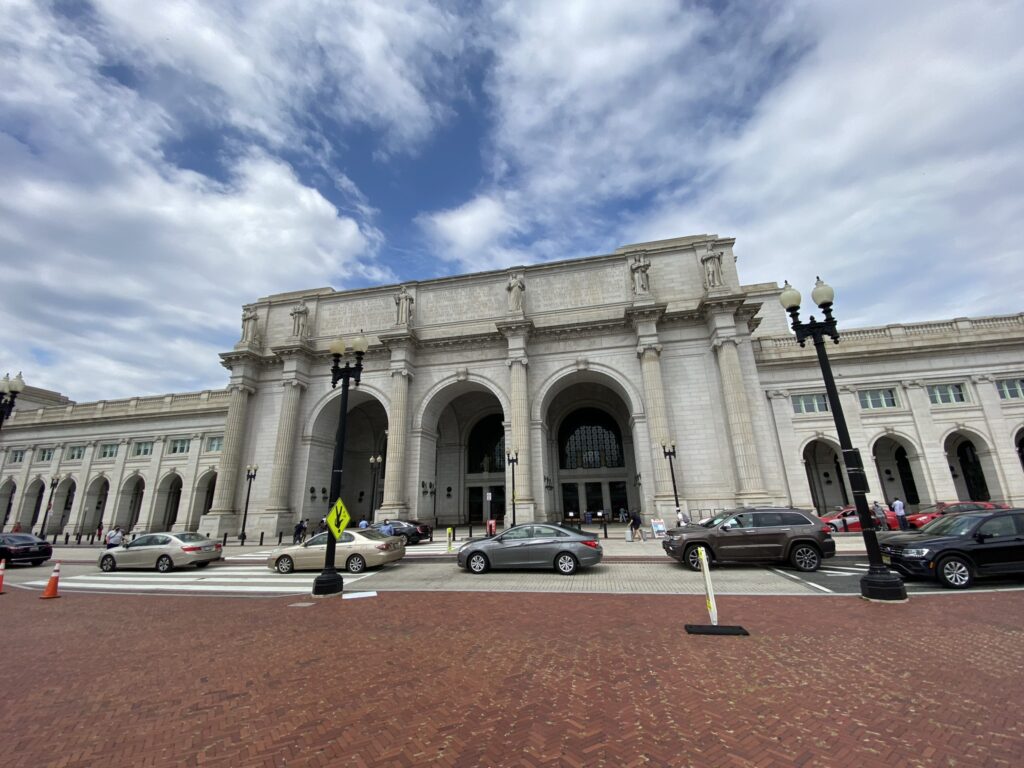 The booking process was a bit cumbersome on the web but somewhat more streamlined on Amtrak's iOS app.
The booking flow confirmed that all trains on my day of travel would be quite full. This is a handy feature.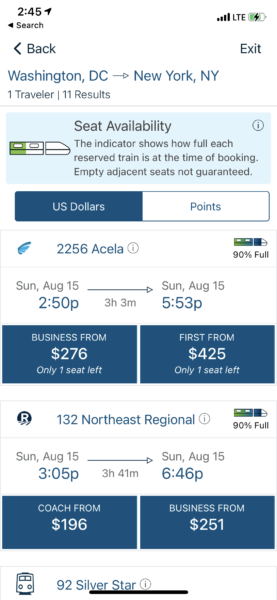 In August 2020, Amtrak finally started offering reserved seating on all Acela trains, providing passengers with an experience more in line with rail travel elsewhere in the world.
A random seat is assigned at the time of booking and can be modified using a detailed seat map. While Amtrak says it is possible to change your assigned seat after the time of booking, I was unable to figure out how to do that using the website or iOS app. The experience was quite clunky.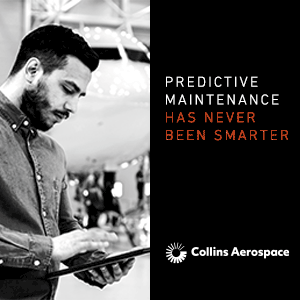 Amtrak issues a ticket immediately after booking, letting passengers add the ticket to Apple Wallet. Unfortunately, the Apple Wallet ticket provided only the seat number and omitted the car number! I had to dig into my email to find the PDF copy of my ticket. That made the Apple Wallet version of the ticket annoyingly incomplete.
Amtrak sent me two notifications the day before my departure. The first directed me to bid for an upgrade to first class, but the minimum bid of over $85 was far higher than I would be willing to spend given the added benefit of just a free meal and beverages.
The second notification prompted me to fill out a mandatory pre-trip COVID-19 check.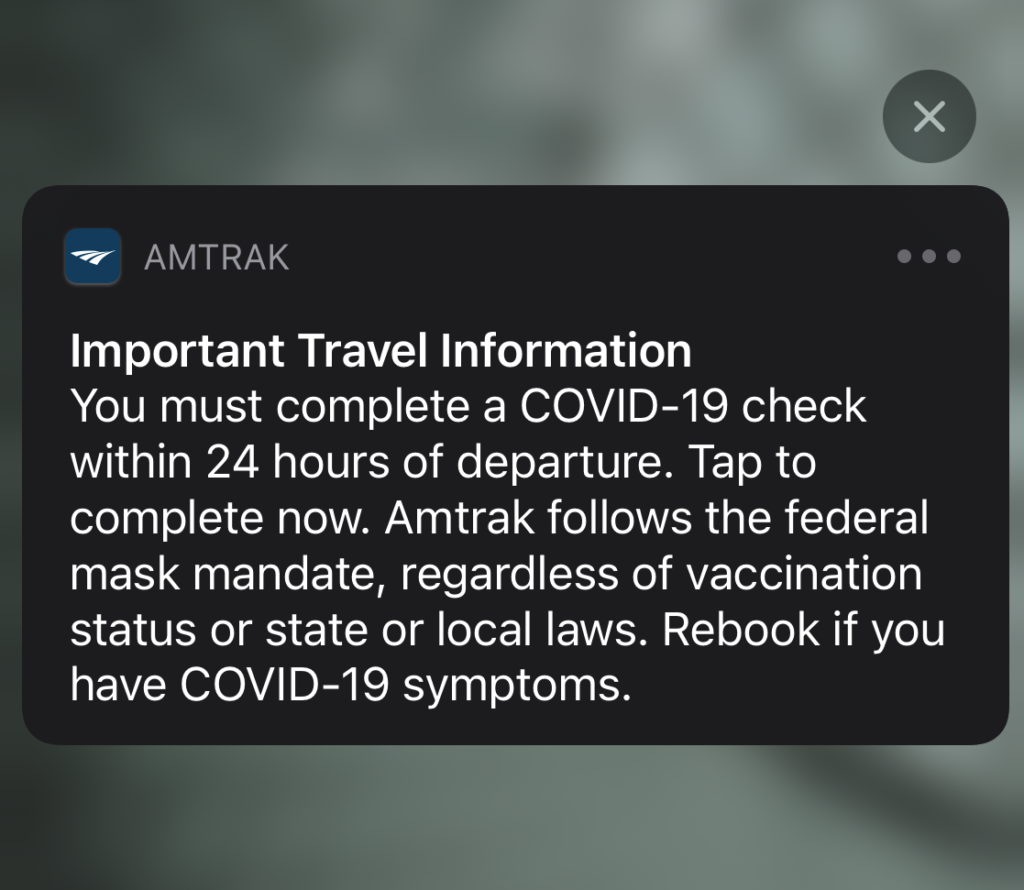 Unlike airlines, which issue a boarding pass after the passenger completes any required COVID-19 check, Amtrak issues the ticket at booking so the purpose of this check was unclear since it does not invalidate tickets of whose who do not fill it out.
The information was never checked on my journey. I guess I wasted my time filling out this form.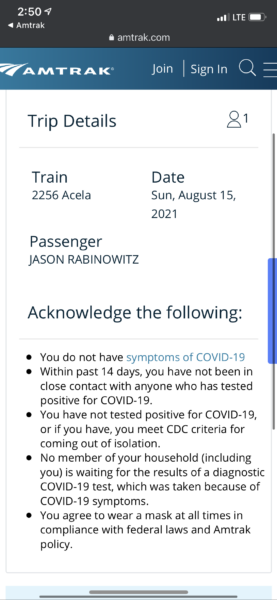 I arrived at Washington's Union Station only about 15 minutes prior to departure. In the days before Amtrak rolled out assigned seating, I would have left much more time to ensure I got a decent seat (similarly if I was flying back to New York)
It was great not having to stand around in the departure hall or scramble for a decent seat.
I proceeded straight to the posted track and noticed that aside from marking car numbers on the train itself, Amtrak has made no attempt to mark car numbers on the platform or otherwise.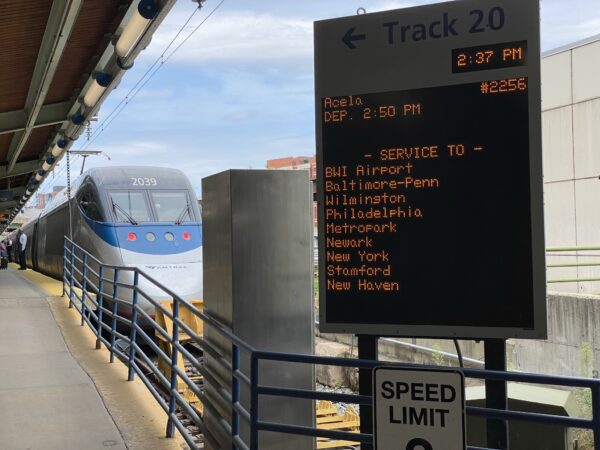 Even worse, Amtrak had not activated the digital displays above each seat which should indicate whether or not a seat is occupied. Each display only read *EMPTY*, which complicated the boarding process as some passengers were unaware that seats are now assigned.
Those passengers who were looking to switch seats were misled as to which seats were actually unoccupied. Amtrak has a lot of work to do to improve this experience.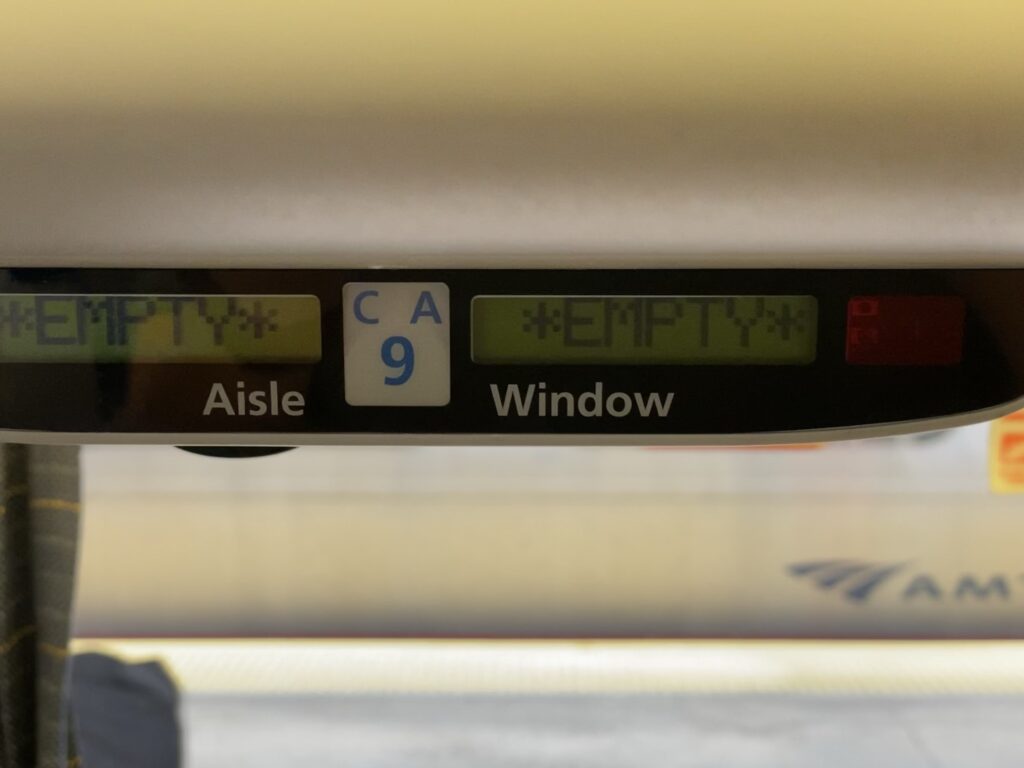 As is typical for Amtrak, the seats are very roomy and comfortable, though their age is starting to show.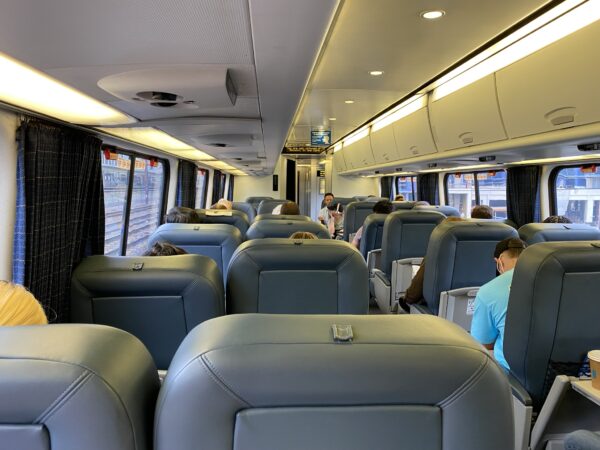 Amtrak never gave the Acela trainsets a mid-life interior overhaul and as such the entire train felt a bit dated. The new Acela trainsets are now expected to enter service in 2022 and bring a host of upgrades and improvements.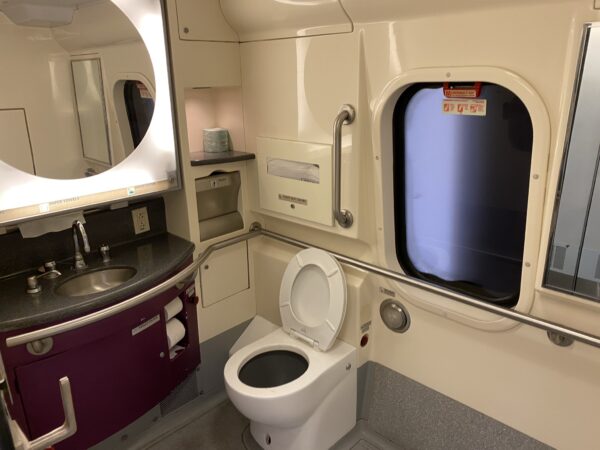 The seemingly 100% full train departed Washington DC exactly as scheduled and arrived in New York two minutes early, a fact that the crew made sure passengers were aware of as they made the arrival announcement.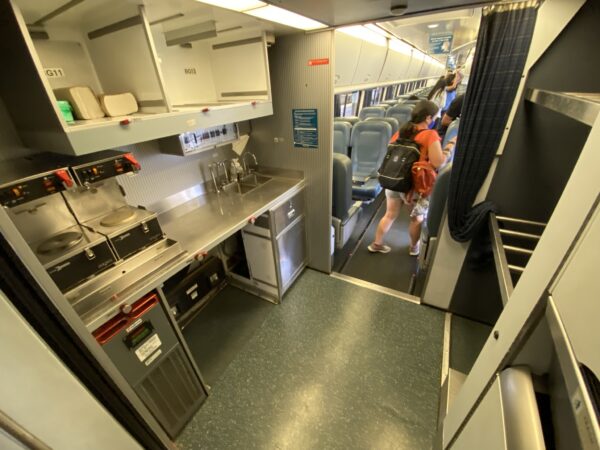 Amtrak has some exciting plans for its fleet in the Northeast over the next half decade, with new Acela trains coming soon.
And, throughout this decade, we should expect a full replacement of the aging Amfleet cars operating Regional trains. Hopefully that means Amtrak will take some time to overhaul its digital experience and systems to ensure a more 21st century experience.
Related Articles:
All images credited to the author, Jason Rabinowitz