US Federal Aviation Administration (FAA) officials are seeking public comment on a proposed new information collection activity concerning a standing requirement that passenger carriers disclose aircraft seat dimensions to facilitate the use of child safety seats on planes. The data gathering requirement, which came into effect in 2015, is up for renewal. But how effective is it in meeting its core purpose: helping parents figure out whether their child safety seat will fit onboard?
First, let's take a look at the law. The FAA Modernization and Reform Act of 2012 called on the FAA to require that each Part 121 carrier post on its website the maximum dimensions of a child safety seat that can be used on each aircraft it operates to enable passengers to determine which child restraint systems (CRSs) can be used on those aircraft.
As FAA spokesperson Catherine Burnett explained to RGN, in the notice of proposed rulemaking (NPRM) aimed at addressing this requirement, the FAA recognized that it was impractical for each carrier to provide the maximum dimensions of CRSs as the carrier does not possess them or does not have ready access to them. Instead, the FAA amended its regulations (14 CFR 121.311) to require that these operators clarify on their sites the width of the narrowest and widest passenger seats in each class of service for each airplane make, model and series.
That's why we know that Delta Air Lines, purely for example, flies Boeing 737-900ER twinjets with a seat width of 16.3 inches to 17.3 inches. The law further clarifies that the width of a passenger seat means the distance between the inside of the armrests for that seat.
After the initial posting of this information per US law, airlines must keep the information current, updating it whenever they add a new aircraft type to the fleet or whenever they replace "the widest or narrowest seats installed on an existing airplane make, model, or series with wider or narrower seats".
Now, as the requirement to collect this information is up for renewal, expiring on 30 June 2022, the FAA is inviting public comments. The comments being sought are limited to the burden of gathering this information for compliance with the requirement.
Because there's a burden required by air carriers as a result of this regulation, the FAA is required to receive approval to collect this information under the Paperwork Reduction Act of 1995.
To be clear, comments are not being sought to determine if the requirement itself is fit for purpose.
But more than six years after its inception, your author wonders whether the way the rule has been applied is of help to parents traveling with small children. While US airlines have indeed followed the mandate, they've been creative about how they post this information, sometimes keeping it separate from other seat information shown during the booking process — when parents might need it most.
The rule merely states that airlines must post this information on their websites. For instance, JetBlue features seat dimensions directly in its 'traveling with kids' page. Southwest links to the information on a separate page from its 'baby on board' page. American Airlines, which has a more complex mix of aircraft, posts the minimum and maximum seat widths on its aircraft fleet page.
It is a significant safety advantage for children to be seated in an approved restraint system. But even when families source data about the widest and narrowest seats onboard from an airline's website, they might still have difficulty knowing with certainty whether they booked a seat that fits their specific CRS, unless their child seat fits the narrowest seat listed for their plane. When a family tries to sit together in an economy cabin, the widest seats available may be limited and reserved as a premium booking option.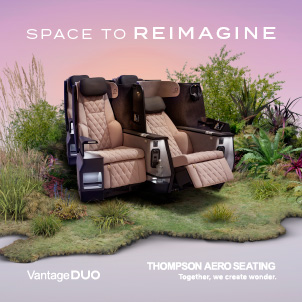 How can the situation be improved? There are many variations of seat size and width on a single aircraft, in keeping with the airline's cabin interior strategy and the overall interior capacity of the plane. Seats at the back may be narrower, but they are not the only narrow seats onboard. Airlines have far more detailed technical LOPA (Layout of Passenger Accommodation) diagrams — also known as seat maps — than what might appear in their booking engines. Airlines record the dimensions for every seat on each plane to support the installation and maintenance and the re-ordering of spare components such as seat cushions, dress covers, and headrest covers. Therefore, it should not be a significant challenge for airlines to publish dimensions for all seats on the digital seat maps in their booking engines. This would enable parents to determine if the seat they select at the time of booking will fit their child safety seat.
Airlines already highlight their "more space" seats as part of the sales pitch in the booking engine. If anything, showing full product information might also help ordinary travelers appreciate the value of those higher priced "more space" seats.
If the objective of the FAA's data collection is to ensure parents can fly with confidence that their child safety seat will fit, then it would make sense to require that aircraft seat dimensions be matched to the seat map at the time of booking.
Moreover, airlines are not required to supply current or accurate seat dimensions to third-party sites, including OTAs like Expedia. They are at present required by the FAA only to publish accurate 'narrowest and widest' seat width information on their own websites. As such, parents may have to take the extra step to double-check the airline website for seat dimensions before booking their tickets and hope there are no changes to the aircraft type on their day of travel.
By posting seat widths directly on the seat map, airlines might encourage more direct bookings.
The FAA's information collection activity is currently open for comments. It is inviting feedback through 22 November 2021.
Related Articles:
Featured image credited to Tomas Romero