As pressure mounts on ICAO to agree a long-term climate goal for aviation at its 41st assembly next year, the industry appears poised to increase the ambition of its own 2050 goal.
Twelve years have passed since IATA unveiled its plan to halve the air transport sector's carbon dioxide emissions by 2050, compared with 2005 levels.
Last year, the Air Transport Action Group (ATAG) published its Waypoint 2050 analysis, detailing how the industry aimed to meet that target. At the time, the group said that aviation "should be in a position to meet net-zero emissions at a global level by 2060 or 2065".
During ATAG's virtual Global Sustainable Aviation Forum on September 28, however, the group's acting executive director, Haldane Dodd, said it would soon publish an updated version of the Waypoint 2050 report to reflect the increased momentum toward climate action during the Covid-19 pandemic.
Prior to the crisis, he notes, 11 airlines had individually committed to net-zero CO2 emissions targets by 2050 or sooner — a number that has since risen to 61.
"With these shifts in mind, we've been working to update the important Waypoint 2050 analysis we first published last year," says Dodd. "Given the public and business interest in net-zero 2050, today we'll give you a preview of an update to that analysis, showing the ways in which the industry could potentially look at a net-zero pathway."
Under close examination are sustainable aviation fuels (SAF), of which 445 million tonnes will be needed by 2050 to meet the industry's requirements — a massive increase over the trickle of SAFs in commercial use today.
Volumes must increase "8,000-fold from last year's level", according to Kata Cserep, managing director of aviation at ICF. This would require the construction of up to 7,000 production facilities — the cost of which could potentially be covered by oil and gas companies.
"If the global energy industry used about 6% of their annual capital expenditure, it would cover the investment needed to replace almost all of our liquid fuel needs with sustainable aviation fuel," says Dodd.
Other key pathways include electric, although this is likely to be limited to smaller aircraft types, and hydrogen, which has its own challenges to overcome on distribution and on sustainable production.
ATAG's updated analysis will provide a "data-driven basis for the technical challenges ahead of us", says Dodd. While the transition is "not going to be easy", he adds, "there are some clear pathways to get to both our decade-old industry goal, and also beyond that to net zero".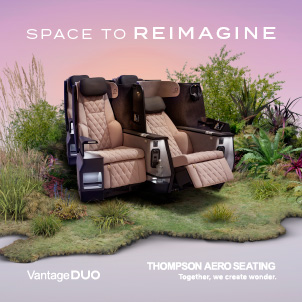 Panellists at the forum agreed that collaboration across all stakeholders and the right governmental policies would be essential to decarbonizing aviation. But the industry seems to recognize that however ambitious its targets sounded in 2009, they no longer cut the mustard.
"I think it's absolutely critical that our industry aligns our goals and our ambition to the latest scientific evidence, which says that we have to move at a faster pace," says IATA director general Willie Walsh.
The pressure is also on ICAO to agree a long-term climate goal for the global aviation sector at its 41st assembly in September 2022.
"ICAO faces an enormous challenge, and its credibility is really on the line," says Annie Petsonk, deputy assistant secretary for aviation and international affairs at the US Department of Transportation.
It is clear, however, that there are internal wrangles among ICAO member states, particularly as countries work to get their economies up and running after the pandemic.
"There are different points of view within the Council," says Egypt's ICAO Council representative, Angie Ahmed Abdallah Mostafa Elyazzy. While it is "very critical for ICAO to move quickly" on a long-term climate target, she argues that the goal "shouldn't be one-size-fits-all".
As ICAO member states continue their discussions and the aviation industry evaluates which pathways might help it fly out of its climate crisis, the clock is ticking on meeting the Paris Agreement target of limiting global warming to well below 2°C.
"We think that anything short of net zero doesn't fit into that overall trajectory, and that's what our expectation would be," says Aviation Environment Federation director Tim Johnson. "Whatever the agreement is at ICAO next year, it has to have that level of ambition. We can't afford to miss this opportunity."
Related Articles:
Featured image credited to Becca Alkema