Collins Aerospace recently unveiled its Lilac-UV sanitizing light system as part of a licensing agreement with Boeing which grants Collins the ability to use the technology for inflight operation. A finalist for the 2021 Crystal Cabin Award in the "Clean & Safe Air Travel" category, the intelligently programmed Lilac-UV system could sanitize aircraft interiors nearly anywhere.
Lilac-UV emits a slight violet germicidal light in the safer 222 nm range, disinfecting surfaces in seconds to minutes, depending on lamp configuration and specific pathogen.
Airlines can install the solution in lavatories, galleys, flight decks, cargo bays, and passenger service units (PSUs) or at other points where cabin lights exist. The system can be programmed for scheduled cleanings or manual applications during or between flights. It features an intelligent dosage controller for scheduled cleanings and manual treatments, and an occupancy detector for enclosed spaces, like an airplane lavatory.
Installing Lilac-UV in the overhead PSU would allow the beam to pinpoint high-touch zones in the seat, such as headrests, magazine pockets, armrests, and tray tables.
Runway Girl Network spoke with Collins Aerospace director, advanced technology & laboratories Brian St. Rock, and company research and development lead John Edquist to learn more about the opportunities and limitations of such systems for cabins.
Some individuals have expressed concerns about whether prolonged exposure to UV light as a sanitizing solution might degrade the cabin materials onboard and possibly represent a health hazard for crew, technicians, cleaning staff and passengers. An advantage of Lilac-UV is that Boeing intensively researched and specifically selected the 222 nm range for this UV light system because it represents a lower risk than the higher 250+nm range (used in other UV sanitizing solutions) without sacrificing effectiveness.
"There's been a lot of work done in this space, both internally here within Collins, as well as throughout the industry. Boeing has done a lot," St. Rock told RGN. "The specifics will depend on the exact type of material, of course, what is the color of that material. Dark colors are pretty resilient. If you have like a pure appliance white, maybe you see [some discoloration], but in general, 222 nm [has yielded] promising results on compatibility with material systems that you would typically find within the cabin."
The primary effect might be some surface discoloration over time, but we're given to understand that we shouldn't expect issues which might affect the certified material in the context of safety or performance.
St. Rock and Edquist explained that Collins joined an industry task force that is wholly dedicated to exploring the impact of UV light solutions in aircraft cabins and is establishing standardized testing for approval of these systems. "We all agree that UV lighting is bound to end up in the aircraft, eventually, so we're working together to find the best way forward," said St. Rock.
Reducing the risk to people in the cabin starts with using the safer 222 nm UV range and involves the intelligent controls that Collins has developed for Lilac-UV. "It all goes into our design criteria for how to manage luminescence of the light and the dosage," said St. Rock.
Collins is guided in this development by published safe dosage standards for 222 nm UV. Explained Edquist:
We want to be sensitive to people that might inherently be concerned about UV light in general. The core piece of technology that Collins is developing here is this intelligence and operation. We're not just turning a lamp on for a preset amount of time and then turning it off. It's about connecting these devices together to set the dose based on global health risk conditions or airline preference. We can monitor occupancy or other attributes, and we're turning Lilac-UV on intelligently so we can adapt to whatever the environment might be.
Selecting the UV 222 nm range also enables varying dosage degrees to allow for different operation phases. "It is a cumulative effect. It's based on the total dose," said Edquist, noting that it doesn't have to be just an intermittent disinfection cycle. "It could be more persistent disinfection, [with pulses] throughout the flight for disinfection, and a longer dwell time upon landing."
Notably, Collins don't need the cabin to be completely empty to run the solution. "Especially for the light systems in the passenger service unit, we're looking at a direct line of sight exposure. If a flight attendant is going in and cleaning, and he or she gets some intermittent exposure, it's completely safe for that to happen. They don't need to have a lot of protective equipment or gear [for the Lilac-UV system]," he says.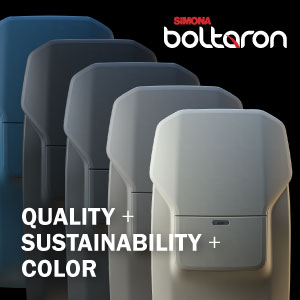 A significant advantage of relying on UV for disinfection is that it reduces the need for personnel to perform more labor-intensive sanitization tasks, while reducing the amount of chemicals used. Both of these factors would reduce costs, downtime, and chemical-induced material degradation.
As the airline industry considers the range of possibilities available in the light spectrum, we asked St. Rock and Edquist for their thoughts on the future of this nearly limitless resource.
"It's been fascinating watching the rollout. Twenty years ago, we had fluorescent lights with one purpose. As LEDs became standard and electronics became miniature, light is taking on more and more functions — for data, for mood, and health and wellness," said Edquist.
"What we're trying to do is combine all these pieces. As we develop our next generation lighting systems, we see how all these pieces can work together to minimize any impact, to add new technology and new functions."
But how soon might we expect to see Lilac-UV fly? St. Rock said, "I think there's opportunities or options to roll it out in different ways, whether it's initially in a confined environment or targeted applications — whether that be work surfaces or confined spaces on the aircraft, or it could be in the cabin.
"Part of the collaboration with Boeing is to help identify that and to help streamline and accelerate our path to market, to ensure that we're moving as fast as we can and streamlining as much as we could be. We're on a good path to get it out there and adding value."
Related Articles:
All images credited to Collins Aerospace