With a leadtime of months to years, airline product designers like the textiles specialists at John Horsfall are a crucial bellwether for carrier attitudes, plans, and spending. And airlines are returning, design manager Alexandra Allen tells Runway Girl Network.
"A lot of them are charging back now, trying to get back to developing — they want to do more newness now that we're seeing the light at the end of the tunnel and coming back to travel."
To stimulate these discussions, Allen and her colleagues are identifying four key design trends for the post-COVID cabin.
Allen starts by outlining "home comforts in the sky", inspired by a lot of the home crafting movement that people in lockdowns and restricted from travel have enjoyed over the last year. It's natural colours and fibres, handcrafted look and feel, and very domestic in overall aesthetic.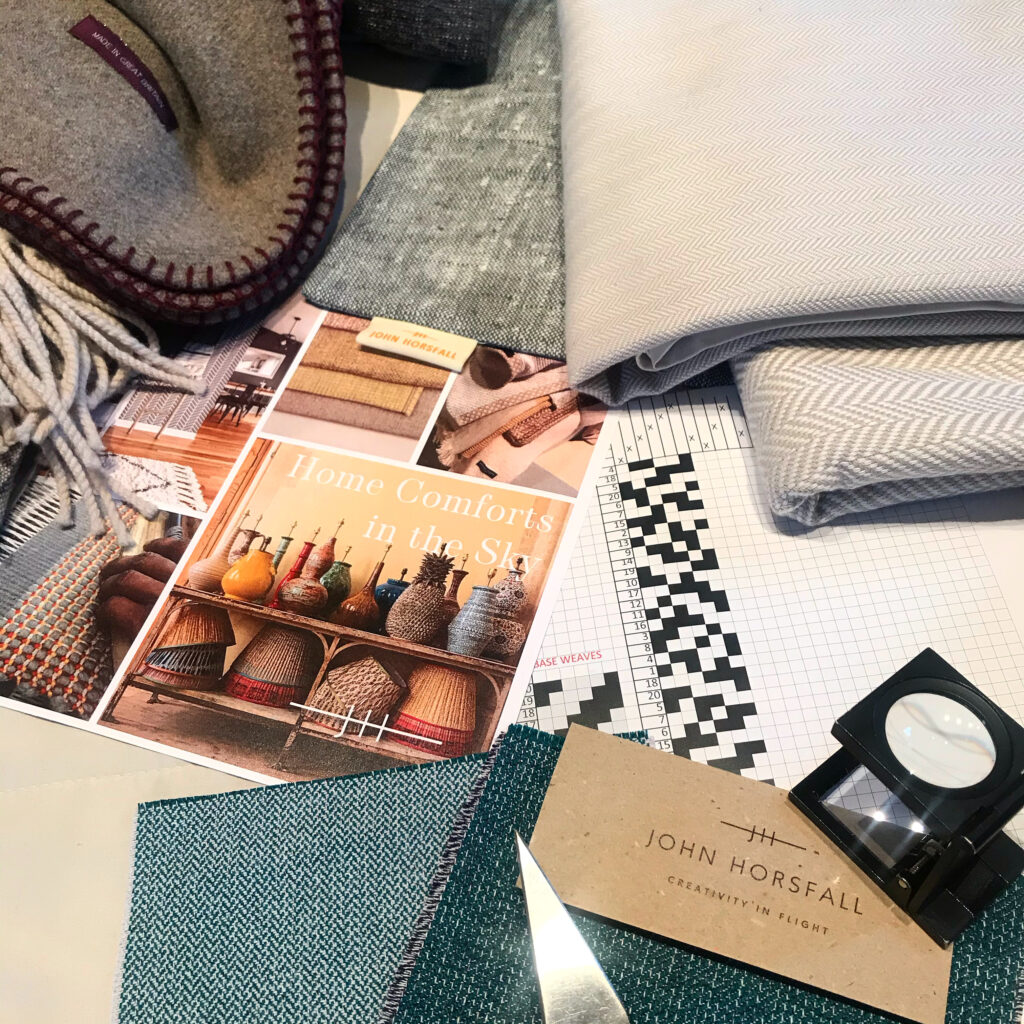 It is, Allen suggests, "kind of a reawakening and a rediscovery of heritage and nostalgia", and — perhaps unsurprisingly for a business that began as a Yorkshire weaving mill — John Horsfall feels that the trend is right up its alley.
"We've got some woven experts that are developing so many different textures — how the warps and wefts cross each other," Allen says, highlighting that the use of different colour threads can also create a variety of visual and trompe-l'oeil textures.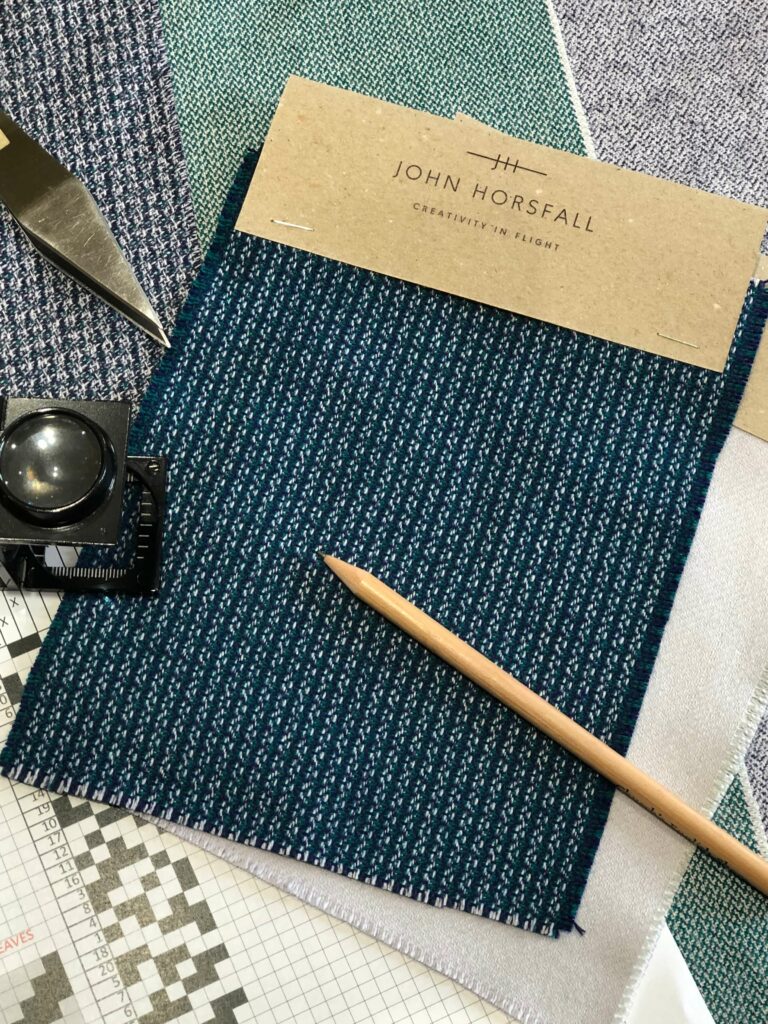 The "return to nature" is the second card in the John Horsfall tarot deck, and it's a series of both greens and natural garden colours, as well as the return to the sustainability agenda that was growing in amplitude before COVID-19 devastated the travel industry, with renewable and sustainable options like recycled materials and items based on paper, not plastic.
"It doesn't have to be sort of classic ditzy floral or something like that," Allen emphasises. "It can be in a bolder interpretation more so with the colours and like acidic highlights, maybe, to green tones."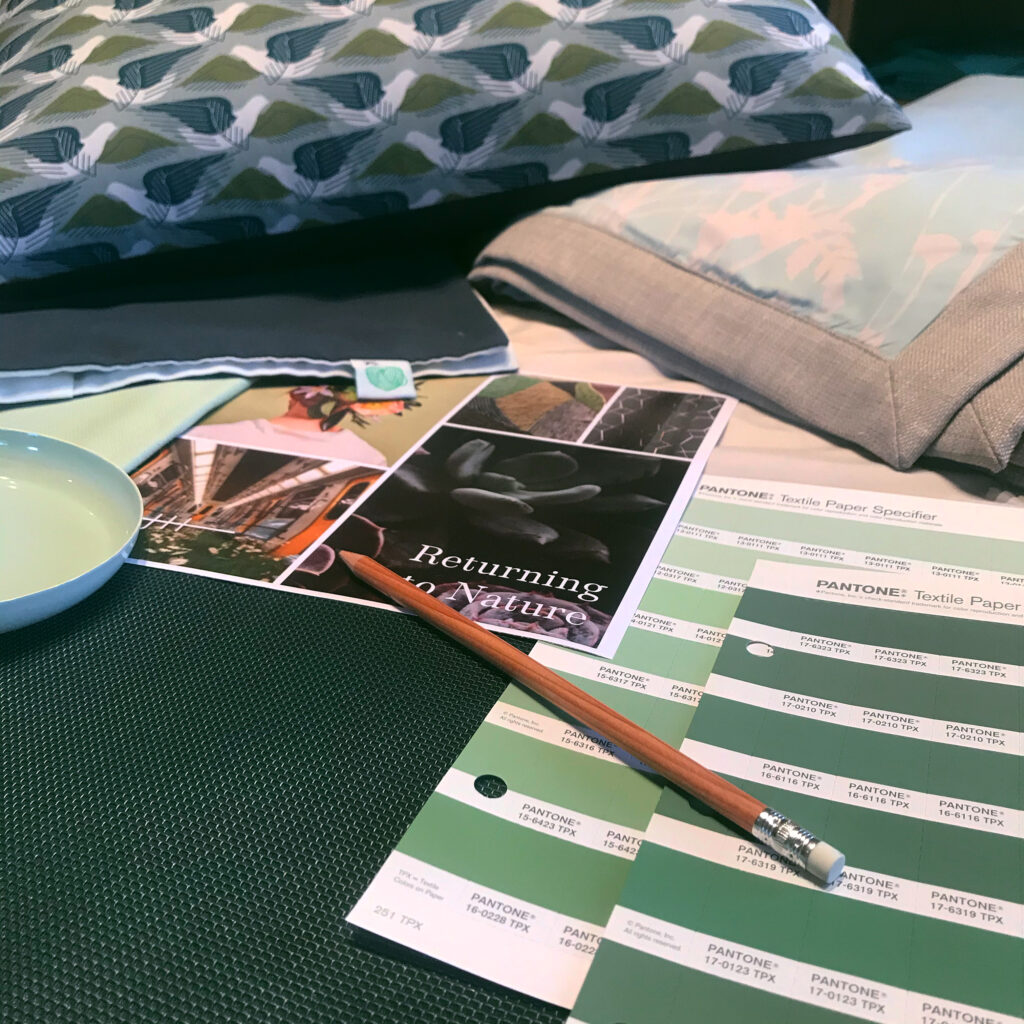 At a time when stress on the aircraft feels like it's never been higher, that could have calming effects: "the green colour palette as well that we use here predominantly in this nature trend can offer so many different qualities to it. So we can have maybe like a lighter mint shade, and that can be quite calming and reducing stress sort of thing, that sort of colour in a cabin environment," Allen says.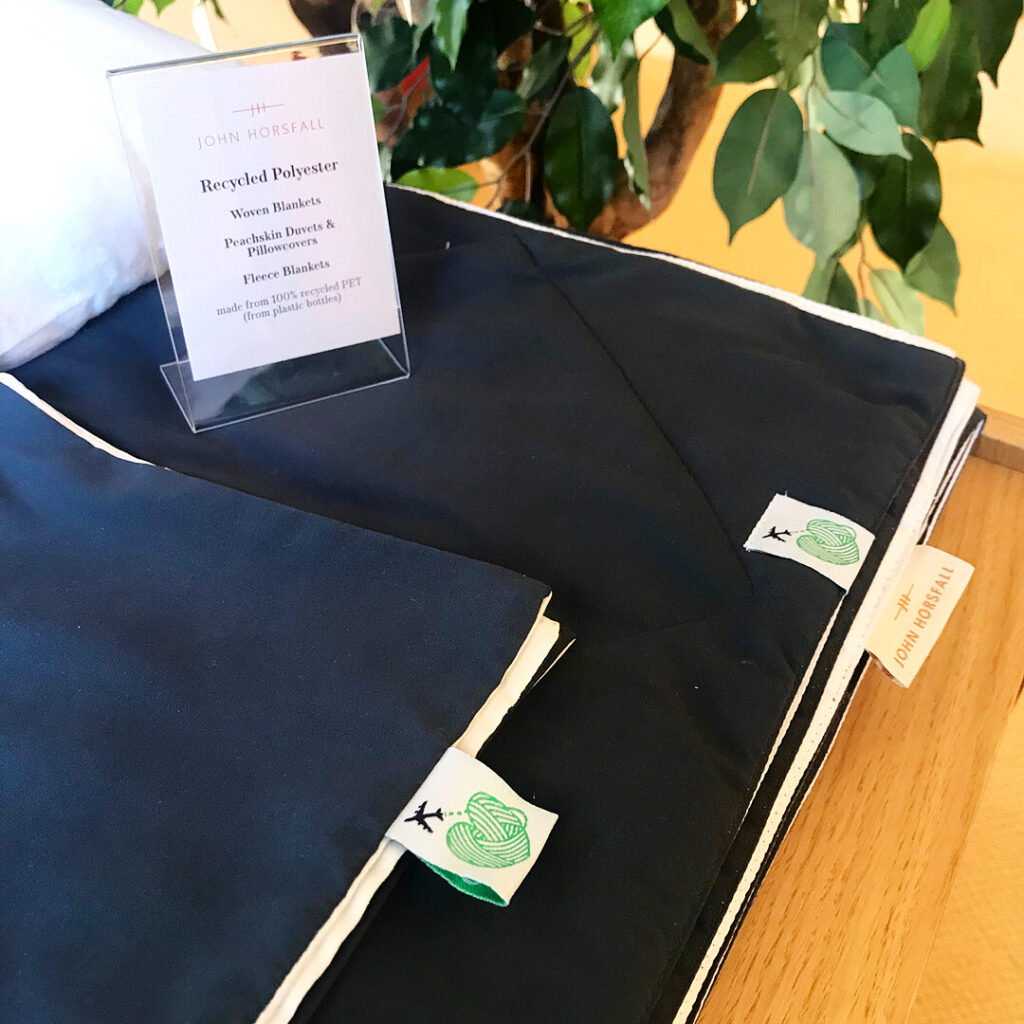 "Protected neutrals" is the next trend in the crystal ball, and that harkens back to one of Pantone's Colours of the Year, a concrete grey that sits alongside a bright yellow.
"We'll explore like natural concrete shades and stone shades, and hopefully that can offer an ambient environment for any cabin, whilst also keeping that tactility," Allen explains.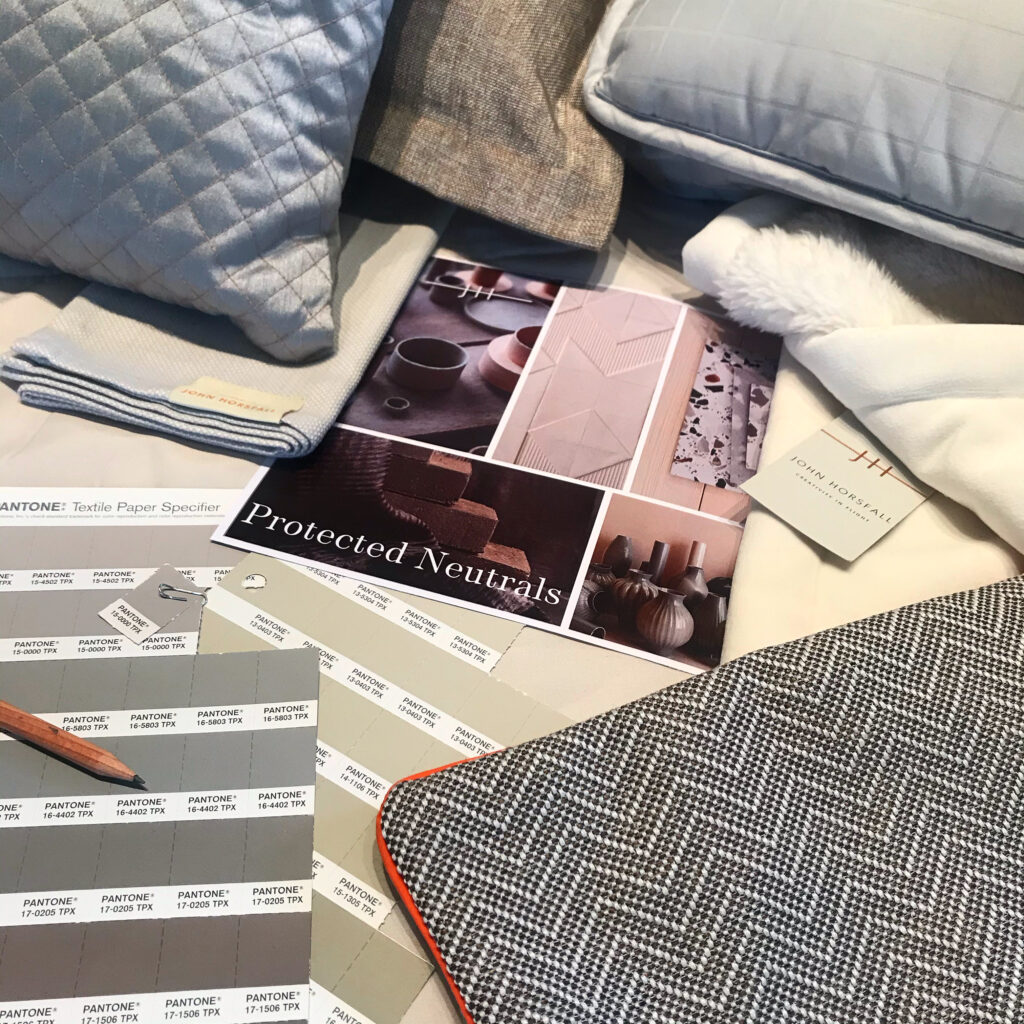 Concrete has, of course, most recently been seen as a lampshade effect on the new JetBlue Mint product.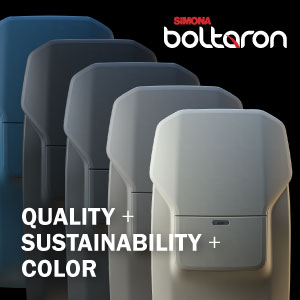 Moving on to "modern luxe", it's here where airline branding — a signature or secondary colour, for example — comes in, whether that's as a statement piece like a headrest antimacassar, a cushion or even a more subtle bit of piping or trim.
"On our textiles specifically, we feel like we'll see colourful geometrics and clean lines and, and bright flashes of colour," Allen says. "I think this will really offer quite a playful, fun sort of aspect on the textiles, while still keeping luxury."
"We feel that it's going to impact textile design, as well," she suggests. "We might see more of a tech inspired, more modern and contemporary look."
But covering all these trends, Allen notes, "all across all areas of design, current trends are embracing the pivotal changes that we're feeling right across the world right now. It has to embrace the new normal, and how that's ever-changing."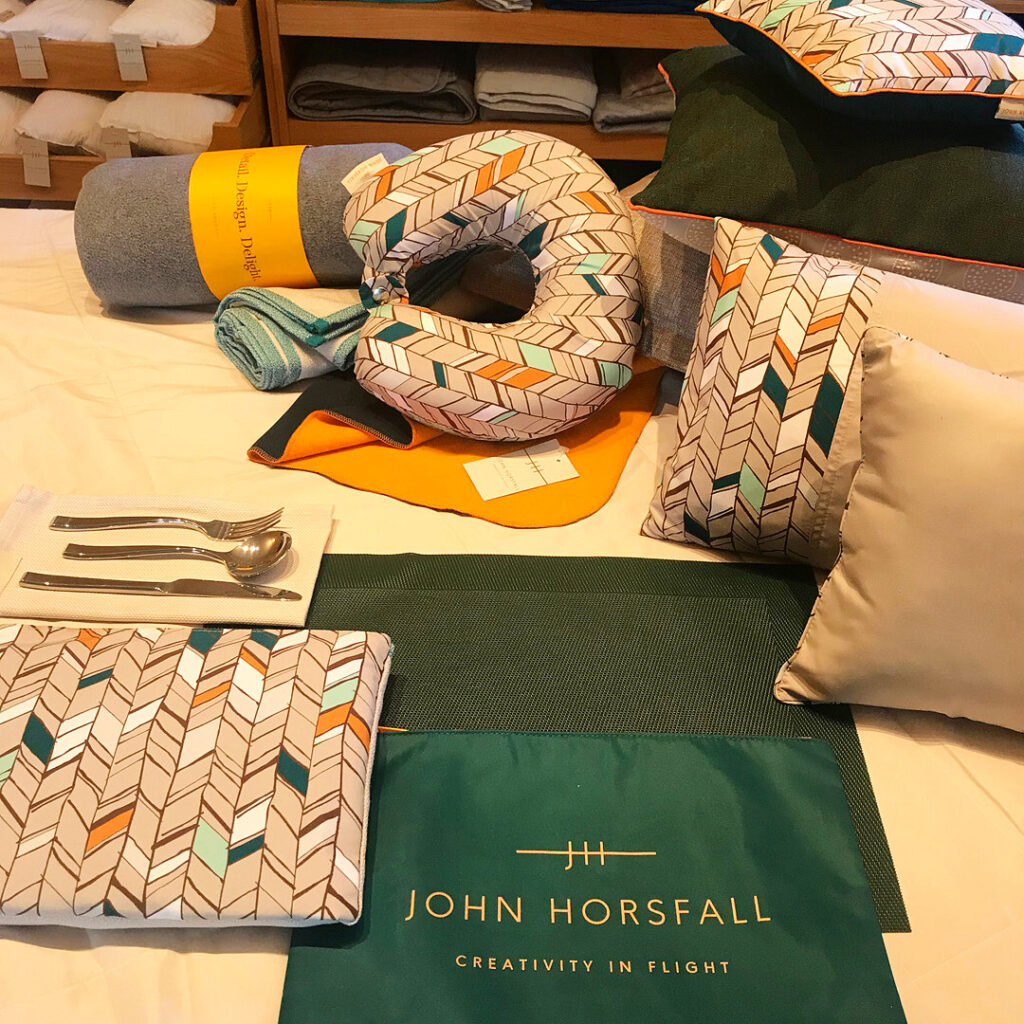 Related Articles:
All images credited to John Horsfall