In our zeal to optimize aviation design, we often look to cut out frivolous things and dead weight. Still, industry stakeholders were reminded of the importance of beauty for its own sake during a discussion on transportation design, mobility and the role of customer experience, arranged by the Industrial Designers Society of America (IDSA).
Hosted this spring by Glenn Johnson, fellow of industrial design at Collins Aerospace, the IDSA webinar featured insights from Johannes Lampela, director of design, and Cheryl Pelly, lead CMF designer, at the Los Angeles Studio of BMW Group Designworks.
"We often don't express the nature of visual beauty in our discussions. When I was studying in Italy, it was interesting how much you heard the word beauty — a lot — in the design discussion, and here in the US, it's not as common as some of the other words," said Lampela.
He suggested that even utilitarian design, like aircraft cabin design, should engage the senses and the imagination. "I just remember these conversations in Italy. Especially when you're in a brainstorming session, and you have a bunch of sketches and materials and whatnot, a professor or an experienced designer will look at something and say, 'how beautiful'" in reference to a drawing or a type of material.
"I think it comes from the more emotional reaction to design rather than the rational design practice. Of course, the foundation of design is problem-solving. It's always the number one key to design, improve, and resolve problems. But I think in certain cultures, maybe the emotional, visual qualities are expressed and discussed."
Glenn Johnson shared another interesting observation on the nature of beauty in design, "I've heard the phrase that something is not completely beautiful unless it's totally useless — like a statue. We kind of function somewhere on that sliding scale."
And that sliding scale is worthy of consideration for airlines, if for no other reason than to appeal to a multitude of international clients whose appreciation for beauty and definition of beauty may vary. While a stark utilitarianism may itself be made beautiful through the employment of rich, quality materials, we should not be too quick to shrug off the opportunities to employ some frivolous beauty. Consider how a simple stitched pattern can enhance a seat cover.
In another example, while statues themselves might be impractical elements of the aircraft cabin and sheer dead weight, it is now possible to project the Louver Museum's entire contents onto class divider walls and monuments using nothing but light.
That same light can also create peaceful landscapes and seascapes to project gardens and castles and monuments and historical landmarks or simply to set a mood. It can be done with little impact on the cabin's weight beyond the systems that create those images and can be varied seasonally and locally, depending on the destination or time of day, or phase of flight.
Beyond that, we have a wealth of CMF options available today, which can reflect an appreciation of beauty in patterns and textures, even keeping with new concerns about cabin hygiene.
Cheryl Pelly commented on customers' desire for unique CMF elements: "Clients will approach us to gain inspiration from different industries, such as automotive, residential, and hospitality. They are expecting a high level of detail in trim and finish, and the 'surprise and delight' factors. They don't want to have something picked from a catalog. They want it custom developed, a custom pattern, a custom weave for them."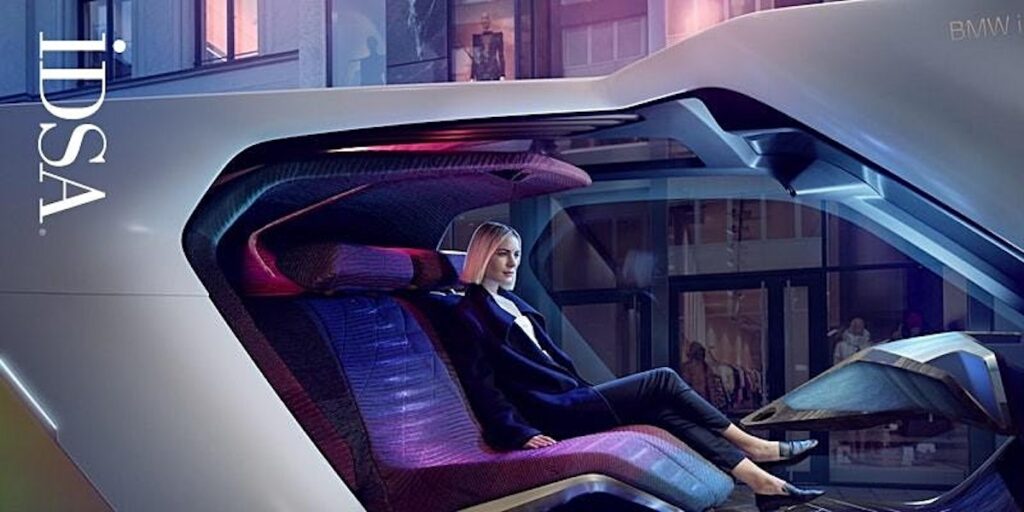 The measure of what Johnson accurately described as a sliding scale between sheer utilitarianism and beauty without function is perhaps more about reminding ourselves that beauty matters in creating ambiance, engaging the senses, and creating a sense of place.
This writer is reminded a bit of consummate utilitarian Marie Kondo and her curious question, "Does it spark joy?" before tossing out a lifetime's worth of possessions. It is possible to lighten the load on our aircraft and reduce costs without forgetting to spark joy? It can be something as simple as a humorous detail — the iconic Virgin Atlantic miniature rubber duckie included in their amenity kits in the 90s, which served no greater purpose than to provoke a smile. Or it can be something more practical, yet not entirely necessary, like the diamond stitching pattern on Emirates' new Premium Economy seat.
These days, when we are stripping the cabin bare for the sake of health, we should not leave the bones exposed without at least lending them a daisy to strike the fancy.
Related Articles:
All images credited to Marisa Garcia