US start-up Breeze Airways confirms it has issued a request for proposals on Routes' community platform, Route Exchange, seeking to serve underserved markets from the United States within the range of its forthcoming Airbus A220-300 twinjets.
The Utah-based carrier, which recently inaugurated Embraer E-Jet operations on the East Coast, is now using Route Exchange to identify new airport partnerships that would facilitate A220 service in "the Americas, the Caribbean, and Western Europe", according to a press release issued by Routes and confirmed by a Breeze Airways spokesman. The first A220 from Breeze Airways' 60-strong order will arrive in October, and deliveries will continue at a rate of one per month for five years.
Routes is part of the Aviation Week Network division of Informa plc. Its Route Exchange digital platform helps the aviation community identify new route opportunities, build brand presence, and access industry information, supporting route development strategies.
"As many airlines have retrenched their networks in response to the pandemic, we have identified even more underserved cities ripe for our unique service. We're confident that the RFP hosted on Route Exchange will support our ambitious short- and medium-term growth plans in many unserved markets," said Breeze Airways head of planning Max Barrus.
Routes said airports with cost structures and facilities suitable for A220-300 operations have been invited to participate by first completing a prequalifying questionnaire with a submission deadline of 23 July. "Successful applicants will then be asked to submit a formal response for evaluation which could lead to the launch of new routes later this year," it added.
News that Breeze Airways has issued the RFP elicited excitement on Twitter.
From a passenger experience perspective, Breeze Airways has selected Safran Seats' Z110i economy class slimline and Z600 chaise-style business class seat for its dual-class A220s.
The Z600 offers comfort and living space through a unique cradling motion kinematic.
On the entertainment front, Breeze Airways chief operating officer Tom Anderson in May 2021 reiterated what founder David Neeleman intimated to Runway Girl Network years earlier, that the A220s will not feature seatback IFE, but rather will stream content to passengers' own devices (which is in sync with the #PaxEx offered on the E-Jets).
Unlike on the E-Jets, however, Breeze intends to offer live inflight connectivity on the A220s, which it deems especially important for the longer stage lengths of these flights.
Management has been studying a variety of IFC options, both air-to-ground (ATG) and via GEO satellites, and even future LEO satellite-powered solutions. ATG would be able to support operations within North America; however, a satcom solution would be needed to facilitate IFC on international flights and over water.
Thinking out loud, noted Anderson in May: "Do you want to say, I want to jump straight to LEO technology that's being discussed? And so it makes the connectivity discussion a little more complicated." But while LEO-supported IFC technology is "intriguing" the timeline for readiness makes that "less certain than other options", he admitted.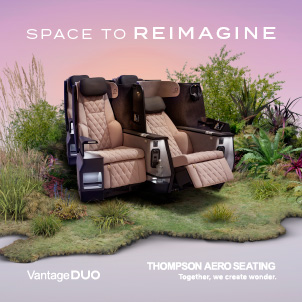 In terms of pricing models, said Anderson: "There is this tradeoff of something that might be free and less capable versus something that is more capable, but economics are such that it can't be done for free, or if it's done for free, it has to be somehow embedded in the ticket price."
"As you can imagine, there is almost an endless amount of options and that's something we need to explore. Is it a tiered option? Is a certain amount of functionality free, something available to certain fare classes, or is there a commercial partner who would subsidize and help make it happen, the number of permutations are quite significant."
Interestingly, another Neeleman-founded operator, Brazil's Azul, is presently rolling out free Viasat-powered Internet browsing on 100 domestic narrowbodies, and is wrapping the cost into the price of the ticket, and offsetting with advertising.
Sharing a personal story, Breeze Airways' Anderson said, "I've always cringed at paying $39 for connectivity but it was something my employer was willing to pay for, but the number of people capable of doing that — that business model — is one that we absolutely will not accept. To have your best customers paying for connectivity is something you try to avoid."
This week, a Breeze spokesman declined to comment on whether or not the carrier has since selected its IFC provider. Anderson said in May that the firm would likely bring IFC to the A220s via post-delivery retrofit modifications.
Related Articles:
Featured image credited to Breeze Airways