Prominent industry executive Nancy Walker boasts a remarkable resume. In her lengthy career, she has worked at NASA, Thales, and most recently SmartSky Networks where she held the role of chief commercial officer. Now inflight entertainment and connectivity provider Global Eagle has appointed Walker as senior vice president commercial, inflight connectivity, tasked with leading the firm's sales and account management for IFC.
Walker's appointment comes at a pivotal time for Global Eagle. The company, which counts Air France, Norwegian, Southwest Airlines and Turkish Airlines as customers, has just emerged from Chapter 11 bankruptcy protection. It tells Runway Girl Network it is eyeing fresh opportunities in the aviation market as US domestic air travel picks up and as travel restrictions around the world are poised to be lifted consistent with the rollout of COVID-19 vaccinations.
"As the airline industry looks to recover in 2021, we are committed to supporting our customers with the highest performing inflight connectivity solutions to exceed passenger expectations. Nancy's extensive background leading inflight connectivity and satellite communications projects will help us achieve this goal," says CEO Josh Marks.
Walker welcomes the new challenge. "While the past year has been incredibly challenging for businesses, and particularly for the aviation industry, it has also presented opportunities to refocus and strategize. I am proud to be joining Global Eagle during this period of growth and will be drawing upon my experience in strategy, operations and execution to ensure we continue providing our airline customers with the very best connectivity solutions on the market," she says in a statement.
As CCO of SmartSky, Walker lead the company's network-related sales and marketing efforts across various verticals, including business and commercial aviation. SmartSky is building a nextgen air-to-ground connectivity network in the continental United States, and expects to launch service shortly.
A SmartSky spokesman tells Runway Girl Network that the firm does not intend to initiate a new executive search. "[O]ur president, Ryan Stone, has re-assumed these responsibilities," he says in reference to the CCO role. SmartSky has, however, separately appointed cellular technology pioneer David Claassen to the position of chief technology officer, with responsibility for directing SmartSky's technology strategy and execution.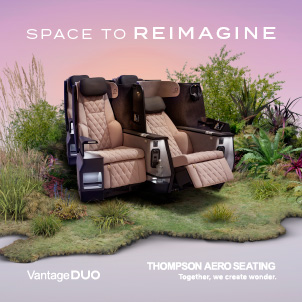 Prior to her tenure at SmartSky, Walker worked on commercial and military communications programs, while also running her own entrepreneurial consumer businesses, and successfully raising two children.
Among a minority of top female executives in IFC – and indeed in aviation – Walker told RGN in a 2018 interview that she is keen to see girls and young women made aware of the opportunities in engineering and aerospace. She is a firm believer that attitudes need to change among educators and parents, not girls themselves. "Give them the options and they'll chose their own path, but you need to ensure they know the options first," she said at the time.
For Walker, math was always like a second language to her. The daughter of an engineer, she grew up on Florida's space coast, and got her first break at NASA as part of a scholarship program.
Now she'll help Global Eagle grow its inflight entertainment and connectivity business around the world.
Related Articles: