With its new wider triple-seat narrowbody concept Paradym, Lift Aero Design is asking a big question of aviation: for the next generation of aircraft seating, how about making the aircraft wide enough for the humans of today and tomorrow, rather than the humans of the 1950s?
Lift's Daniel Baron sat down with Runway Girl Network from Tokyo to explain more about the design house's intent with the concept, which proposes a wider, more feature-filled seat as a hybrid economy-economy plus-premium economy product.
Paradym, says Baron, is "a single-aisle configuration concept for future aircraft, using a fuselage that is wider than those flying now. And we assume improved aircraft economics in order to realise the lateral stretch. Paradym features a 'wide flexible triple', meaning a 3 x 3 configuration, with 20 inches between armrests instead of the usual 17/18 inches, as well as two armrests between passengers instead of the usual one."
It's aimed at a premium-level economy — and to an extent a Premium Economy — market, and designed in order to be marketed across the sub-business class product lines across the aircraft.
"Paradym's target is the hybrid long haul airline that wants to optimise its seat hardware investment by turning every row of the aircraft into multiple revenue opportunities," Baron says. "With two armrests between seats, economy class becomes premium economy by raising one of them. Raising all four armrests and the front of the seat bottom cushions creates a spacious flat bed of 1.75 meters [5'9"] long. This creates an opportunity for two new products: Economy Flat or Premium Eco Flat."
Essentially, the idea is that airlines use the current and next generation of revenue and yield management tools to offer passengers ancillary upsells outside the traditional model of upgrading from behind one bulkhead to in front of it.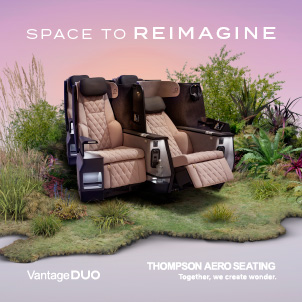 Rather than attempt to be all things to all airlines, Baron notes that "Paradym is probably not for traditional full-service network airlines, whose proposition to premium customers is linked to separate, exclusive cabins. It isn't meant to replace suites with doors."
The drivers behind the seat are multiple: for a start, post-COVID heightened awareness of hygiene, wellness and proximity. Moreover, as Baron explains, "while humanity is growing in size, economy class seats are, in general, going in the other direction."
In essence, it's putting a stake in the sand and saying that people are bigger, so aircraft need to be as well. That's a refreshing message coming from within the passenger experience sector.
The next driver is the increasingly blurred set of lines between seat classes, and the partitions and monuments throughout them, especially with recent improvements in revenue management and the declining importance of traditional four-class (F/J/W/Y) distribution compared with new ancillary revenue options.
Practically speaking, too, Lift has designed Paradym to be created "with a single seat development program and a single set of part numbers to manage."
It's fascinating to examine the design cues that come from the product too. The tapered back cushions create more arm space, in contrast to what exists with current seats. The double-armrest configuration is very premium economy, removing the comedy-show-staple armrest war from the equation. A full-wrap headrest both adds privacy and feels very upmarket. Curved seat bottom cushions not only solve the short traveller vs tall traveller argument, but also make a wider, cliff-free surface to curl up on while sleeping and add seated support too.
All in all Paradym is a fascinating addition to the discourse, all too often focussed on creating less space rather than more, particularly at a time when the next generation of aircraft are under study.
"Let's push the envelope, particularly for LCCs and hybrids, and shape a new standard," Baron says. "And let's push for that new standard to influence fuselage width."
Related Articles:
Featured image credited to Lift Aero Design