As the movie landscape is reshaped amid the COVID-19 crisis – and on the heels of the bombshell decision by Warner Bros. to exhibit its 2021 slate concurrently in theaters and on HBO Max – the stage is increasingly being set for disruption in the inflight entertainment space. Joining a growing contingent of industry voices, Gogo Commercial Aviation president John Wade envisages a future in which passengers will be able to access their streaming providers over Internet-connected seatback screens.
"We do see that IFE is very complementary to IFC. But when I look at the world of IFE, those systems have largely been what I would call offline systems. And while there is streamed content, it's content that's on board the aircraft. It's not giving you access to the content that you want. I think if we look at our own homes today, I'm going to guess, Mary, that all your TVs are Internet appliances and you use them far more for streaming than you do for watching broadcast content these days? If IFE is going to survive, we think that trend needs to happen in the air as well," Wade told Runway Girl Network in a December interview, following satellite operator Intelsat's $400 million acquisition of the Gogo Commercial Aviation business.
"So, we think that IFE needs to migrate to becoming more like our homes, where you stream your own content, either to your own device, which is obviously what we used to call BYOD, to an environment we're calling BYOL, bring your own license."
He continued:
Certainly, I see a vision in the future where I come on [board] with my mobile device, but I actually want to watch my content and stream it over the seatback screen just like I do at home. And with the evolution of satellite systems becoming capable of offering streaming content at very affordable prices, then I think that's the way that IFE needs to migrate into the future.

As a network operator, we love data traffic. We've never met a megabyte we didn't like. And we'd be very interested in working with an IFE company that share that same vision as to how we can complement and enable their IFE system to become …

Rather than saying in our industry we call it IFEC, but I start to wonder whether it should be IFCE. The emphasis, I think, has moved from entertainment to connectivity.
It is, perhaps, unsurprising, that the aero ISP arm of a major satellite operator sees IFE evolving in a manner that will require more satellite capacity to an aircraft. After all, rival Viasat has for years predicted that the function of the seatback screen could change. "The people bring the content and they'll just mirror it up on the screen," suggested Viasat vice president commercial mobility Don Buchman in 2017. And Viasat's new airline customer, Delta Air Lines, is already suggesting that their partnership "lays the groundwork for future enhancements and personalization with the seatback screen that customers will love".
Viasat's high-capacity Ka-band service is, of course, already supporting a free streaming class of Internet service to passengers' own devices on JetBlue and Qantas narrowbodies.
For its part, Gogo Commercial Aviation parent Intelsat has already dedicated satellite capacity to the aero market. Not only does it help power Gogo's Ku-band IFC solutions, but Global Eagle and Panasonic's Ku networks to boot. In the coming years, it expects to be able to direct high-throughput capacity "precisely where and when an airline needs it", as it has contracted Airbus to build two in-orbit reconfigurable, software defined satellites, with delivery scheduled for 2023.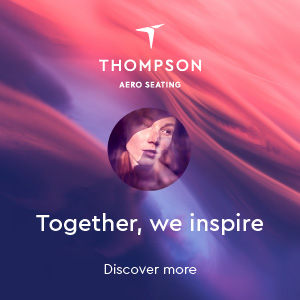 Gogo Commercial Aviation also has some experience in bringing in-seat IFE to market, having helped to develop the tablet-based wireless seatback system on Delta Air Lines' Airbus A220s. Delta's new in-house unit, Delta Flight Products (DFP), later took full ownership of delivering the product to other types in the US major's fleet.
Could Gogo Commercial Aviation take some of its previous work and deploy the wireless seatback technology itself or with a partner?
"We're exploring both avenues right now," revealed Wade late last year. "We don't have a firm position on whether or not we would take our own system to market. If one was to do that then you'd have to make sure you compete in a market that's somewhat crowded already. So, I think our preference would probably be to work with others. So, if there are IFE companies out there who are interested in talking to Intelsat, I welcome them to reach out."
In the meantime, Wade says the company is very much looking at how to keep its BYOD-focused, cached content-based wireless IFE products relevant. He teased that "there are some interesting things we're looking to bring to market, and when we are ready to announce them, I'd be very happy to talk about it."
Related Articles: