Inmarsat will stop supporting Swift64 service at the end of this year and is planning a December 2023 end date for its Aero H/I service, the satellite operator confirms to Runway Girl Network. But it assures that the Classic Aero service known as Aero H+ for cockpit safety, voice and data will continue to be supported.
"The end-of-life for Inmarsat's Swift64 is scheduled for the end of year and Aero H/I for December 2023 as you correctly note. Importantly though, this is not the end of Inmarsat's Classic Aero service, which remains supported via Aero H+," says John Broughton, Inmarsat SVP of airline and operational services.
"There are thousands of aircraft that use Classic Aero across many sectors of aviation, including 90% of oceanic aircraft, and it remains the gold standard for safety communications and surveillance."
To Broughton's point, even new-design aircraft have rolled out of the factory with Inmarsat's Classic Aero service for cockpit voice and ACARS data, as your author learned in July 2018 when covering TAP Air Portugal's reveal of its new Airbus A330neo.
Classic Aero's multi-channel voice, data, and fax capabilities work over three types of antennas: high gain (Aero H and H+) and intermediate gain (Aero I). SITA and Collins Aerospace act as service providers.
In 2002, Inmarsat introduced Swift64, the first "high speed" data service offering speeds of 64 Kbps-per-channel for flight planning, weather and chart updates, and other applications. Swift64 has been used by business jet operators and military clients, and even supported early GPRS mobile data transmissions on commercial airlines through inflight connectivity provider AeroMobile.
For Inmarsat's hardware partners, news that the firm will stop supporting Swift64 by year-end, and Aero H/I in December 2023 is not entirely unexpected. Inmarsat has been warning stakeholders of forthcoming changes for quite some time. When Inmarsat contemplated a price hike of Classic Aero in years past – in the context of a gradual migration to SwiftBroadband-Safety – it met with some industry opposition.
"Great to be able to remember when a 64 Kbps satcom channel was swift," L2 Aviation president Mark Lebovitz waxed nostalgic in a statement on LinkedIn. He told his followers that now is a "good time to start thinking about upgrading obsolete avionics to SwiftBroadband-Safety, Inmarsat H+, or Iridium or, consider both Inmarsat and Iridium for dual-dissimilar safety service operations to remove an HF system. L2 can provide many integration options."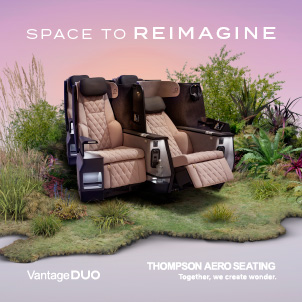 While Inmarsat is eager to see customers graduate from Classic Aero to its nextgen SwiftBroadband-Safety service – a global-except-for-the-poles, secure IP connectivity for the cockpit – Classic Aero has clearly proven sufficient for many operators.
Classic Aero services are accessible over both Inmarsat's I-3 and I-4 satellite systems, while the SwiftBroadband-Safety service is provided over the newer I-4 constellation. Both Classic Aero and SwiftBroadband-Safety power Automatic Dependent Surveillance – Contract (ADS-C) for air traffic surveillance. Last year, US Federal Aviation Administration officials committed to the use of ADS-C to reduce separation of aircraft in US oceanic airspace.
"Two Inmarsat I-6 satellites are currently scheduled for launch in 2021 and designed to remain in service for a minimum of 15 years. The I-6 features Ka-band (cabin connectivity) payloads hosted on L-band satellites to support global safety services," noted L2's Lebovitz.