It's no secret that airflow influences airborne contaminant distribution and disease transmission. Throughout the COVID-19 pandemic, industry and media have made three arguments about aircraft cabin air quality to address concerns about inflight spread: hospital-grade HEPA filters are found on most modern jets; cabin air is renewed every two to three minutes; and cabin airflow is vertical.
But the broad-brush vertical airflow claim didn't sit well with Diehl Aviation. The aviation supplier, which boasts expertise in environmental control systems, studied past simulations on how aerosols can spread in aircraft cabins and observed differences between narrowbody and widebody aircraft.
Noting that individual air nozzles are "more or less a standard" on narrowbodies – as opposed to widebodies, where they are growing scarcer – Diehl Aviation senior vice president production innovation Dr. Helge Sachs suggested to Runway Girl Network: "The widebody vertical airflow is much more consistent compared to narrowbodies, where you have a lot of turbulent airflow, particularly when you look at the air roll."
Pointing to a graphical depiction of the airflow in a narrowbody aircraft, Sachs separately told attendees at a virtual Passenger Experience Conference session "you do not really have" vertical airflow "because what you can see here in this red circle is actually an air roll that evolves over time once the aircon is switched on". Air rolls are the ultrafine particles that circulate in spaces like aisles and overhead.
"So HEPA filters is one solution but, at the end of the day, as you can see here, you do not have a real vertical airflow which is why we analyze the situation and are now working on solutions on how to really laminarize and verticalize the air flow in an aircraft cabin," said Sachs, whose webinar presentation slide displayed, via green arrows, how air flow could be directed with a "modified air conditioning system".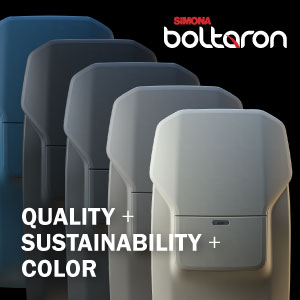 "The solution we talked about is one where we attach specific elements – our product – in the air outlets, the ceiling and lateral air outlets," said Sachs to RGN. "Then we bring in our retrofit elements, and basically speaking, it's like a shield, something that influences the direction of the airflow such that the airflow goes directly between the shoulders of passengers." It would direct the airflow around the passenger seat rather than into an individual's face.
The idea sounds similar to Teague's proposed AirShield concept, which is a single 3D-printed component that fits directly onto the Passenger Service Unit positioned above passengers (for those aircraft that have PSUs with air vents).
"By utilizing the airflow from the existing overhead air-gaspers, AirShield transforms freshly purified air into engineered 'air-blades' capable of controlling the spread of droplets much more effectively – offering passengers and crew improved protection and peace of mind," explained Teague in a statement.
"As a result, when a passenger breathes, coughs, or sneezes, the water vapor droplets are contained within that passenger's space and immediately re-directed downwards and out of the cabin to the HEPA filtration units, before they have the opportunity to enter the personal space of a neighboring passenger."
But Sachs told RGN that Diehl's innovation is not the same as AirShield. He said: "Companies like Teague believe that the nozzles are the best solution [but] the differential pressure is too low."
The Diehl executive added: "I really like the way they brought this marketing concept to the market, but the solution itself, the differential pressure is too low so when someone sneezes at 4.5 meters per second the aerosols can still hover, and spread."
The company's own presentation slide at the virtual Passenger Experience Conference suggests that a modification to the actual air conditioning system is in play. Sachs was reticent to describe it in full to RGN as patent work was underway.
"We want to make it a linefit industry standard, that's why we still keep it in stealth mode," he said. It will also be offered as a retrofit solution.
Additionally, Diehl is looking at increasing air humidity through active air humidification, and further optimizing the existing HEPA filter systems, which are estimated to filter out more than 99.9% of viruses and bacteria.
Embedded image credited to Diehl Aviation. Additional reporting by Becca Alkema.
Related Articles: