Since the start of the COVID-19 pandemic, an enormous variety of solutions have been proposed to reduce the risk of the spread of the SARS-CoV-2 coronavirus within the cabin. But given what we know now about the virus, and the estimated timeline of mid-2021 for the public health aspect of the crisis to start to be resolved, how will the passenger experience be changed, before and after that date?
On a recent trip to Germany — on the road from this journalist's home over the border in France, and following all local health and hygiene requirements — Runway Girl Network sat down with two experienced airline passenger experience industry executives for wide-ranging, hours-long discussions about how the passenger experience has changed, is changing and will change as a result of the COVID-19 pandemic.
Both Diehl Aviation and Recaro Aircraft Seating started out with a large long-list of ideas, Diehl's senior vice president for product innovation Helge Sachs and Recaro's head of strategy and products Markus Höllerer tell Runway Girl Network.
From there, a process of wider discussions internally and externally narrowed the ideas down and set priorities for the runners and riders. Here, we summarize that process and the various options that are, at this point in the northern hemisphere summer of 2020, looking the most likely to be added to airlines' passenger experience during the era of COVID-19.
Diehl is working on hygiene, touchless and digital solutions
In the very short term, Diehl's focus is on adding pandemic safety measures to the cabin, including mounted sanitizer dispensers for the cabin, holders for provided masks, and placards to clearly communicate rules around safety, distancing and hygiene. This is the sort of work that seems eminently sensible in the short term, but equally useful in the medium to long term since it feels unlikely that passengers will suddenly stop caring about onboard hygiene the moment a vaccine is available.
A wider focus at Diehl, and one with a large amount of longer-term appeal, is making the cabin touchless. This is an accelerated trend, particularly in lavatories, where the company is concentrating much of its efforts.
Inside the lavatory, it's about turning touchpoints proverbial rather than literal: sensors for opening and closing the door, the bowl seat or lid, flushing the lav, and for points like the water tap, soap dispenser, waste bin flap, and sanitizer dispenser.
In addition, Diehl is also looking at how a passenger reservation system might be implemented, likely using airline apps, and how to allow the crew to monitor the bathroom's cleanliness and occupancy to avoid touching.
Other prospective options include a UV-C disinfection unit, nanocoated surfaces, and treatment of both drinking water and greywater.
In the longer term, Diehl is looking into optimizing cabin airflow for air quality, including reducing "air rolls", the circular motion that can be generated by the current flow pattern in some cabins. That reduction, Diehl says, would offer a "measurable reduction of the risk of infection through aerosol dispersal".
Optimization of HEPA filters and the systems that use them is also on the table. The company is also looking into the science around air humidity: notionally higher humidity is better because it means our bodies' mucous membranes protect against illnesses, but at the same time a drier environment is more hostile to coronaviruses.
Recaro's focus, including on early separator offerings
As the COVID-19 crisis began, Recaro Aircraft Seating started working on a fast-tracked innovation process called 'Post C', for 'coronavirus', the company explains to RGN.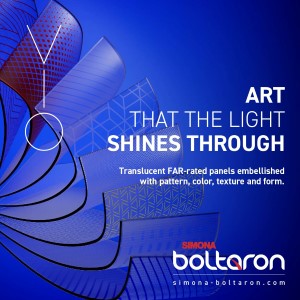 Early in the process, Recaro organized a number of customer focus groups, held virtually, with airlines worldwide, and which gave a fairly clear set of responses to the various proposals.
The company then used a traffic light system to categorize them: red for stop, orange for ideas moved into the backlog, and green for ideas to continue.
On the continue list are a number of options around seat privacy, including what Recaro calls "pax-to-pax" separators, whether a kind of clip-on fabric, foil or netting options, textile curtains, or semi-flexible foam materials. So are seat-blocking dividers to make it very clear when seats are blocked for physical distancing reasons.
Recaro is also investigating a variety of privacy headrests and options for side-to-side and row-to-row separation. Most of these are the kind of solutions that are intended to work as spray barriers against the droplet and aerosol spread of COVID-19.
Another fascinating option in the age of passenger aircraft operating as in-cabin package freighters is a specially designed cardboard cargo box to be placed on top of seats, with special holes in the rear corner of the box where seatbelts are passed through to secure it.
Also high on the priority list are antimicrobial coatings and surfaces, both in terms of the kind that can be 'baked in' during production, and the kind that can be safely applied on a long-term basis for ongoing microbial efficiency on seating surfaces.
Crucial to all the options being considered is the significant amount of investigation, testing and certification required to produce new or retrofit them on board.
Indeed, there is a fair amount of uncertainty as to whether — given the pressures on regulators, on testing laboratories of both the aviation and medical kind, and on the rest of the industry — this is possible by the mid-2021 date when a COVID-19 vaccine is largely expected to be available to travelers.
Diehl and Recaro provided overnight accommodation for RGN's journalist in Schwäbisch Hall during physically distanced site visits to enable this interview, in full compliance with all local hygiene and public health restrictions.
Main image credit, Finnair.
Related Articles: