All Nippon Airways has been at opposing ends for Airbus and Boeing's first new aircraft programs of the 21st Century: ANA was the launch operator of the Boeing 787 but the last all-new airline for the Airbus A380, which it showcased at Narita Airport on 23 April ahead of revenue service in May.
While ANA received early-adopter status for the 787, ANA for the A380 was able to learn from the program's history and take advantage of later innovation, being the first – and last – airline to forgo the A380's rear spiral staircase and instead have the Aft Galley Stair Module, which allows more of the aircraft's rear bulkhead to be used, adding approximately two rows of seats across the decks, ANA cabin products & LOPA manager Katsunori Maki tells Runway Girl Network.
ANA did not select Airbus' other features that increase usable cabin space. Airbus offers the option to remove upper deck side stowage bins, but Maki says that would have made the space "too uncomfortable for window passengers" in ANA's configuration due to the fuselage's curve. Nor did ANA opt for the Cabin-Flex option that deactivates upper deck doors 3.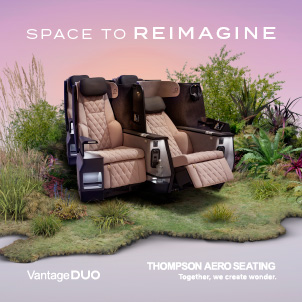 Instead, ANA has an exit row in premium economy with extra legroom. Maki says ANA is also not going to deactivate doors on its forthcoming Boeing 777-9 in case ANA later needs the factory-standard configuration. "It is a heavy modification to get it back," Maki explains.
The A380 is ANA's first widebody to forgo a Panasonic Avionics IFE system and instead fly with Zodiac's RAVE platform, which ANA has on its newer Airbus narrowbodies. ANA is the first A380 operator to use RAVE. "We chose RAVE for product fit, cost and reliability," Maki says. "It's a simple system, seat-centric. If one monitor is down, we can swap it very quickly."
The handset – identical from economy to first class – is similar to an Apple TV remote, with a user-friendly trackpad and big buttons amply spaced out to reduce fumbling or accidentally pressing one when intending to select another. There are only seven buttons compared to a traditional handset having 18 or more on the main side, plus a rear side with full keyboard, game controls and side buttons.
While Maki explains ANA likes the overall simplicity of RAVE, ANA did not want to further simplify the offering by removing the remote and associated cables and weight.
ANA licensed Air New Zealand's couch product, which ANA brands "Couchii". This was more than a contractual agreement, Maki says. "We learned from Air New Zealand how to sell it, make the cabin attendant training manual, and its design details."
ANA's Couchii is manufactured by ZIM (which also makes ANA's non-Couchii economy seats) whereas ANZ selected Recaro for its couch on the 777 and Zodiac (now Safran Cabin) for the 787.
The Couchii is targeted for passengers with children, and appropriately nearby is the "multi-purpose room". It looks like a lavatory but instead of a toilet has a long cushioned bench. Amongst other uses, it allows mothers privacy and the ability to sit while nursing or consoling a crying baby. ANA does not have a time limit on using the space.
This may also be a popular place to change diapers, as ANA received feedback that lavatories, no matter how clean, are perceived to be dirty. "Some passengers don't want to change diapers in the lavatory," Maki says. While the space is family-targeted, it is open to all. "Sometimes passengers rush from work to the airport to catch a flight and don't have time to change their clothes," Maki explains.
ANA is concerned passengers may mistake the room for a lavatory. After all, it has a door like a lavatory, is located opposite a lavatory, has a sink, and the bench may look like a fancy toilet seat cover. There are prominent "this is not a lavatory" placards, and to further draw attention to the functions of the space, the door has a large humorous placard showing a turtle character nursing, applying lipstick, changing its shell, and being cleaned.
Related Articles: