It's been a while since we've had big changes out of the US big three in business class, with both Delta and United focused on their rollouts of new business seats and premium economy, and American Airlines tinkering around the edges with business as it too rolls out a new middle cabin. Taken in context, the trend seems to be one of consolidation around existing plans, but what seems like a lack of impetus in getting them done. Let's take a peek at the big picture for each — in alphabetical order.
American cuts 787-8 business class seats
American Airlines has made the unusual and perhaps surprising choice to reduce the number of business class seats on board by nearly a third when it installs premium economy on its Boeing 787-8 Dreamliner aircraft.
An American Airlines media representative confirmed to Runway Girl Network that the seat count will be dropping from 28 to 20 seats, and that the change will take place across each of American's 20 Boeing 787-9 aircraft. Premium economy will be installed in the space aft of doors 2 where the popular mini-cabin of eight seats is presently located.
What won't be changing is the seat model, American's spokesperson said, which will remain the controversial and not universally loved Zodiac Aerospace Concept D product, which is a staggered forwards-backwards herringbone configuration.
Your author finds it interesting that American is sticking with the Concept D product given the installation of Rockwell Collins Super Diamond outward-facing herringbones, which are on balance a superior product, on other Dreamliners within the American fleet. It's particularly odd since American is open about the fact that it wants to standardize its fleet, not least in its recent decision to cancel the former US Airways Airbus A350 order in favour of more Dreamliners. Does this simplification desire not include the business class cabin?
The airline has stated it plans to use the 787-8s to replace its aging 767-300ER fleet (or expand) on routes with low premium traffic demand and few alternative business class options, given the plans for nearly two dozen more of the shorter Dreamliners due to start arriving in 2020. Concept D is an upgrade from the 767-width Thompson Vantage seats on the older Boeings, but would it make more sense to standardize on outward-facing herringbones over the next few years?
Delta concentrates on Delta One transpacific rollout
The trend out of Delta headquarters is all around new routes for the Delta One Suite, the Thompson Vantage XL staggered doored product that is installed on factory-fresh Airbus A350-900 aircraft and is being retrofitted onto the Boeing 777-200ER and -LR fleet to replace the Zodiac (formerly Contour) inward-facing herringbones that were the subject of the landmark Virgin v Contour legal case.
Delta's focus is on a subset of its market, which is an interesting choice. "All Delta trans-Pacific departures from Los Angeles will feature the Delta One Suite and Delta Premium Select as a result once fully implemented in 2019," the airline says, and indeed this sort of rollout allows for a useful amount of predictability for passengers. It seems to me that this is a superior way to manage a rollout than United's scattergun approach as a result of its consistency.
In depth, Delta will start 777-200ER service from Minneapolis-St Paul to Tokyo Haneda in November. Atlanta to Tokyo Narita on the 777-200ER and Seattle to Narita on the A350 will start in early March, while LAX to Haneda on the A350 starts late March. Status for LAX-Sydney on the 777-200LR is currently "exact 2019 timing to be announced". The 777 version of the suite will also be on the new double-hyphenated route from Minneapolis-St Paul to Seoul-Incheon, announced this week as part of Delta's push to use Seoul as its primary east Asian connection hub thanks to the new-ish joint-venture with Korean Air, unveiled in May.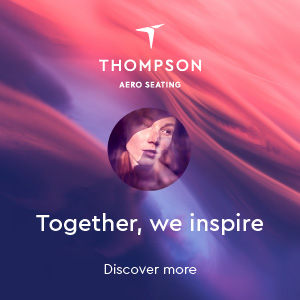 Delta says it also offers the suite product on Detroit-Amsterdam routes, but of course it also offers a Zodiac Cirrus outward-facing herringbone on its A330 fleet, putting it in a better starting (and intermediate) PaxEx position than United.
There is, disappointingly, no news on what Delta plans to do with the rest of its longhaul fleet, though, as the "comfort canyon" between the 767 fleet's seating and the latest Delta One product continues to grow. The now decade-old original Thompson Vantage seating is narrow in comparison with either the Delta One suite or the competition, not least because the early-model versions Delta took lack adjustable armrests, offer tiny screens and don't take advantage of a variety of ergonomic upgrades with later models.
Its extensive fleet of Boeing 757 with flatbeds have a slightly newer model of seat, the Rockwell Collins Diamond offset fully flat bed (also seen on American and United longhaul 757s), but it does not offer direct aisle access.
United Polaris installations remains slow
A little more briefly, United's lack of Polaris momentum isn't really improving: last month 28 refits of the 80 planned had taken place: 17 of the 18 777-300ERs had been delivered, 8 of the 14 767 refits were complete, and United listed 3 of 49 777-200ER aircraft as complete.
More than a month later, just one more 767 has been completed, which naturally raises some eyebrows to United's claim that "we're adding at least one aircraft with United Polaris seats every 10 days from now through 2020".
With the majority of the Polaris rollout so far coming from newly delivered 777-300ERs, and only one of those remaining on the list, United really needs to get its skates on with its refits, as well as making clear its intentions with the remainder of its international fleet.
Why the long rollouts?
Overall across all three airlines, the consolidation of existing plans makes sense for United and Delta, where PaxEx improvements for the former and predictability for the latter will be welcome, although rollouts for both products are slower than passengers might want.
The US airlines are in an unusual position: compared to other airlines, they offer hard product that's generally above average on intercontinental routes to Europe and Latin America, generally below average to east Asia, and generally below average when it comes to competing with the Middle Eastern big three network carriers, with the notable exception of Emirates' 777s. Soft product is, as a general rule, either equal to or less impressive than elsewhere.
Despite being in an age when travellers — especially premium travellers — are more mobile, social and vocal than ever, I can't help wondering whether the increasing hub monopoly dominance of the big three (and their loyalty program lock-in) compared with previous generations of airline seating rollouts ends up meaning that they feel less competitive pressure to improve their hard product.
Related Articles: