Rather like reupholstering a beloved chair or sofa, it's often astonishing how much of a change it can make to alter the fabrics within an airline seating product or across a cabin. Just look to Finnair, which with one fell swoop brought its business class cabin up to date in partnership with JPA Design, using new carpets, seat cushions and soft product.
"An enhanced sense of tactility is achieved through the texture," Alessia Giardino, senior designer for colours & materials, trends & brand at JPA Design, tells Runway Girl Network about the Finnair project. JPA created a "wool crepe-like weave that creates a soft feel for the seat cover. The surface quality ensures durability, whilst having the ability of reflecting light in different ways. It's a dynamic and purposeful fabric, whose twisted fibres reveal fresh and natural colours inspired by the Finnair landscape."
More widely, Giardino says, "textiles have undertaken a huge development in recent years, and their application is increasingly growing in interior design for transport. Traditionally fabric has been conveying tales of history, cultures and country craftsmanship. Comparably today they are 'weaving' together technology, aesthetic and functionality, reflecting a brand's personality and ultimately allowing the user to experience and interact better within the space, through all the senses."
That's all very design-y, of course, as might be expected from a leading design house. But it's clear from discussing both carpets and fabrics with a variety of suppliers and manufacturers at the Aircraft Interiors Expo that there are innovations galore for any airline that has the interest and motivation to bring something new into the cabin.
"Aircraft carpet is a fascinating topic that never gets the attention it deserves," Daniel Baron of Lift Strategic Design in Tokyo, tells RGN. "I have huge respect for the suppliers, who have made tremendous strides in design and performance. Carpets today must be incredible performers in terms of communicating brand and/or class of service while masking dirt."
Baron, of course, is responsible for the striking turnaround of Philippine Airlines' cabins from high-density cattle truck to elegant tropical chic. "Clear differentiation is key to a branded environment," he notes.
Yet there are challenges, Baron says. Since "operational and cost pressures mean less cleaning than recommended, airframers impose strict performance requirements so that whatever design is proposed, the material will function as intended."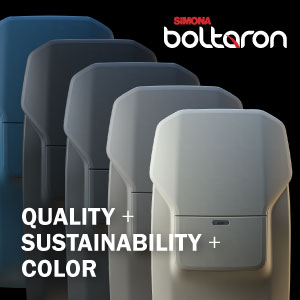 In a familiar story to many within the aircraft interiors industry, a growing challenge experienced by carpet and fabric suppliers is at the airframer level, with Boeing and Airbus coming in for criticism around the time it takes to test, iterate and approve new fabrics.
Passengers, meanwhile, have greater expectations than before, especially as premium airlines market themselves as a holistically designed journey.
"There is a growing need for tactility and a craving for sensory experiences," JPA's Giardino says. "Whether woven or knitted, materials are multi-dimensional and fabric embraces that too in order to establish a stronger emotional, unified connection with the user."
New innovations, according to Baron, include "the ability (now) to created very sophisticated, layered effects with texture and pattern, thanks to technology. With carpet, nylon and nylon/wool blends are enabling airlines to stretch lifespans, and nylon yarn allows a much wider variety of patterns."
Moreover, fabric is being used increasingly throughout the cabin, notes Giardino. "They are used more frequently on vertical surfaces, on lateral walls where passengers can lean against, or to integrate tech features that can blend in without being intrusive for the users. That answers the double need for a space that feels more domestic and human, as well as having a functional quality, such as soundproofing."
As elsewhere in the industry, the design devil is in the details — but so is the design divinity. Whether it's at trade shows, with Lantal's three-dimensional touch-and feel moodboards, Botany Design's swathes of swatches, and design houses engaging with an increasingly wide range of airlines, or elsewhere in the process, there is a wealth of expertise and information out there for carriers keen to ensure that they make the most of this fast-changing interiors opportunity.
Image Gallery:
Related Articles: