Astronics Corporation is known in aviation for being the dominant provider of aircraft in-seat power, but if the New York-based firm has its way, it will also become synonymous with another major passenger experience technology – inflight connectivity.
Its traditional Ku-band antenna hardware for the commercial sector, produced by the Astronics AeroSat division, presently supports Gogo inflight connectivity service on Delta Air Lines' longhaul flights and on Japan Airlines' domestic flights. A new international airline customer has also adopted the system, though it is equipping its fleet quietly and does not want to publicize details.
Unlike the Gogo 2Ku antenna package, the Astronics AeroSat Ku antenna has "never had a problem with any kind of fluid susceptibility on the outside of the airplane", Astronics AeroSat president Matthew Harrah told Runway Girl Network.
"It has a robust bulb seal at the bottom. You have to remember that that antenna has been flying for well over 2 million flight hours … [including on] Japan Airlines."
He added, "We're really proud of it. You know, everything is a little bit evolutionary but the performance has been really good and we're really happy with the performance we've got. And now, having got the 737 STC with an A320 STC that will follow up here in the middle of the year, we've got a really compelling offer for a significant part of the market that we feel is somewhat underserved internationally."
Astronics AeroSat's tail-mount antenna for business aviation, which supports Ku connectivity service in partnership with Panasonic and Satcom Direct, is also showing solid momentum and Astronics has knocked down some previous hurdles in the program.
Several aircraft are now fitted with this solution, "and we expect much more volume in the second half than we had in the first half", says Astronics Corporation president and CEO Peter Gundermann.
Further bolstering its portfolio, Astronics Aerosat this week announced it has forged a commercial partnership with Phasor, the developer of electronically-steered antenna (ESA) systems for mobile broadband.
Under the agreement, Astronics AeroSat will integrate Phasor's phased-array technology "into an agile aviation antenna solution that will operate seamlessly with geostationary (GEO) and non-geosynchronous satellites, such as Low Earth Orbit (LEO) wideband constellations, currently in development". The antenna will conform to the size and shape of an aircraft fuselage, which enables airlines and business aviation fleet operators to reduce drag-weight while optimizing bandwidth, said the partners.
In a recent interview with Runway Girl Network, Phasor president and CEO Dave Helfgott said he is convinced that once an ESA emerges in civil aviation that has the ability to support dual beam illumination; instantaneous beam switching; and LEO, GEO or even MEO interoperability, "the balance of power" will shift "from the satellite operator to the services integrator and fleet operator". And it seems that Phasor and Astronics are now working to facilitate this very pivot, with the two firms saying their new antenna will feature dual-beam technology, "defined as the simultaneous ability to send and receive signals, with a 'make-before-break' capability".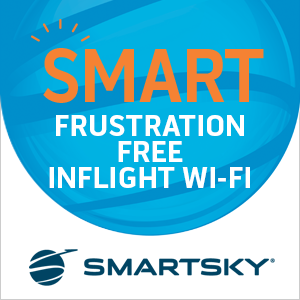 In inflight connectivity, Astronics' proficiencies are not limited to antenna hardware. Over the past few years, the firm has been on an acquisition spree, snatching up Telefonix PDT in December 2017, and with it a suite of products including wireless access points, file servers, content loaders, passenger control units and cord reels. Prior to that, Astronics bought aviation engineering and design firm Armstrong Aerospace. Last year, it combined Telefonix PDT and Armstrong to attack the market as Astronics' new Connectivity Systems and Certification group.
So what can the group provide operators in terms of complete inflight connectivity and wireless IFE systems?
Astronics Advanced Electronics Systems president Mark Peabody says: "So what we like to think of it is it's kind of like a smorgasbord almost, where you can get individual components – I can get my server [here], get my router from somebody else – or you can get the whole thing from us.
"When I say the whole thing, I'm not talking about content. I'm not talking about screens for commercial transport, but the rest of the wireless system to get data on and off the aircraft, and throughout the aircraft; we provide that."
Peabody told RGN that Astronics has no interest in jumping into the in-seat IFE business in the commercial space, however. It is happy to continue working with partners, including Panasonic.
Photo at top credited to Phasor
Related Articles: