The Lufthansa Group and European low-cost carrier Wizz Air have both selected Geven's Essenza slimline economy class seat in major orders announced at the Aircraft Interiors Expo.
Wizz Air will take delivery of Essenza on all 110 shipsets of its Airbus A320neo family fleet. The order, the largest in the history of both Geven and Wizz Air, is a continuation of the relationship between the airline and the seatmaker, which has provided Wizz Air with seats since the airline's first A320 family aircraft more than a decade ago.
The Lufthansa Group, meanwhile, which will take an initial fifty shipsets of Airbus A320neo family seats from the Italian seatmaker for three of its airlines: Austrian, Lufthansa and Swiss.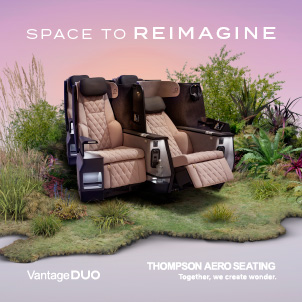 Essenza is one of the newer generations of slimline seats, which have been designed to maximise space at significantly smaller seat pitch than previous generations, including the sub-30" pitch numbers that are required for airlines to achieve the maximum passenger capacity on re-certified narrowbody aircraft like the Boeing 737 MAX and Airbus A320neo.
Runway Girl Network reported on Geven's plans at last year's APEX Expo, and has sat in the seats extensively at trade shows and in the seatmaker's Naples factory, even breaking out the measuring tape to demonstrate how the company's engineering prowess means that even at 28" pitch, knee clearance can be achieved. Passengers, of course, have mixed feelings about newer generation slimline seats.
Airlines seem set on pushing maximum capacity on narrowbody airliners, and it's often the case that a slimline at 29" is more comfortable than an older seat at 30". The question will be, in the flesh with thirty-some rows of economy class seats, what the rest of the personal space equation — eyeball-to-screen, ingress and egress, and so on — will look like.
Lufthansa's pitch — and thus density — are still TBA
Lufthansa, Swiss and Austrian Airlines will take their differently trimmed seats from the fourth quarter of 2018 through 2022, with the first aircraft expected to be in service during the first half of 2019. The seats will weigh 7.9kg each, with what Geven calls an "arm-to-arm width larger than 18 inches".
Geven has been working extensively with the Lufthansa Group during the design process for Essenza, the seatmaker and airline took pains to emphasise, with Geven managing director Alberto Veneruso calling the Lufthansa Group a "demanding and meticulous customer but also an ideal partner for developing new products".
Calling the seats "both technically and ergonomically state-of-the-art", Lufthansa Group head of product cabin Paul Estoppey — formerly of Swiss — highlighted the airline group's partnership working with Geven to create the seat, which he described as "jointly developed".
Joking that the Lufthansa Group's "list of requirements" in the process was "never ending", Geven's Veneruso noted that the process involved changes even while the work was in progress. "I realised that this attitude to flexibility has been appreciated a lot by the company as something they were not used to receive so far," Veneruso said.
RGN understands that this is the first time the Lufthansa Group's cross-group purchasing power has been used for seating, although in effect the previous generation seat — the 2010 Recaro BL3520 Lufthansa called its "Neue Europakabine", installed fleetwide on Lufthansa, Austrian, Swiss, the then-Germanwings and Brussels Airlines — was also taken fleetwide.
Geven's Essenza has previously largely been spoken of in the low-cost slimline context, leading to more parallels with the BL3520, which has since rolled out to both low-cost and fuller service carriers. Yet it is notable that Eurowings, the Lufthansa group's low-cost carrier, is not included in the list of airlines taking Essenza, especially since Eurowings uses the BL3520 like parent Lufthansa.
It is unclear how many seats the Lufthansa Group airlines plan to install on their aircraft, although Lufthansa's initial A320neo aircraft offer rows as tight as 29", which will likely be more comfortable with Essenza's latest-generation knee space engineering.
Wizz Air is aiming towards max-pax configurations
Wizz Air will install 186 seats on each A320neo and an astounding 239 on each A321neo, in single economy class layouts on both aircraft. Wizz Air's website shows existing A320 variants with 180 and 186 seats, and a single A321 variant with 230 seats.
Increasing capacity to a 239-seat A321neo will require one of the higher density Airbus Cabin Flex door options, recently certified by Airbus and planned for its first delivery in the middle of this year. Airbus senior vice president for marketing François Caudron previously explained to Runway Girl Network this is achieved by removing doors 2 and adding a pair of overwing exits.
The airline does not publish pitch data, though Routehappy shows 29" seat pitch for both the A320 and A321. Width on the A320 family frame is up to 18" according to Airbus, although Geven claims an 18.3" "bay width dimension". Geven cites a weight of 7.9kg for a fully dressed Essenza seat.
Essenza's design carves out extra knee space from the backrest contour, and also contributes to increased shin clearance. Further down in the seat, the rearmost horizontal stabilising structure has been moved forwards to also increase shin clearance and underseat leg space. Geven also cites its lightweight cushions as a key benefit of the seat, with the formed base of the seat pan cushion also playing a structural role.
From the passenger perspective, the A320s will be, largely, an improvement on the existing aircraft, even over the 180-seat version, thanks to the additional living space that a slimline like Essenza creates, even if pitch is slightly reduced.
Depending on the eventual seat pitch on the A321neo, the Cabin Flex changes may also mean that the slimlines are a net positive to #PaxEx.
As part of delivering these shipsets, Geven has been diversifying its supplier base and increasing its redundancy in order to ensure on-time delivery.
Related Articles:
Real life evacuation not needed for 195-seat A320 approval: Airbus