Tiny toothpaste. Eyemask. Antiseptic towelette. Socks. Amenity kits today have changed very little over the more than 60 years they've been handed out to passengers, even though the way we travel, and how we pack for travel, has evolved.
The first amenity kits for airplanes were designed for travelers reliant on heavy, wheel-less checked bags, and who board the aircraft with little more than hat and coat, purse or thin briefcase, and reading material. While in flight, the comfort of this passenger was the responsibility of the airline and flight crew, hence kits came complete with indigestion relief, hair pomade, playing cards, and stationery. United Airlines' kits in the 1960s even threw in a full-size, roll-on deodorant.
Speaking of United, in April the Chicago Business Journal reported that the airline had, over this last year, recycled some 50,000 pounds of discarded international premium cabin amenity kits. And that's without unopened toiletries, which are donated to Clean the World, an organization based in Orlando that collects and recycles products for distribution to those in need.
Today the trend is for passengers to bring as much into the aircraft cabin as possible, whether it's for fear of lost luggage or to save on baggage fees. We're never really far from our lip balms, hair combs, and fresh pairs of socks anymore, and an Internet chock full of packing list tips means there's little excuse for a forgotten toothbrush. So how will amenity kits evolve to justify their continued involvement in the premium travel experience? Here are three innovations attempting to answer that question:
PressReader
Passengers in any class on both Qantas and Virgin Australia flights have complimentary access (via a free 12-hour download window prior to the flight via the Qantas app, or while in a Virgin Australia lounge) to over 3,500 different newspapers and magazines from more than 97 countries and in 55 languages, as offered by PressReader, the world's largest newspaper and magazine platform. Both airlines make sure regional Australian titles are also represented, so it's now entirely possible to read the latest Gold Coast Bulletin while en route to Surfers Paradise.
And, as Runway Girl Network previously reported, additional customers of PressReader include TAP Portugal and Libyan Airlines.
Luxury brand promotions
Don't toss the tiny slip of paper tucked inside each of American Airlines' Cole Haan-branded amenity kits. In celebration of the airline's partnership with the fashion brand, that slip is a coupon for $75 off of a $250 purchase, good for use at both Cole Haan stores and online, with each card bearing a unique offer code.
AA isn't the first to feature a discount with an amenity kit. In the early 2000s, Delta Air Lines' kits with Essential Elements toiletries included coupons for the brand, with the airline receiving a commission from each sale. And Cathay Pacific's current First Class pajamas from Hong Kong shirtier PYE include a smart matching tote with hang-tag offering a "free gift" (typically a 500 HKD gift card) at the brand's Hong Kong boutique.
Augmented reality
Last August, Emirates released what it dubbed the "world's first interactive amenity kit"
Eyeroll, right? Well, this innovation could very well be laying the groundwork for the next generation of in-flight amenities.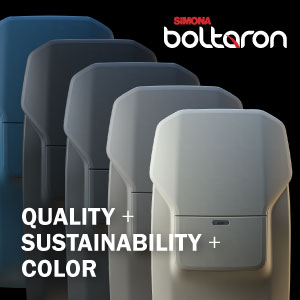 The kit itself is your usual washbag and a few necessities, but with the bonus of a partnership with Blippar, a "visual discovery" mobile app, which allows Emirates passengers on long-haul routes to use their phones and the aircraft wifi to unlock activities, music playlists, and a game titled "Emirates Destination Dash."
Further details and reviews are scant, but travelers will find these kits in – surprise – economy class.
We may have established that the beloved Delft houses gifted to KLM World Business Class passengers are in the skies to stay, but the days for traditional amenity kits appear to be numbered.
Related Articles: