In an enormous U-turn on its previous "18 inches for all" economy class campaign, Airbus is finally displaying its much-anticipated eleven-abreast A380 main deck seating at the Aircraft Interiors Expo, setting a new record for most seats abreast on any aircraft cabin, ever.
Airbus had promised to show the 3-5-3 layout at last year's AIX, but never brought the goods to the aviation industry's largest interiors trade show in 2014. 
Airbus' relatively newly appointed vice president marketing Ingo Wuggetzer, whose start date in October coincides with the last time RGN heard Airbus pushing its 18" agenda, is insistent that the 3-5-3 "basic economy" on an A380 would be a relatively good "basic economy" product — and indeed it would be less terrible compared with the other Airbus basic economy options, the middle seat of five excepted.
A centre section of five is, of course, nothing new. The Douglas DC-10, McDonnell Douglas MD-11 and Boeing 777-200 aircraft families were available and outfitted in 2-5-2 configurations throughout their history, although passengers and the industry eventually came to prefer the 3-3-3 layout common on the 777 or A350-sized cross-section. 2-5-2 was, after all, significantly more pleasant when load factors were not at all time highs and the middle seats of five were not routinely filled.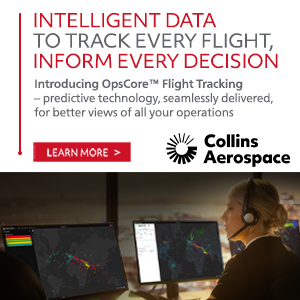 Yet the 3-5-3 A380 is obviously a downgrade from the passenger experience point of view. Leaving the centre seat of five aside, Airbus has achieved its record density by cutting seat width by between 1 and 0.5 inches, slashing armrest widths by just over 2cm (nearly an inch), angling window armrests outwards, trimming aisles and — in perhaps the worst case of foot space restriction for window passengers since Bombardier's Q400 turboprop — jamming window seats up against the wall so far that they overhang six inches above the start of the curved sidewall.
In pure passenger experience terms, this results in a pretty dire experience for the window passenger in particular, as demonstrated below by RGN's's Jason Rabinowitz (whose 6'1"/185cm frame is by no means Brobdingnagian). It's simply impossible for window passengers to put their feet flat on the floor. That's one thing on a 30-90 minute Q400 hop, but quite another on an aircraft like the A380 that flies the longest nonstop commercial flight in the world.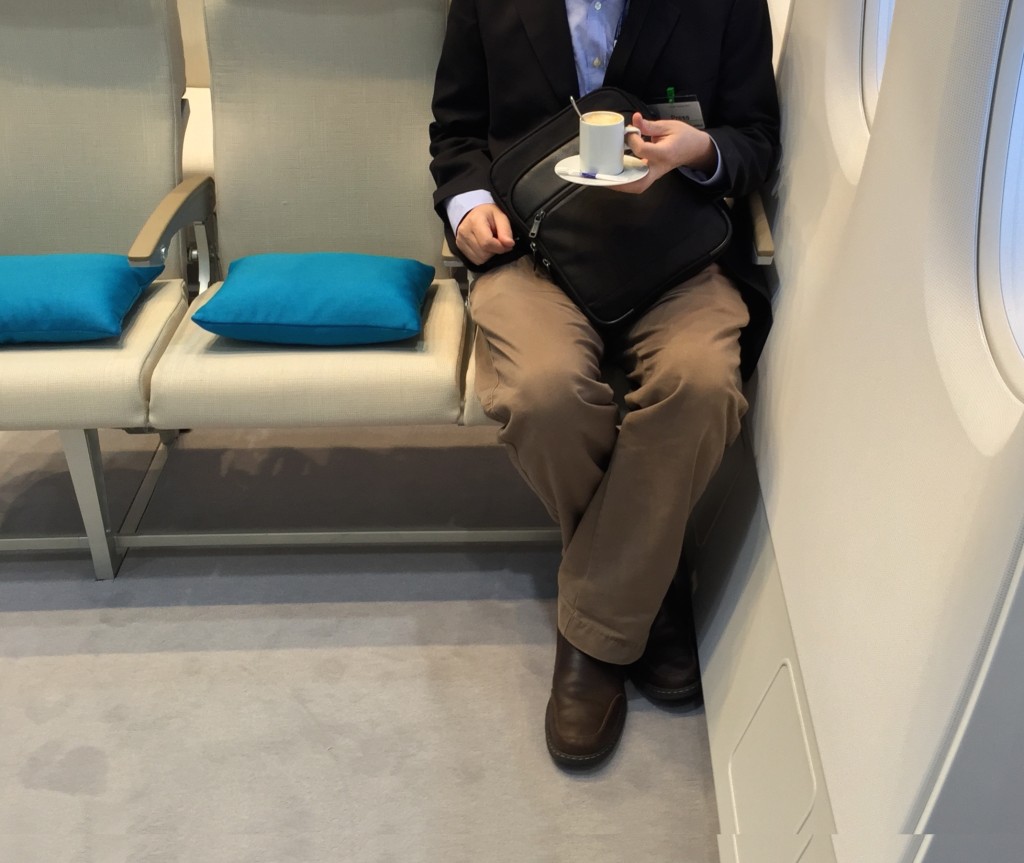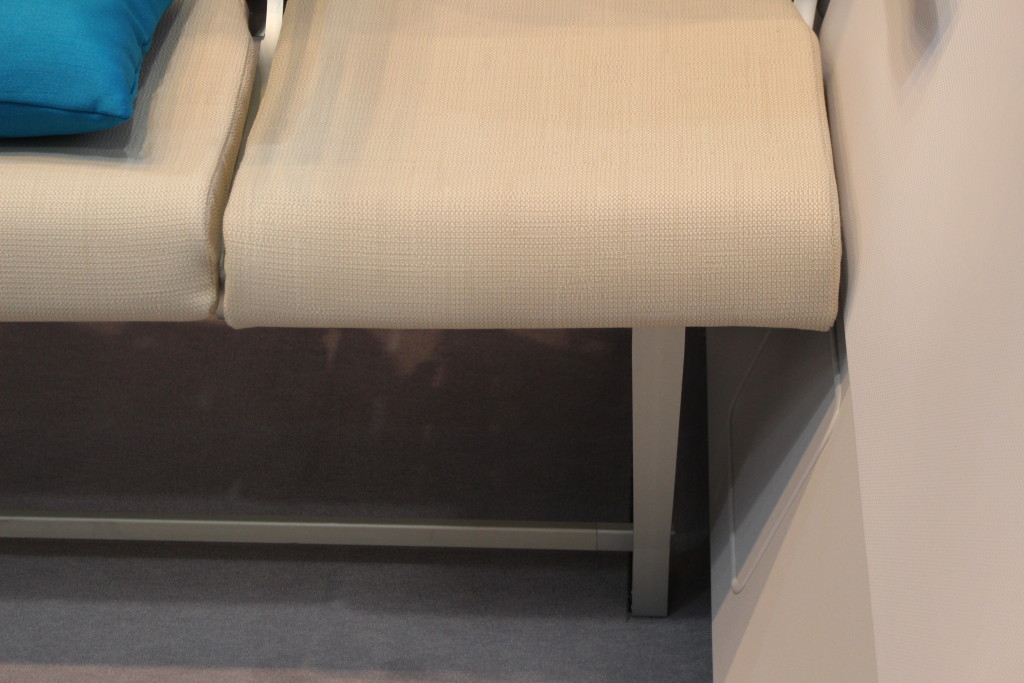 Last year, Airbus was mooting the idea of raising the cabin floor by approximately two inches to avoid this overhang issue, but Airbus staff confirmed to RGN that the airframer elected not to add this reengineering effort to the eleven-abreast offering, which is supported by seatmakers Geven (the rounder headrest version) and Zodiac (with the more trapezoidal shape).
Airbus' shift away from its previous push for 18" width for all was marked this week by Airbus' longstanding head of aircraft interiors marketing Zuzana Hrnkova at Monday's Passenger Experience Conference, and by VP marketing Ingo Wuggetzer in a media briefing on Tuesday.
The seatmaker is now seeing a three-way segmentation in the economy sector, i.e., everything below business class, which its subsidiary Stelia (formerly Sogerma) is segmenting further, with four separate types of longhaul business seating on display at AIX.
Let's get the worst of economy out of the way first: the new "basic economy" situation for the 11-abreast A380, 10-abreast A350 and 9-abreast A330 that willl be narrower than 17" on the latter two aircraft — less than the existing much-loathed high density Boeing seating on the 10-abreast 777 and 9-abreast 787. Airbus is also calling these the "max abreast" seating. Wuggetzer told RGN that Airbus has also managed somehow to change the 16.4" width previously quoted for 3-4-3 A350 layouts to 17", but it's as yet unclear how the airline has found a full six inches across the cabin for this addition.
In the middle of the economy pack is what Airbus was previously pushing as the standard for the back of the bus, which it now calls "comfort economy" (let's hope the lawyers at Delta aren't feeling testy this week). This is the 10-abreast A380, 9-abreast A350 and 8-abreast A330 that are currently the roughly 18″ passenger pleasers. (A330 measurements are often cited as 17.5" depending on seatmaker and exactly is being measured.) A key differentiator is that comfort economy has one fewer seat in each row compared with basic economy's max abreast.
At the top end is premium economy, much as we now know it — around 19" seat width, with two seats fewer than max abreast. Airbus' Wuggetzer took great pains to show how many airlines currently have premium economy (26, according to the airframer), and how many A380 operators do (five: Qantas, Air France, BA, Lufthansa and Singapore), in what seemed very much like a deflection from the passenger experience implications of 11-abreast 3-5-3 A380 seating.
Using the "well, passengers who don't want 3-5-3 can buy premium economy" argument would be fine, except that those airlines fly a minority of the existing A380 fleet — and Airbus' same presentation highlighted that premium economy fares are twice economy, compared with four times for business class.
The gulf between the best longhaul business class seats (as seen on A380 operators without premium economy like Emirates, Etihad, Qatar, Asiana, as well as on announced A350 operators like Qatar and Finnair) and the basic economy seats that Emirates or Etihad offer on their 777s, and Qatar offers on its 787s, is widening. How do we pull it back?