Global Eagle Entertainment Inc. ("GEE"), a market-leading media and connectivity provider to the travel industry, today unveiled its revolutionary patented three-axis steering Global Ku Antenna at the Aircraft Interiors Expo in Hamburg, Germany. This antenna is the first in the market to offer truly global Ku-band connectivity, including coverage on both high latitude and equatorial flight routes.
The Global Ku Antenna's unique three-axis mechanically steered array enables consistent high-performance at a far greater range of elevation and skew angles than competitive systems. Co-developed with QEST, the new antenna is designed to take full advantage of the high-speed performance offered by the upcoming generation of Ku-band High Throughput Satellites (HTS). In addition, the design is compatible with future line fit installations and GEE's current certifications, allowing for upgrades from the existing GEE systems. The Global Ku Antenna is fully ARINC 791 compliant.
The Global Ku Antenna's field-proven high precision components provide state-of-the-art satellite tracking capability and consistent signal quality. The innovative QEST panel delivers higher performance and is significantly thinner and lighter than existing designs. This enables the unique three-way steering mechanism, which for the first time allows a Ku-band antenna to operate with consistent performance globally.
"This antenna is truly revolutionary and its pointing system is unique in the market," commented Aditya Chatterjee, Senior Vice President of Connectivity Systems and Chief Technology Officer at GEE. "Regulatory requirements limit the performance of today's conventional two-axis antenna systems in equatorial areas, whereas flat panel antennas cannot offer sufficient performance at all latitudes. We're excited to formally unveil this groundbreaking technology and pave the way for truly global high-speed connectivity to our airline customers."
First delivery of the Global Ku Antenna is anticipated in mid-2016.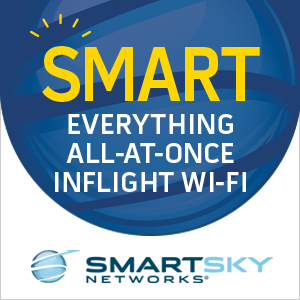 About Global Eagle Entertainment
GEE is a market-leading media and connectivity provider to the travel industry. The company supports airlines and other travel industry sectors with a wide range of connectivity, content, digital media and operations data solutions. GEE's comprehensive portfolio of products and services includes WiFi, movies, television, music, as well as wireless entertainment and digital media solutions. Serving over 150 airlines worldwide, GEE delivers exceptional quality and value to its customers to help them achieve their passenger experience objectives. The company's headquarters are located in Los Angeles, California, with offices and teams located in North America, Asia, the Middle East, Europe, Africa, Oceania and South America.
Forward-Looking Statements
We make forward-looking statements in this press release. These forward-looking statements relate to expectations or forecasts for future events, including without limitation, our earnings, revenues, expenses or other future financial or business performance or strategies, or the impact of legal or regulatory matters on our business, results of operations or financial condition. These statements may be preceded by, followed by or include the words "may," "might," "will," "will likely result," "should," "estimate," "plan," "project," "forecast," "intend," "expect," "anticipate," "believe," "seek," "continue," "target" or similar expressions. These forward-looking statements are based on information available to us as of the date they were made, and should not be relied upon as representing our views as of any subsequent date. These forward-looking statements are subject to a number of risks and uncertainties, including without limitation those risks and uncertainties described in our most recent annual report on Form 10-K, as amended, and subsequently filed reports on Form 10-Q, as amended. As a result, our actual results or performance may be materially different from those expressed or implied by these forward-looking statements. We do not undertake any obligation to update forward-looking statements to reflect events or circumstances after the date they were made, whether as a result of new information, future events or otherwise, except as may be required under applicable securities laws.
Featured image credited to istock.com/JakeOlimb