Airlines often say their first class is like flying by private jet. In unveiling the new first class seats on Etihad's soon-to-be-delivered Airbus A380 and Boeing 787 Dreamliners, the company's chief goes farther. "It's better" than a private jet, James Hogan said of the over-the-top, 125 sq ft, three-room cabin with en suite bathroom and shower on the A380.
Large enough for two people it has been named, 'The Residence' by Etihad. "It is the ultimate in luxury, what you'd expect in the finest hotel," he said.
While entering the luxury travel stratosphere, Etihad has opted not to offer a premium economy section.
A new fixed-wing head support, pictured above on the Zodiac Aerospace 'Economy Smart' seat, 31-32 inches of pitch on the A380 and 31-33 inches on the snug 9-abreast 787, plus Panasonic Avionics' latest generation eX3 IFE system makes for "a very good product," according to Aubrey Tiedt, the airline's VP of guest service.
"I know this is big in the US right now," she said of premium economy, "but here in this region at the moment, we're selling our business class" as the step between economy and first.
In a highly orchestrated, day-long show-and-tell in Abu Dhabi yesterday, mock ups of the premium cabins of both the A380 and 787 were on display for reporters. These new premium seat designs have all been given names that evoke the notion of spacious living in the sky.
The Residence, which is destined for the A380, is the most dramatic, not just for what it is, but for the redesign of the behemoth widebody that made the concept for the super first class suites possible. On the forward end of the upper deck, the twin aisle has been turned into a single aisle.
Reconfiguring the upper floor of the A380 freed up space for cabin-ettes; each one 39-sq ft in size with a separate seating and sleeping area. Etihad is calling these seats, 'First Apartments' but they more accurately resemble Orient Express-style high end train compartments, elegantly spacious but compact enough so that there is room for nine of them along the aisle. These seats are 74% more spacious than previous first class seats, Hogan said.
With its first A380s, Etihad is now the second operator to incorporate inflight showers and it eclipses Emirates' one shower with two. There is one shared shower on the hall for travelers booking the First Apartments and the second is inside The Residence. "With this, Etihad has taken Emirates' 'Hello Tomorrow' slogan and turned it into 'Goodbye Yesterday'," quipped travel analyst Henry Harteveldt.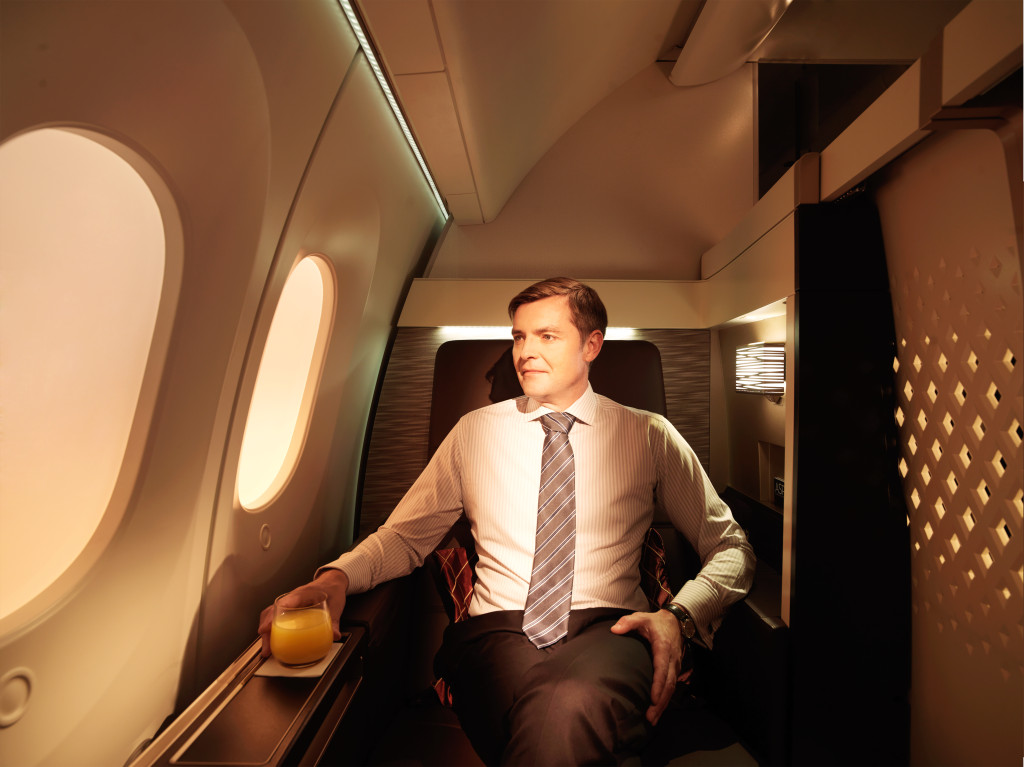 Meanwhile, the 787 remains a twin aisle aircraft throughout with eight Enhanced First Suites (pictured left) and no shower, and 28 'Business Studios'.
"In about three hours, our competitors will be scratching their heads," Hogan told reporters after revealing what has been a closely-guarded plan to take premium class up several notches in comfort and privacy, and charge roughly $20,000 to fly The Residence from Abu Dhabi to New York or London
But on viewing the glossy images of The Residence provided by Etihad yesterday, some business travelers were scratching their heads as well. Said one, "If I want all that, why not just cut out the middle man and whip out the Gulfstream?" Quipped another, "It's about one GCC (Gulf Cooperation Council) airline one upping their neighbors. Keeping up with the Jones Khalifas."
Left open to interpretation was whether Etihad's competitors would be fingering their craniums out of fear of the new competition or wonder as to why Etihad went so far off the deep end in pursuing the premium passenger. Lufthansa, for instance, is removing first class from a large number of its long-haul aircraft, and embracing Premium Economy.
Jens Bischof, the member of Lufthansa's board in charge of sales, product and marketing, said the carrier's new Premium Economy seat, which will debut on the Boeing 747-8, "will position us in a premium segment within the international competitive environment".
Meanwhile, Etihad's larger seats, rearward seats, modified single, curved A380 aisle and other changes required recertification from regulators. Hogan declined to answer questions about the cost, but just one recertification process can costs millions. In addition, a complex recalculation of the weight of each interior component was conducted in order to make sure that the new elements did not affect the performance and fuel efficiency for which the A380 and Dreamliner are known.
When the first 10 new airliners arrive in Abu Dhabi in December, they will equipped with Panasonic-provided Wi-Fi, Hogan said, though he provided little in the way of additional details.
At present, operators can take delivery of OnAir L-band equipped A380s, though Panasonic's Ku-band connectivity system can be fitted during post-delivery retrofit modifications and Airbus is poised to offer the Ku system line-fit. Boeing previously told Runway Girl Network that it expects to offer Panasonic Ku line-fit on the 787 starting this summer.
Some 60% of the existing Etihad fleet is already Wi-Fi-enabled and the rest should be completed by February 2015.
All images credited to Etihad Airways