Armed with some free time after a work trip, I made plans for a quick getaway to Vietnam for rest and relaxation. Unlike most folks, R&R for me often means flying around on new airlines and new aircraft. This time was no different.
Vietnam has a bustling aviation scene, featuring everything from full service operators to a growing cadre of low-cost carriers. Hanoi-based Bamboo Airways is, by its own description, somewhere in the middle. It boasts a proper business class but takes a more low-cost approach to economy.
I booked a ticket with Bamboo from my base in Ho Chi Minh City to Hanoi in the north. The ticket included a basic economy fare for $65, plus seat choice and a lounge pass for another $27 combined.
The night before I was set to travel, the airline notified me via email that my flight was canceled. A link to the website offered me other flights for free, but unfortunately none of the new times worked. I sought to cancel the flight for credit or a refund, but the website said the ticket could not be altered online.
The site directed me to an inoperative customer service phone number. I thought it was just my phone being silly, as I had trouble with it during my time in Vietnam, but the hotel front desk could not reach the number either, nor could a friend living locally. The airline's chat bot connected me to an agent after 90 minutes, but no agent ever appeared.
I finally walked to the airline's ticket office at Ho Chi Minh City's Tan Son Nhat International Airport (SGN), and waited in line for twenty minutes, only to have an agent tell me that tickets purchased online could only be changed online. Showing the agent Bamboo's own website, which clearly indicated the opposite, did nothing to alter the situation. They handed me a scrap of paper with a customer service email to reach out to. It's been five weeks of silence since. 
Nonetheless, I needed Bamboo to complete a little personal goal of hitting 100 different airlines flown by the end of 2023. So there I was booking the cheapest one-way flight I could find on Bamboo on twelve hours' notice. That turned out to be a one-hour flight from Con Dao Airport (VCS) to Ho Chi Minh City. The ticket, with seat choice, came out to $56.
I flew into VCS that morning from Ho Chi Minh City on a different airline, and enjoyed a short walk outside in the tropical heat before returning to check-in. The small counter at Con Dao Airport had three agents working it, with one line for business class and two for economy. There was no queue at either. Security was likewise short.
With only two gates, this is not a big airport. But it nonetheless hosts an entire lounge just for Bamboo. I didn't buy a pass nor did my ticket come with one. The second floor contained plenty of seating, shops, and a few small restaurants. It was a perfect way to wile away an hour.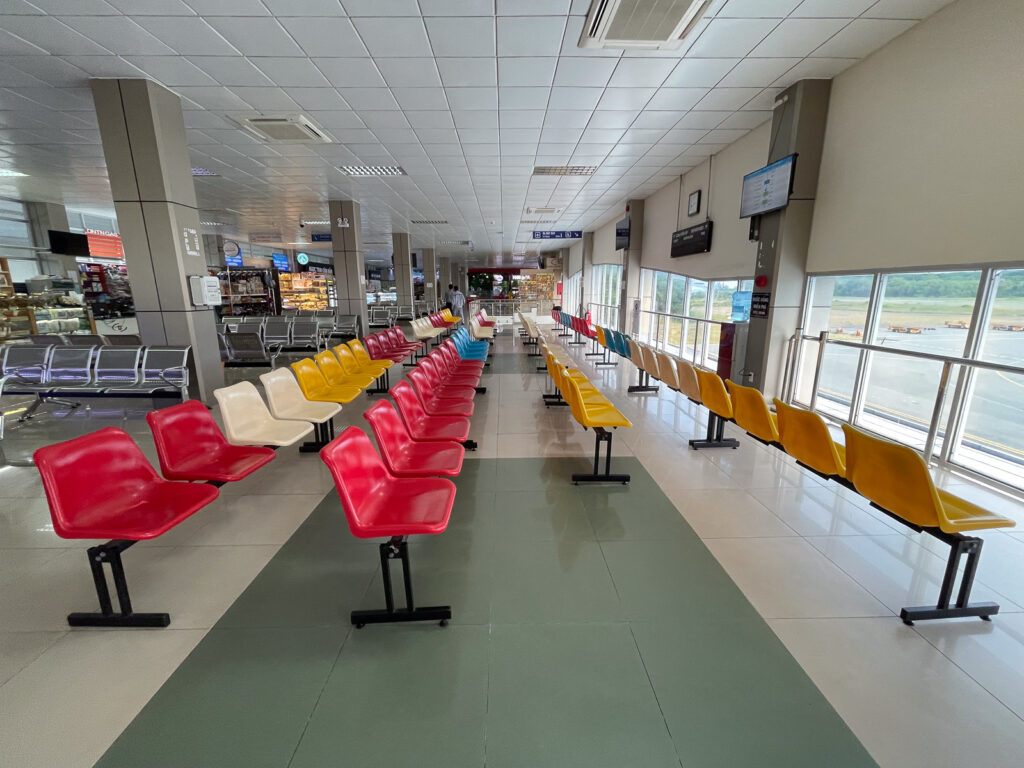 Our Embraer 190 jet landed on the short runway a few minutes before the departure time, causing the roughly 100 passengers to immediately begin queuing up at the boarding gate downstairs.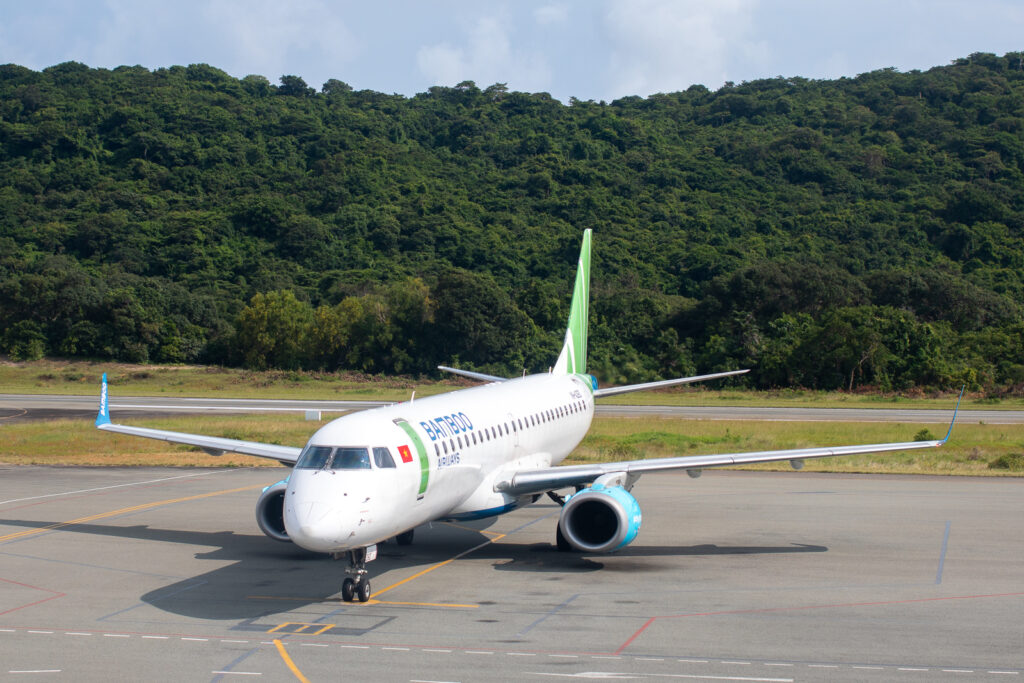 Thereafter, we all boarded a stuffy bus for a 45-second ride out to the airplane. A crew member greeted me warmly atop the boarding stairs.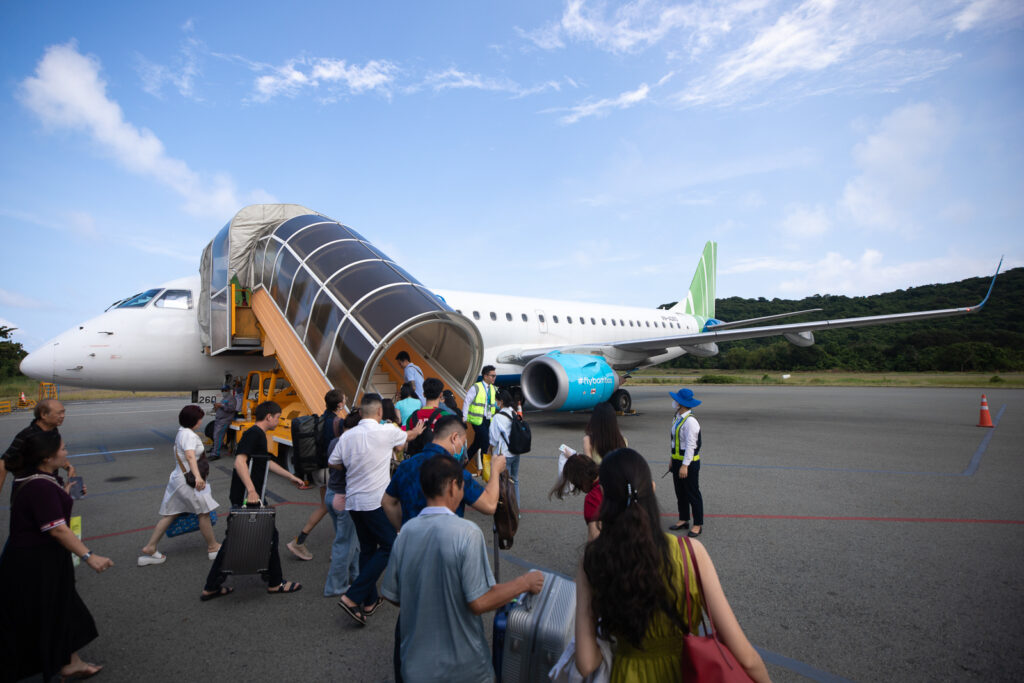 I passed a small, empty business class cabin while en route to seat 11A in the standard 2-2-configured economy class cabin.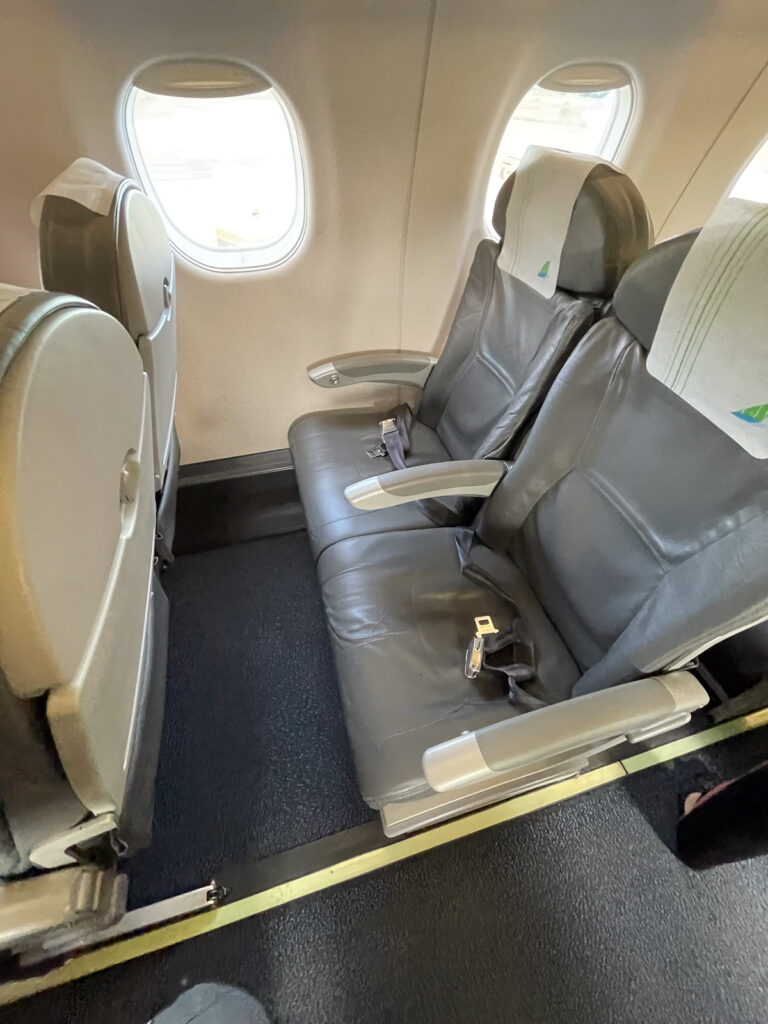 My backpack found space easily in the overhead bins despite the economy cabin being completely full. We took off a few minutes late, climbing out over the bright blue water before turning north toward the mainland.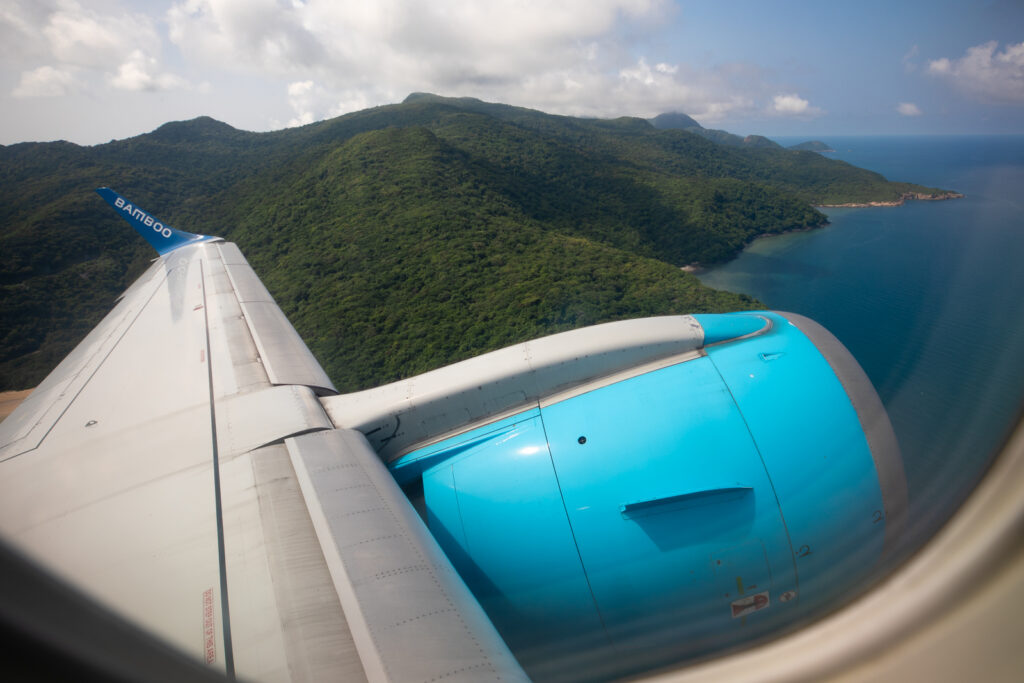 There isn't much else to note about the onboard passenger experience. The seats are comfortable, with 32" of pitch and 18" of width. Each comes with an overhead air gasper and reading light, along with a large fold-down tray table. A literature pocket held an inflight magazine, airsickness bag, and safety card.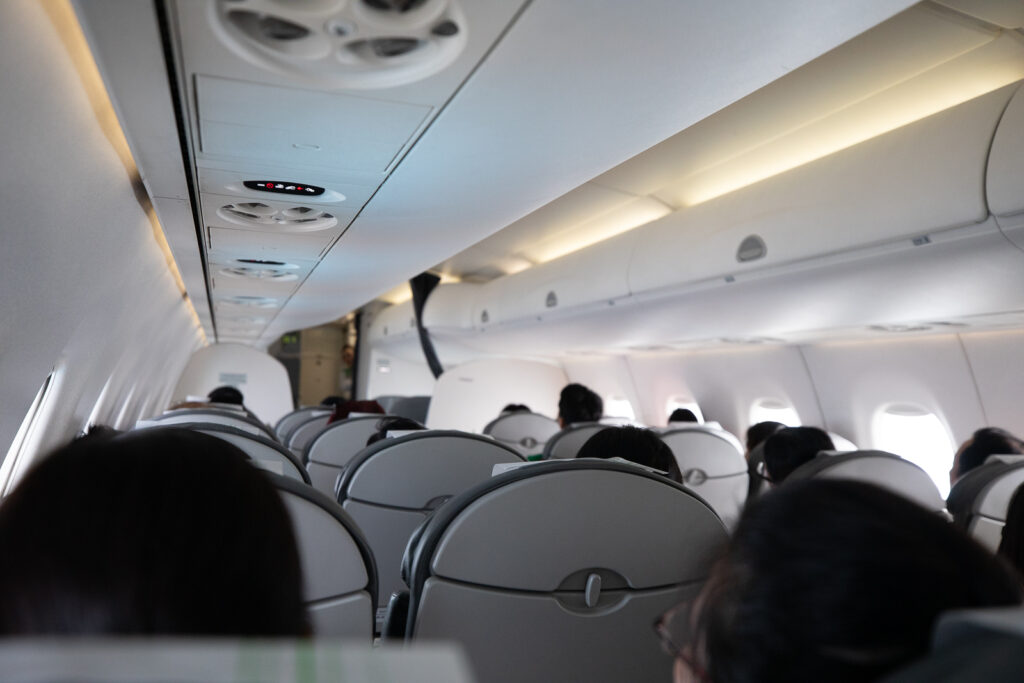 There is no Wi-Fi, no in-flight entertainment and no in-seat power, which for a 40-minute flight, is honestly just fine. The flight landed in Ho Chi Minh City without incident, and dropped us off via bus in the terminal not long after.
The entire experience was unremarkable, which was disappointing. I had high hopes for a good experience with an airline with a good reputation. And for a variety of reasons, that just didn't happen.
Runway Girl Network last interacted with Bamboo's product in 2019. The carrier was a fresh upstart then, running its nascent operations on a hodgepodge of leased aircraft. Even then, RGN contributor Jason Rabinowitz noted something good was brewing.
He wasn't wrong, at least for a time. The airline expanded rapidly, adding airplanes for both regional flights and long-haul to Australia and Europe. It earned high praise along the way for its well-appointed cabins, solid catering, and all-around good service.
Lately, however, the carrier has been struggling. A week before my flight, Bamboo made headlines for reportedly failing to pay its pilots. Two weeks after my flight, it made the news again after eliminating long-haul routes and with them, Boeing 787 flying.
In recent statements detailing its restructuring efforts, Bamboo says it has implemented a new business strategy "which prioritizes trunk routes that connect major cities such as Hanoi, Ho Chi Minh City, and Da Nang, as well as popular local and leisure routes. The airline plans to revamp its fleet by incorporating narrowbody aircraft and regional jets to achieve this goal."
Those struggles might explain why I didn't get any money back or indeed receive a response from Bamboo. 
Related Articles:
All images credited to the author, Jeremy Dwyer-Lindgren