As the aircraft retrofit market trends upwards, Italian design organization ABC International has inked a strategic cooperation pact with European maintenance specialist JOB Air Technic to offer integrated packages that include aircraft interiors and cabin refurbishment services from ABC and installation work conducted by JOB Air Technic under a single contract.
Naples-based ABC is a DOA company, offering many Part 21J engineering solutions to modify aircraft cabins to EASA standards.
ABC's agreement with JOB Air, explained ABC marketing and sales executive Pasquale De Rosa to Runway Girl Network, "allows JOB Air Technic's clients to receive special pricing and conditions for cabin related Part 21J services and products. During the negotiation with JOB Air Technic for maintenance services, customers will be asked to share cabin modification needs so that they can receive a comprehensive quotation to integrate both maintenance and cabin services under the same order.
"JOB Air Technic will be able to sell directly 'standard products' such as basic LOPA [layout of passenger accommodations] change, carpet kits and curtain kits provided by ABC International and using standard raw material [from] our soft furnishing catalogue. On the other hand, in order to relieve JOB Air Technic from complex cabin services negotiations that are falling out of their expertise, ABC International will handle in-person the more detailed requests."
In either instance, added De Rosa, customers accessing ABC's cabin services through the JOB Air Technic channel will receive very competitive prices.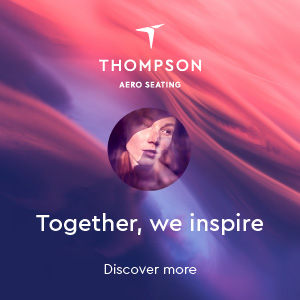 By offering integrated packages, the two firms also aim to make the aircraft refurbishment process less complex and time-consuming for lessors and airlines.
"For us, it is extremely important to respect schedules and stay within the estimated/agreed times," said JOB Air Technic chairman and CEO Vladimír Stulančák in a statement, adding: "Having a direct channel with ABC International for both Part 21J modification approval and manufacturing of cabin interior kits reduces stand-by times and delays."
Based at Leoš Janáček airport in Ostrava, Czech Republic, JOB Air Technic has strong experience in providing narrowbody maintenance services, including for the Airbus A320 and Boeing 737 families. But it can also supply maintenance services for the Airbus A330, noted De Rosa, and the firm is looking to expand its capabilities to more aircraft families and types.
For its part, ABC has extensive experience on both narrowbody and widebody types. "We performed cabin reconfigurations and work on regular basis on the most operated single aisle A/C (A319, A320, B737, E190, E195, ATR42, ATR72 etc.) and larger A/C including A330, B777 and B787," he said.
ABC is open to forging similar agreements with other MROs around the world, but with certain caveats. De Rosa explained: "We strongly believe that JOB Air Technic represents a very high valued partner in the European market and we will sign any future agreement in respect of such partnership. The research of future partners will be driven by the firm intention to avoid direct competition on our services among them. Indeed, we aim to serve MROs in different regions (Turkey, Middle East and Americas) or operating on different A/C [aircraft] types."
More broadly, ABC is seeing narrowbody retrofits on the rise, especially as lessors and airlines prepare for the summer travel season, with De Rosa noting: "We are experiencing a huge demand of A/C transitions and refurbishments. Based on our experience the current need is to operate highly efficient and 'easy to manage' fleets to cover middle-long range routes. Lots of ACMI operators are now preparing their narrowbody A/C for their clients' summer operational needs. Lessors are signing a considerable number of leasing contracts and are converting all the A/C that have been grounded due to [the] covid pandemic. Operators are offering to passengers a distinguishable cabin environment as they realized that customer experience is crucial to maintain passengers' loyalty in a such competitive market.
"The most popular requests are: branding elements, carpets, curtains, seat covers and cabin dividers (both movable and fixed) that can all be manufactured and approved in-house. We recently signed stock management agreements with a few airlines to provide them carpets and curtains kits using their preferred materials."
Related Articles
Featured image credited to ABC International