Vietnam's low-cost airline scene is in the middle of an impressive boom. Existing airlines are growing at a fast clip while new entrants are making their presence known and disrupting an already interesting market.
On a recent vacation in Vietnam, I set out to fly three of the country's most popular airlines to see how they stacked up against each other. I booked Bamboo Airways, Jetstar Pacific, and VietJet Air via their respective direct channels, and opted for various ancillary items and meals as required.
First up was Bamboo Airways, the newest of the three airlines, from Hanoi to Ho Chi Minh City. Bamboo is still in its infancy, operating a hodgepodge of leased current-generation Airbus A320 family aircraft while it waits for its full fleet of delayed, new-generation A321neos to be delivered.
Bamboo's website is slick and functional, offering three bundled fares at the time of booking. All fares allow for 7kg of cabin baggage, but I bought the "Bamboo Plus" bundle for access to a 20kg checked bag allowance. I also decided to add a seat assignment in the first few rows for an additional 44,000 VND, or roughly US$2. No, I didn't miss a zero in that currency conversion.
The check-in process at Hanoi was simple, and I was thrilled to see an actual Bamboo Airways A321neo pull up to my gate.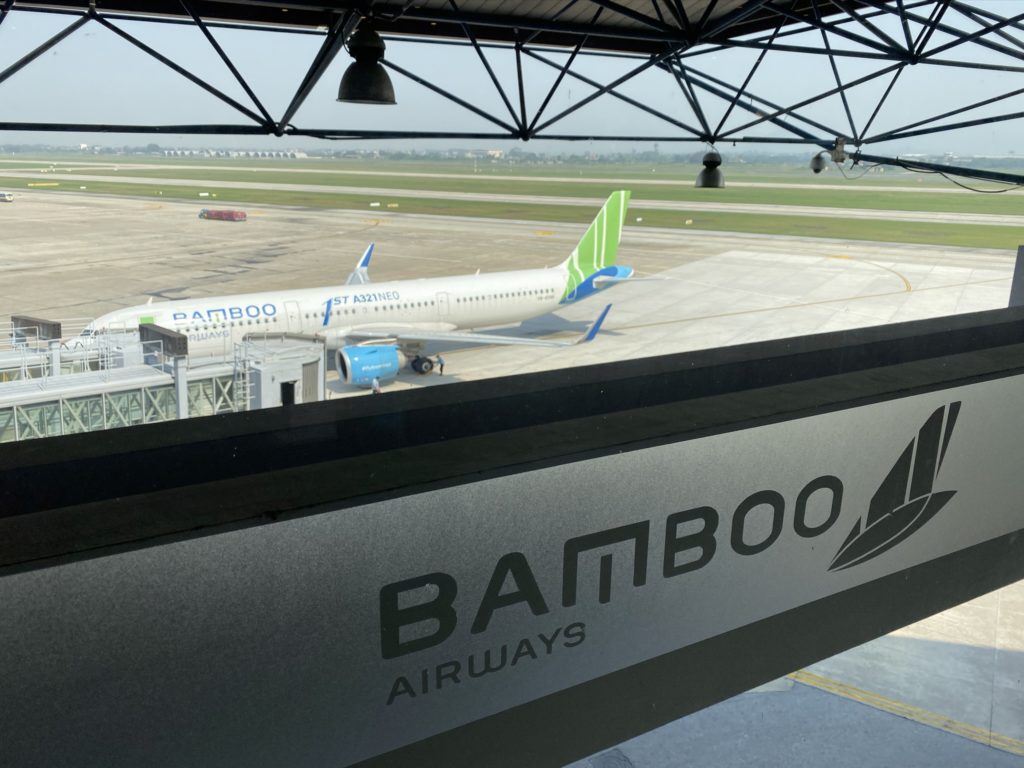 The interior of this particular A321neo did not seem to be in Bamboo's permanent layout, with business class seats that looked like they were from another airline, and a huge gap between business and the first row of economy.
The economy seats were thankfully of the correct variety, featuring Bamboo's actual product. I'd estimate the seat pitch in the second row of economy at about 31 inches and it was quite comfy. Every economy seat featured a USB port that was active only above 10,000ft. Interestingly, the business class seats did not have power outlets of any sort, so economy actually has a leg up on business on that particular aircraft.
Bamboo is adding a streaming IFE system to its aircraft but that was not yet available for my flight.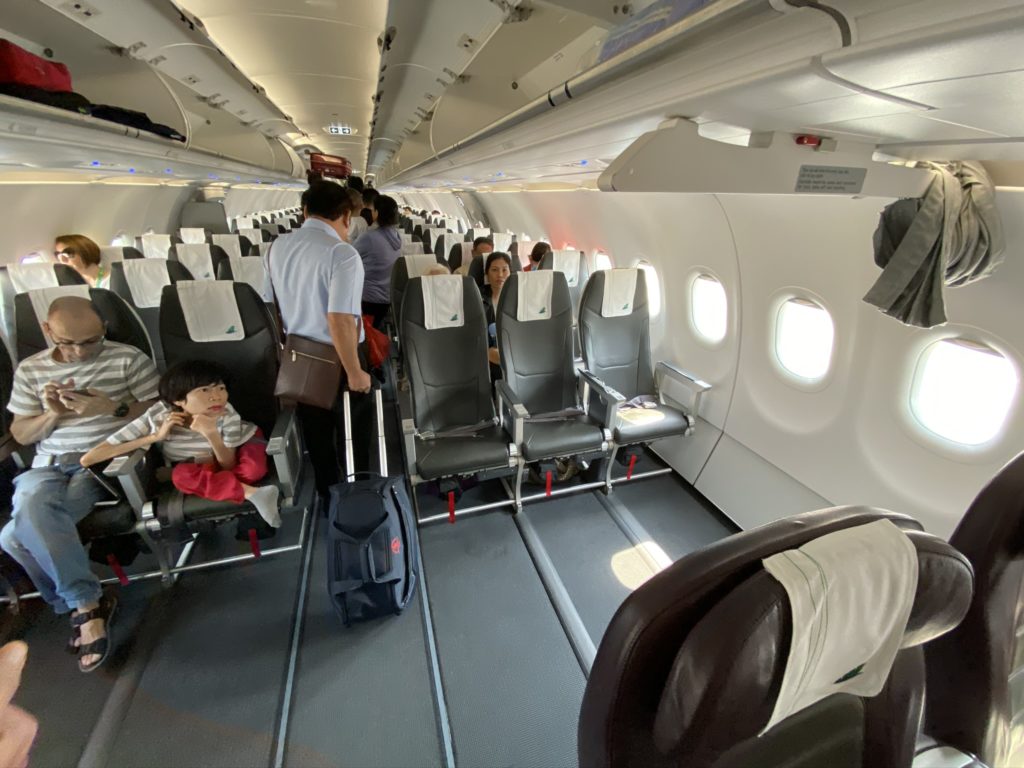 Something that sets Bamboo apart from the competition is the distribution of free meals on all flights. The word "meal" may be a bit generous here, but it's something. All passengers were given a tray with a meat-filled bun, a cup of yogurt and a very basic drink service.
Was the meal great? Absolutely not. But it was filling and is a complete standout in the Vietnam domestic market. I would absolutely recommend Bamboo Airways, but buyers should be aware that the carrier is flying random leased aircraft until it gets its full fleet of A321neos delivered.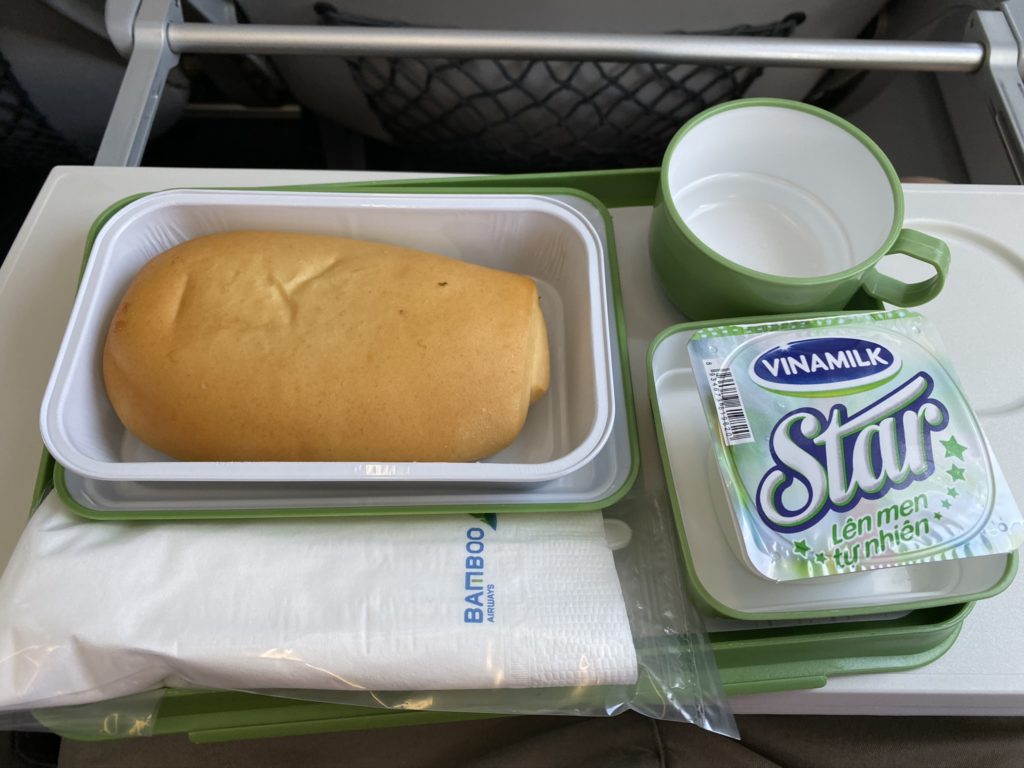 Next up was Jetstar Pacific, the most well established of the three airlines, from Ho Chi Minh City to Da Nang. This time around I booked the lowest level bucket, the "Starter" fare, and topped it up with the ancillaries I needed.
I added an exit row seat for 110,000 VND (roughly US$4.75), two meals for 120,000 VND total (about US$5.00), and a 20kg checked bag for 180,000 VND (~US$8). All of those fees added up, but I kept things in perspective. After all, you can't get a single checked bag for free on a US domestic carrier unless you're flying Southwest Airlines.
A quick bus ride to the Jetstar Pacific aircraft brought us to an Airbus A320 with 180 economy class seats on board. The load was a tad light on this flight, giving me an entire exit row to myself. The exit row was quite roomy, offering probably about 32 inches of pitch. Each seat features a tablet holder, which is an unexpected perk for an airline without streaming entertainment or power outlets.
After receiving an extensive exit row safety briefing, we were off.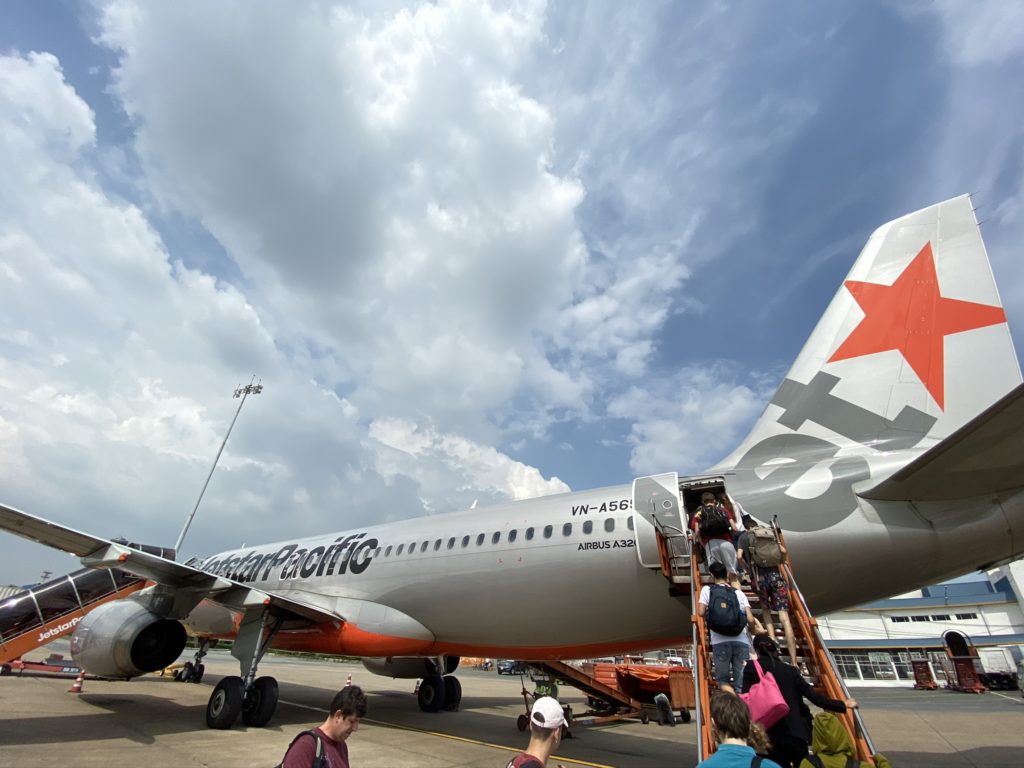 My two meals and a bottle of water were delivered after only a few minutes aloft. I opted for the Vietnamese sticky rice with roasted chicken and egg, and a second meal of Thai fried rice. Both meals were plenty good given the cost associated, and were more filling than the meal on Bamboo.
Two meals may be overkill for a one-hour flight, but I wanted to give the variety a try. Before long we were on approach and that was that. I'd recommend Jetstar Pacific without hesitation.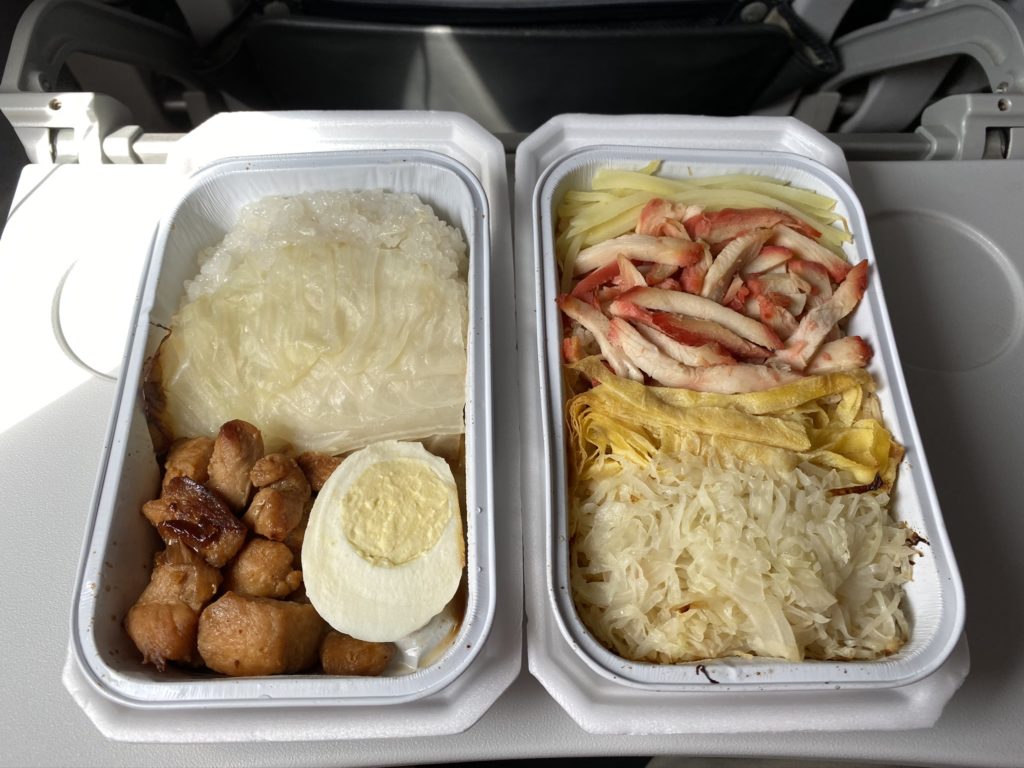 The last airline on my list was VietJet from Hue back to Hanoi. VietJet is a true ultra low-cost carrier, cramming 230 tightly pitched seats onto a current-generation Airbus A321 and offering base fares under US$5 (about US$30 after tax).
Its website is, by far, the least elegant of the three and is in desperate need of modernization. I opted for the "Eco" fare that includes 7kg of cabin baggage, and added on an exit row seat assignment for 99,000 VND (roughly US$4), a 20kg checked bag for 192,500 VND (~US$8), and a ticket for the VietJet-branded shuttle bus into Hanoi for 39,600 VND (~US$1.70).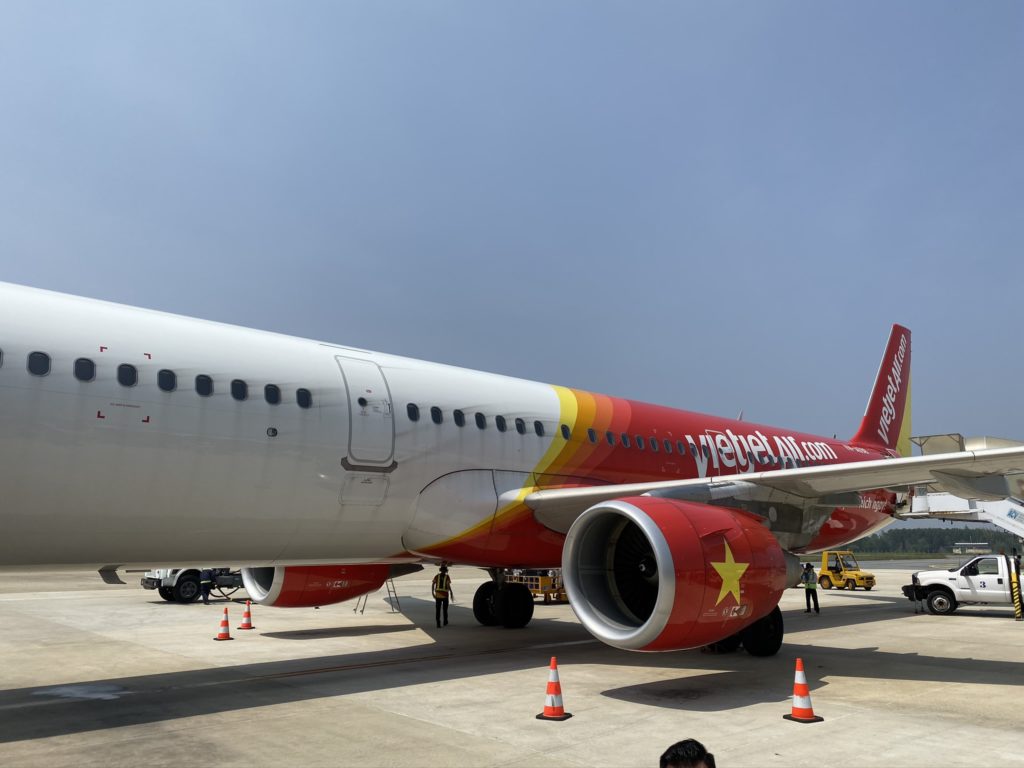 The inbound aircraft for my flight was operating about 40 minutes late, but passengers were kept informed of this delay at the airport. VietJet has a reputation for cancelling flights with low load factors and stranding passengers for hours, but for better or worse this flight was packed.
Boarding via buses and airstairs was mostly smooth and I found my exit row seat.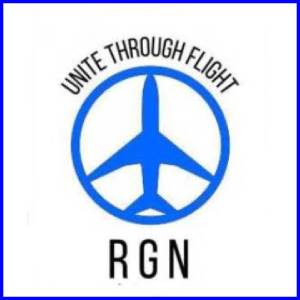 The "Skyboss" bulkhead row looked to provide decent legroom, but all other rows on this dense A321 were incredibly tight like I had never seen before. The $4 I spent for the exit row was an absolute no brainer, as I barely fit in other seats that I tried out during the flight.
I noticed that a few other Americans on the flight moved to the exit row once in-flight as they simply didn't fit in their row. I selected seat 12A, providing "unlimited" legroom. The other two seats in that row, however, had the regular tight legroom, so be careful when selecting an exit row seat.
VietJet did not offer any sort of pre-order meal service in the booking flow, and I didn't see the post-booking email offering this, but a menu on board the aircraft made it seem like meals were indeed available for purchase.
I did not notice a meal or drink service offered on the flight, but I may have simply missed it. The flight was otherwise uneventful, a true ULCC experience.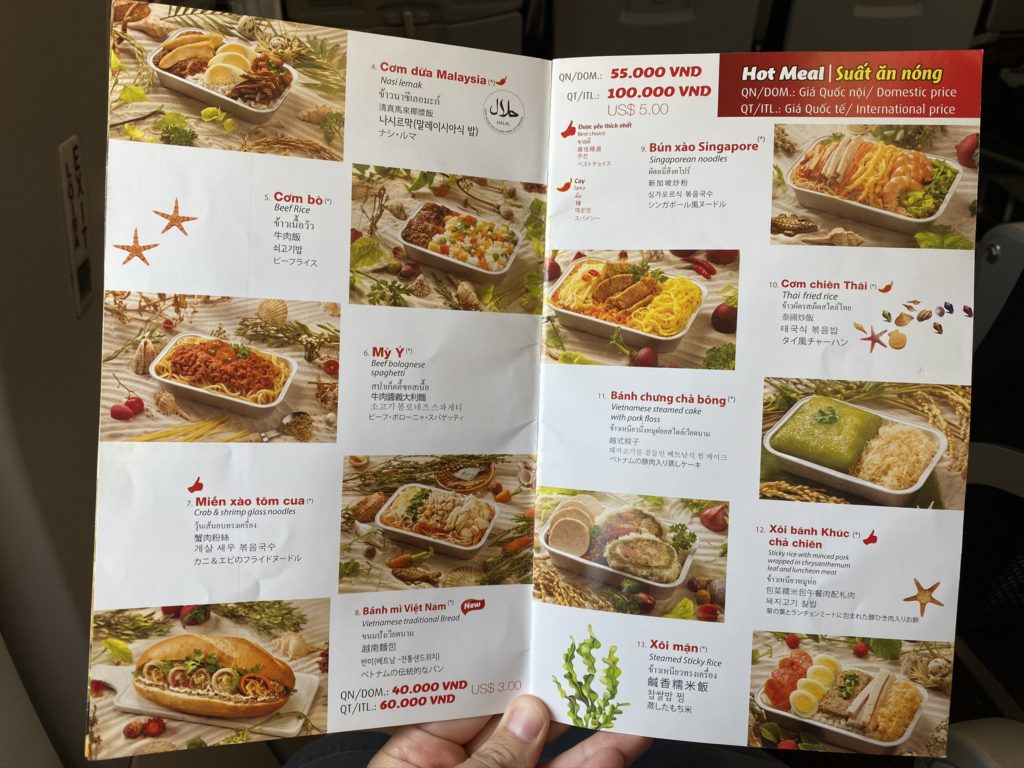 As the Vietnamese airline space further grows and differentiates, it will be fascinating to see which airlines really take off, which find their sweet spot, and which are left behind.
I would fly any of these three airlines again, but foreigners who may not know what they're getting into with VietJet may be in for a surprise if they don't book an extra legroom seat.
All images are credited to the author, Jason Rabinowitz
Related Articles: