On a recent personal trip to Vietnam, I had a choice of connecting through Seoul on either Korean Air or Vietnam Airlines. Having already tried Korean Air a few months back, I wanted something different so I went with Vietnam Airlines – booked via Delta as a codeshare.
Originally booked as a pair of Boeing 787-9 flights, Vietnam Airlines quietly switched out the Seoul-Hanoi flight to the Airbus A350-900 at some point after booking.
The codeshare annoyances started right off the bat. I was unable to select a seat for my Vietnam Airlines-operated flights as the carrier's website refused to accept my Delta-issued reservation number (PNR). This was resolved by asking Delta for my Vietnam PNR, and only by Tweeting the airline for assistance. So much for seamless codeshare integrations; the industry clearly isn't there yet, even among alliance partners.
En route to Seoul's Incheon International Airport, I received an email from the Vietnam Airlines ticketing department in Korea informing me that my flight was delayed a little over an hour. At no point did Delta or its app have any flight status information for my Vietnam Airlines flights, which was baffling.
The single time the Vietnam Airlines app sent me a push notification was for the start of boarding, but it did so at the original, non-delayed time.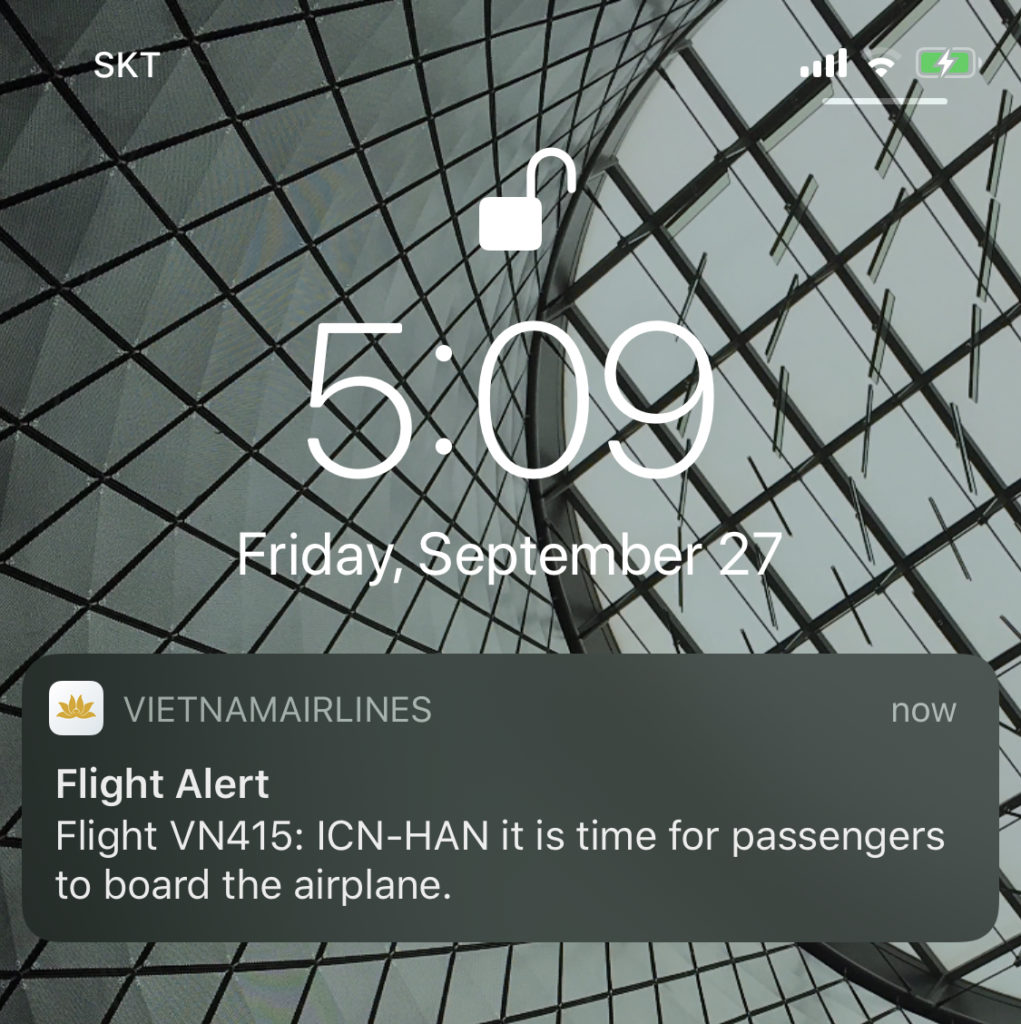 At this point, I realized the inbound aircraft would in fact be a 787-9 after all, not the A350-900 that was scheduled. Thankfully the two aircraft types are configured so similarly that my seat assignment didn't even change.
Once on board the 787-9, I settled into the regular economy seat with about 32 inches of pitch, a Thales IFE screen, under-seat power outlets and personal air vents. Though the 787-9 is configured 9-abreast, the seat width is roughly 17.5″. My seatmate was a woman of smaller size. And so, the seat was comfortable for me.
We sat at the gate for an extended period of time, as we apparently waited for late passengers to join our already-late departure, and I was slightly annoyed that the IFE system remained inactive during this time, playing only the boarding video.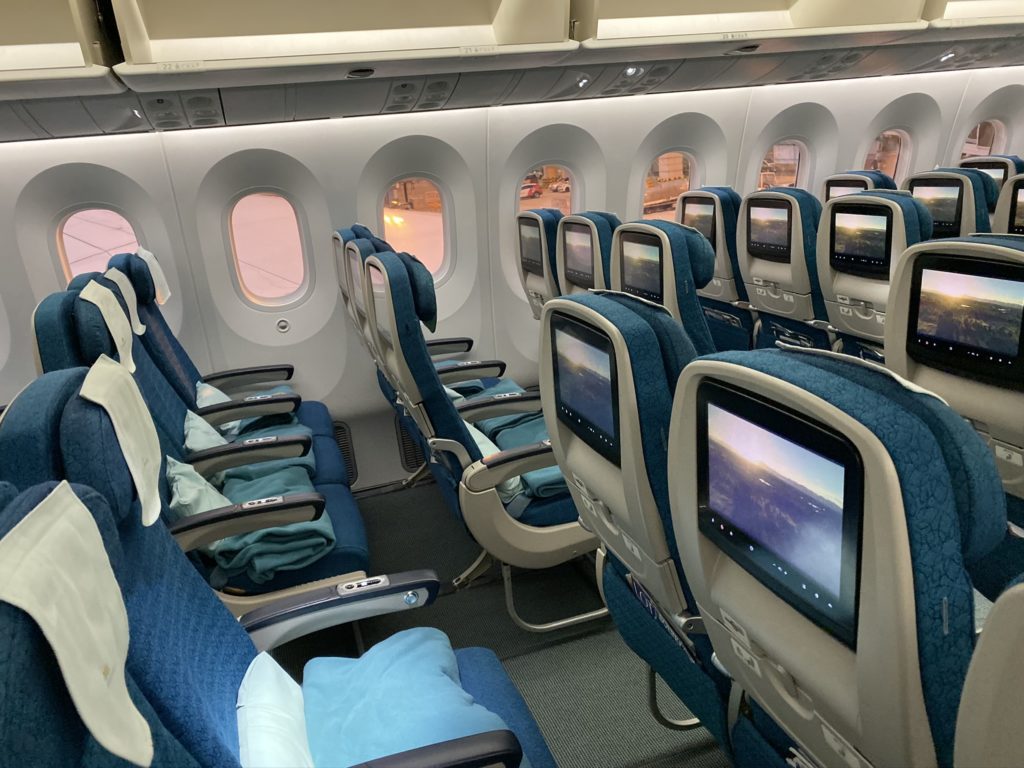 Once active, both my screen and my seatmate's screen were not responding to touch, forcing us to use the extremely annoying armrest-mounted remote control, the same remote control that everyone's elbows keep hitting.
A manual reboot of the screen (a handy trick to know) restored touch functionality. The system features a good deal of quality content to keep me awake after too many hours of flying, far more than I expected and tons more than Korean Air had on its 787-9.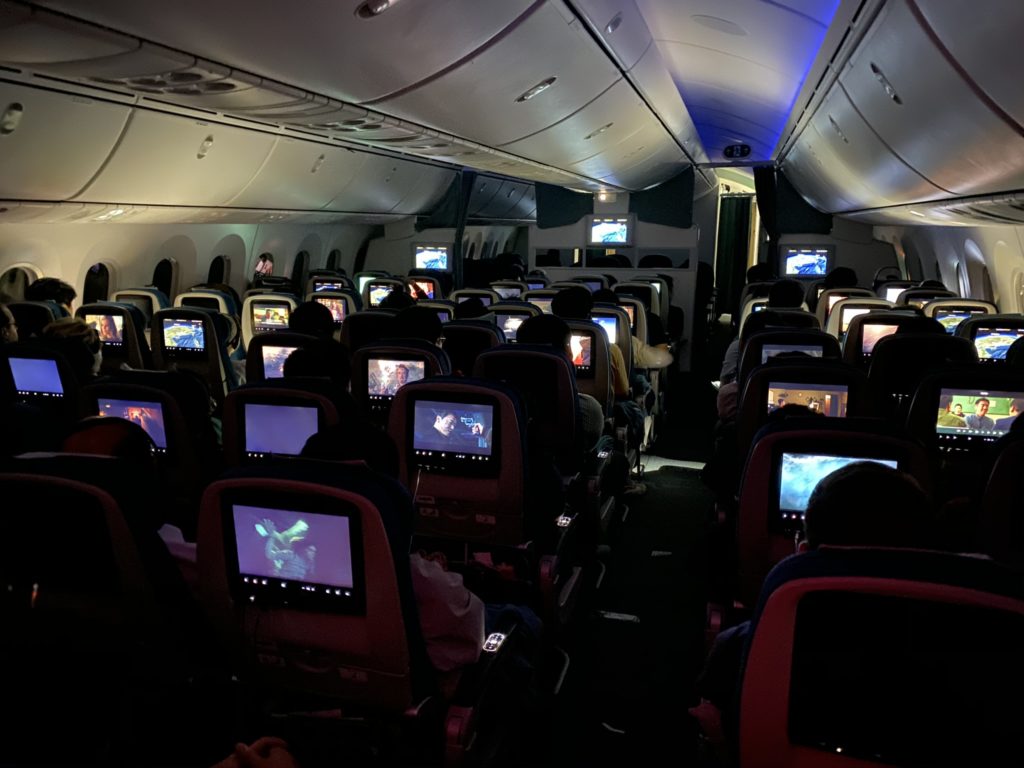 The flights between Seoul and Hanoi are about four hours, so I was surprised and delighted to see that Vietnam issued full printed meal menus in economy. A full range of spirits, cocktails and non-alcoholic beverages were available. The two dinner options both started with a potato salad with ham and salami, with a main dish choice of either braised chicken with soy sauce or braised beef  Galbi Jjim. I honestly do not remember which of the two I ordered, but the main dish was tasty if forgettable.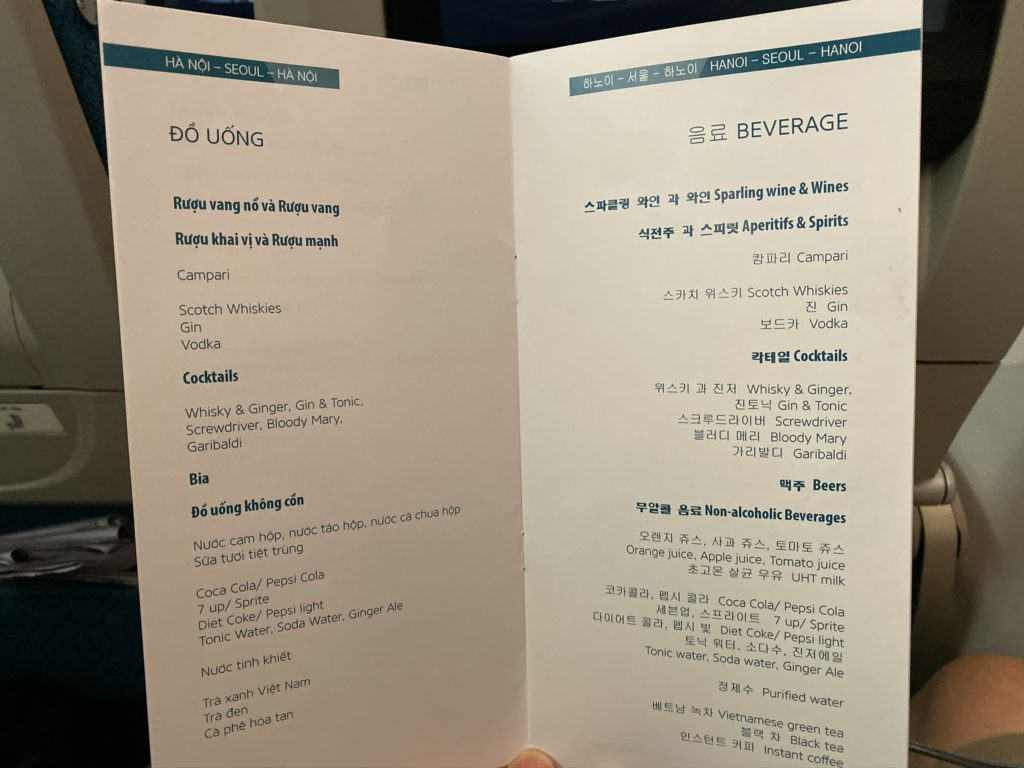 Flash forward about a week and my return flight was operated by the A350-900 as scheduled. Vietnam has two distinct A350 subfleets, with an older set of four delivered without a true premium economy cabin and the remaining with said cabin.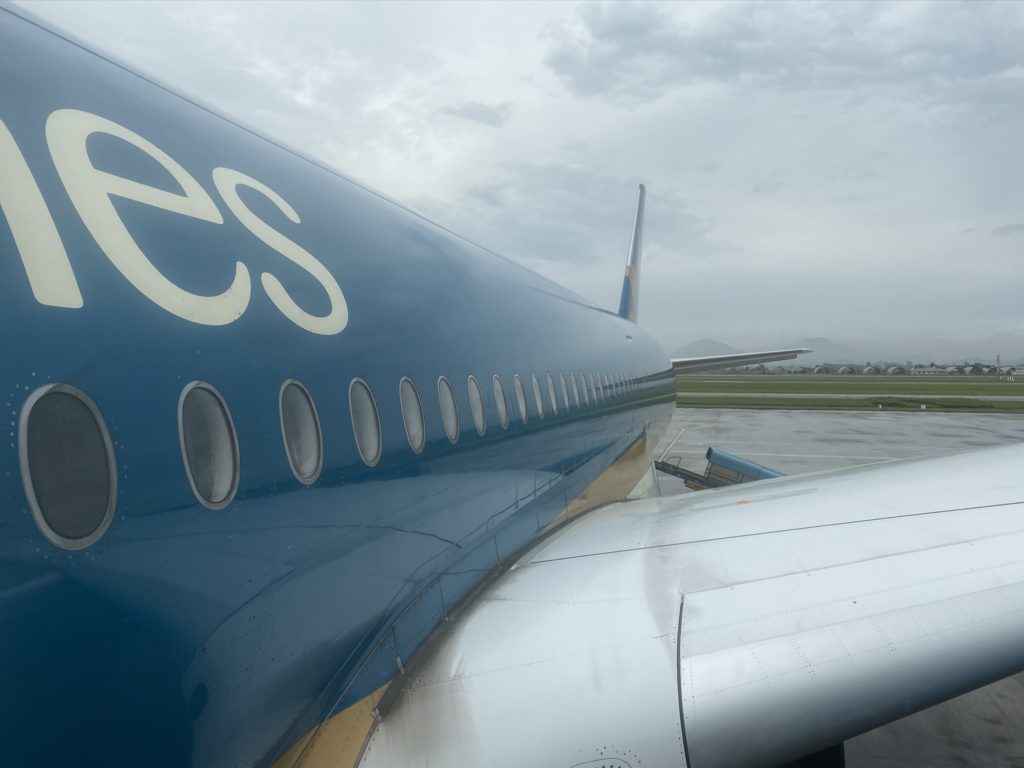 At first I was disappointed that I pulled the older of the two subfleets, but it turned out to be a good thing. While checking in at Hanoi, the desk agent upgraded me to a premium economy seat due to my nearly expired SkyTeam status, which on this subfleet is just a regular economy seat with additional seat pitch. The A350 was missing personal air vents, an odd omission considering the carrier's 787-9 included it.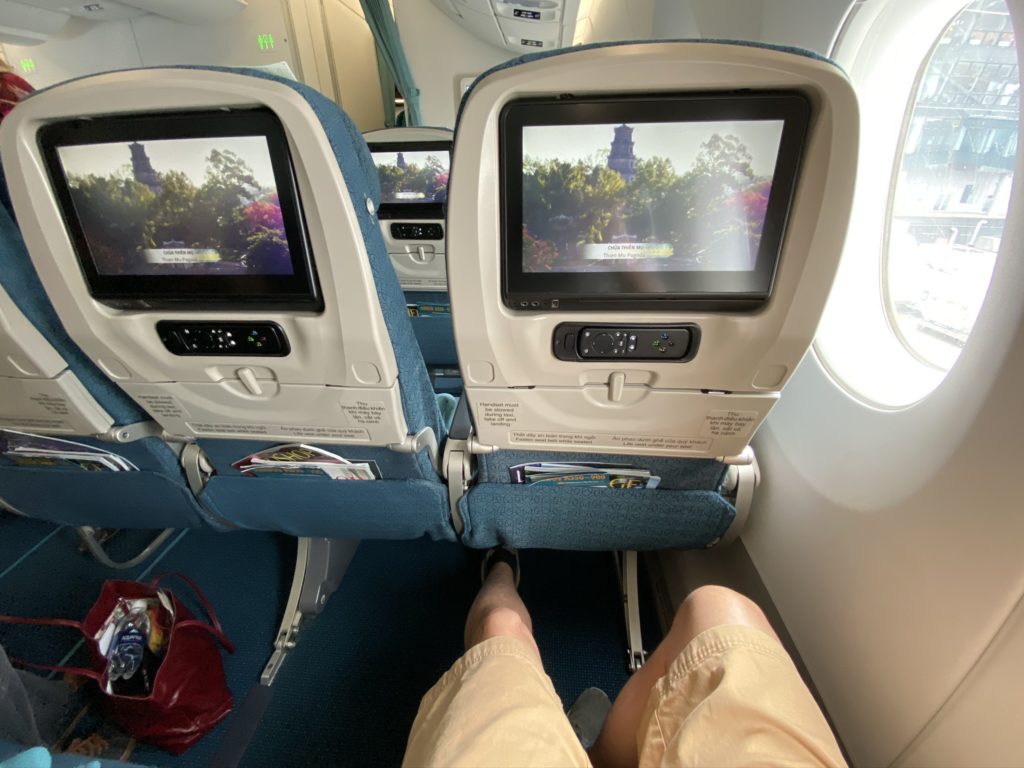 Vietnam's A350 features IFE from Panasonic Avionics rather than Thales, with a tethered remote in the seatback rather than the armrest. The menu system on the A350 was quite slick compared to the 787-9 or even most other airline IFE systems.
The seats boasted Airbus' standard 18″ width, with the same 32″ width as on the 787-9.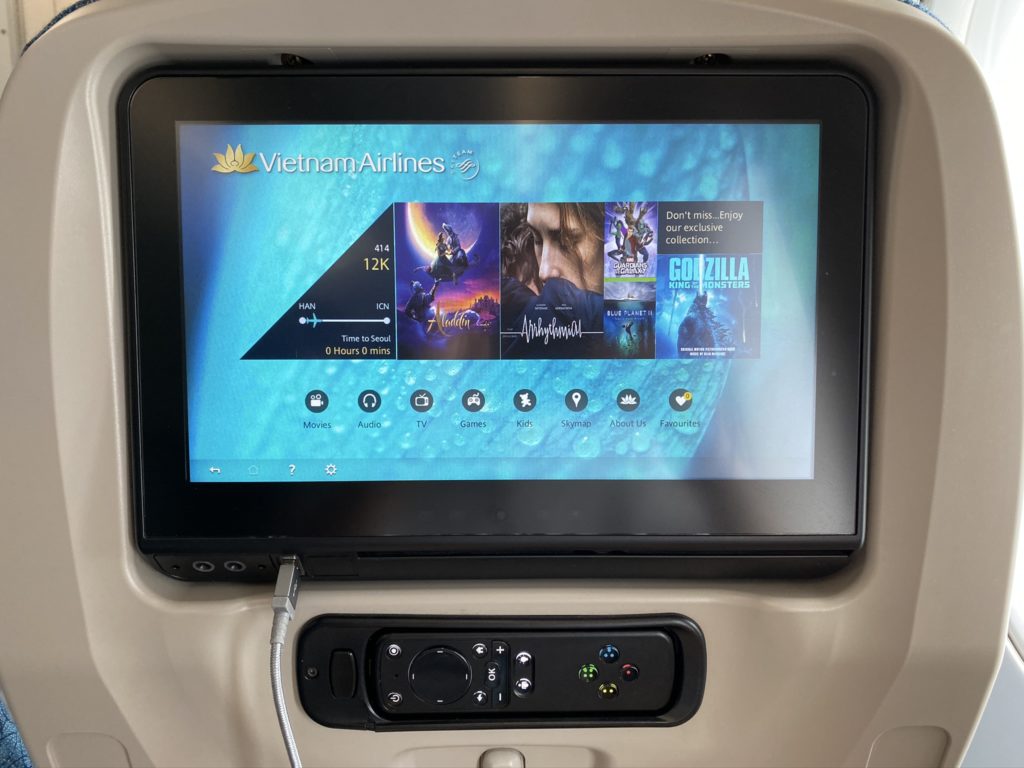 While I knew that Vietnam was nearly ready to activate Wi-Fi on some of its A350s, I figured it would be Inmarsat GX Ka-band-powered service. But once we reached cruising altitude, I realized that the aircraft I was on was the subfleet that carried the dated and painfully slow Inmarsat "SwiftBroadband" L-band variety.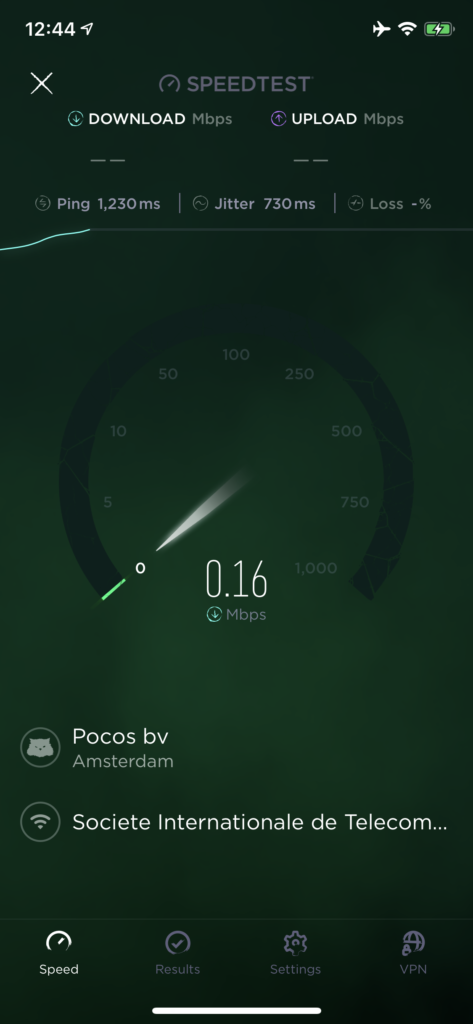 The OnAir portal, provided by inflight ISP SITAONAIR, presented passengers with four distinct plan options, starting with a free 30-minute "text messaging" plan, which actually offered free Internet (up to a 4 MB cap) at a throttled rate.
The next tier offered a two-hour texting plan for a reasonable VND 75,000 (roughly $3.22US), which in reality offered only 30 MB or two hours, whichever limit came first. Above the texting plans were two 25 MB and 80 MB "full flight" plans.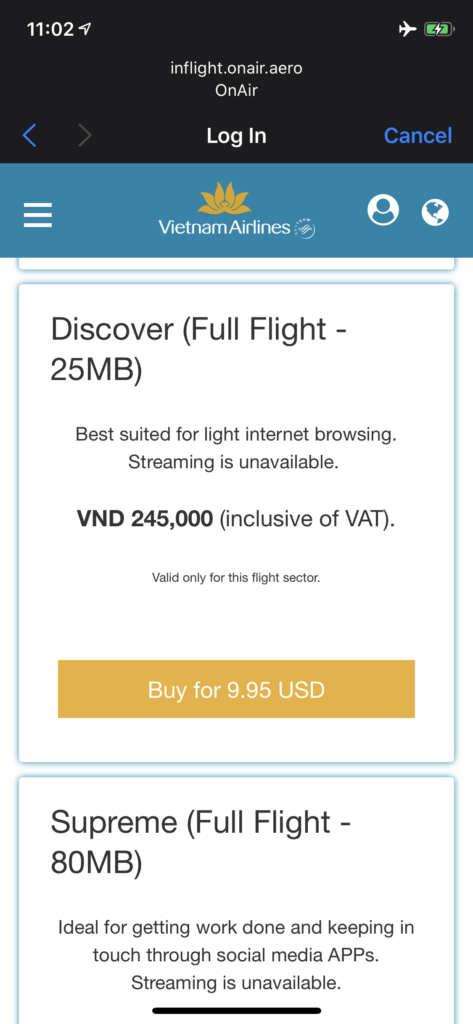 Intriguingly, the 25 MB plan was priced at VND 245,000 and actually offered less data than the much cheaper two-hour texting plan. It removed the two hour limit, but provided so little data that its usefulness was limited.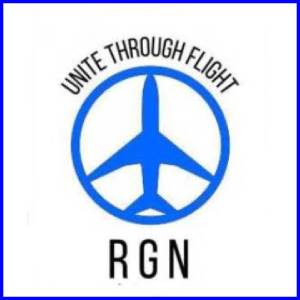 For Vietnam Airlines to tout the launch of L-band Wi-Fi in late 2019 is a bit odd, given that speeds hovered at about 0.16 Mbps down while I was probably the only passenger actually using the system.
But I appreciate that the texting plans actually allowed full Internet access, as Twitter worked quite well and even allowed for picture uploads.
Overall, Vietnam Airlines presented a mostly consistent and pleasant experience on both of its long-haul aircraft types.
The inflight entertainment system, seats, meals and most other details were extremely similar and punched in a #PaxEx class higher than I expected from Vietnam Airlines, outperforming even other prominent SkyTeam member airlines.
All images are credited to the author, Jason Rabinowitz

Related Articles: