A very large antenna reflector is at the heart of Viasat's newest Ka-band satellites. So said Viasat in a September 2022 blog post about how the reflector is key to the massive capacity that will be delivered via its ViaSat-3 satellites. Now that reflector is at the heart of a deployment anomaly being encountered by the first of three ViaSat-3 satellites, the Americas spacecraft which successfully launched on 1 May.
With a footprint covering the US, Canada, Mexico and South America, ViaSat-3 is supposed to initially facilitate growth in Viasat's fixed broadband business, but ultimately is expected to enable Viasat to add customers in inflight connectivity and a few other businesses.
"[A]n unexpected event occurred during reflector deployment that may materially impact the performance of the ViaSat-3 Americas satellite," Viasat warns in a 12 July statement.
"Viasat and its reflector provider are conducting a rigorous review of the development and deployment of the affected reflector to determine its impact and potential remedial measures."
The company does not name its reflector provider, though a CNBC report suggests that the design appears to match the 'AstroMesh' line of reflectors that Northrop Grumman advertises, and notes that Viasat has mentioned Northrop as a programme participant in the past.
Viasat says contingency plans are currently being refined to "minimize the economic effect to the company".
Potential options include redeploying satellites from Viasat's extensive fleet to optimize global coverage, and/or reallocating a subsequent ViaSat-3 class satellite to provide additional Americas bandwidth.
The latter approach could see either the forthcoming ViaSat-3 EMEA or ViaSat-3 Asia-Pacific satellites earmarked for the Americas.
RGN has sought comment from Viasat on what satellites are being studied for possible redeployment. The Carlsbad, California-based company's acquisition of London-headquartered Inmarsat closed on 31 May, giving Viasat a total 12 Ka-band satellites in space (as well as L-band and S-band assets). But Viasat traditionally pursued a more proprietary approach to its network so there is work ahead as the company looks to bring together its own Ka-band offering with Inmarsat's Global Xpress Ka satellites and payloads in aviation and other markets.
Indeed, during last month's Aircraft Interiors Expo in Hamburg, Viasat vice president commercial mobility Don Buchman told RGN that the initial order of the day is to harmonize the roadmap ahead. "One of the reasons we did the acquisition was the assets that both parties brought and those are namely our satellites," including the S-band satellite for EAN in Europe, he said.
And how do we bring all that together such that we have one roadmap for our customers where they can basically buy a terminal and have it roam seamlessly across all of the assets.

And, as we can keep sending new satellites up, we can use them the most opportunistically and economically.
The ViaSat-3 Americas satellite successfully launched on 1 May after multiple programme delays. Those delays meant that Viasat's bandwidth supply in the United States could not keep pace with the company's very rapid inflight connectivity growth. To address the crunch, Viasat embraced natural churn on its residential business to free up bandwidth on its satellites for inflight connectivity. In the US alone, Viasat counts American, Breeze, Delta, JetBlue, Southwest and United as customers, and is supporting Delta's fleet-wide rollout of free Wi-Fi for passengers.
It remains to be seen if Viasat will need to employ additional residential churn to accommodate Delta's growth plans, should the performance of ViaSat-3 Americas remain affected by the announced anomaly.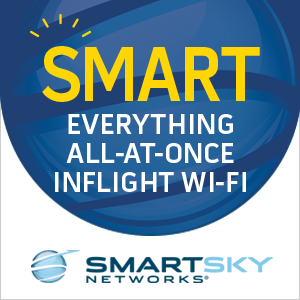 "We're disappointed by the recent developments," says Viasat chairman and CEO Mark Dankberg in the firm's 12 July statement. "We're working closely with the reflector's manufacturer to try to resolve the issue. We sincerely appreciate their focused efforts and commitment."
The company stresses that there is no disruption to customers from this event, and no impact to coverage or capacity of the respective Viasat and Inmarsat constellations currently in service.
It says it will share additional information on the status of the ViaSat-3 Americas satellite and any necessary contingency plans during its 9 August earnings call.
Related Articles:
Rendering of ViaSat-3 Americas credited to Viasat