To drive wider adoption of inflight connectivity among passengers in Europe, airlines need to look at all aspects of the experience instead of solely optimizing a single parameter, such as speed test results. So says SkyFive, the Germany-based air-to-ground (A2G) IFC provider, which recently launched a test campaign of competing onboard Internet technologies in Europe as part of its mission to bring broadband to every aircraft.
The campaign saw SkyFive comprehensively test existing IFC services in Europe using what it says is "a new methodology and setup, which captures up to 10 Gigabytes of test data per flight in a largely automated manner".
Out of the 12 connected European airlines selected for the test, 10 carriers — four offering Ka-band satcom, four involving A2G, and two Ku-band satcom — provided an inflight Internet service on the date of the flight.
Portals and payment systems are among the known choke points preventing passengers from getting connected. (That is, incidentally, among the reasons why SpaceX is seeking to eschew them as it works to bring LEO satcom-based IFC to airlines including in Europe.) For SkyFive's test, the passenger experience "was assessed holistically, considering service discoverability, the process and time to get online, payment options, and the usability of various consumer and enterprise applications", explains the firm in a statement.
"Technical parameters measured included latency, downlink and uplink speeds, and the number of connected devices," it adds.
Unsurprisingly, SkyFive discovered that services not only differed remarkably in price — spanning the range of free, 'freemium' and paid plans — but also in properties. For example, the lowest observed time to get online was half-a-minute, and the highest was 3.40 minutes.
The lowest observed latency was 65 ms whilst the highest was an eye-watering 874 ms. Download speeds ranged from 1.1 Mbps to 47.4 Mbps whilst upload speeds ranged from 0.5 Mbps to 12.4 Mbps.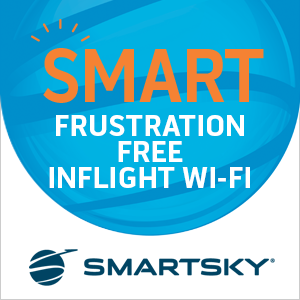 The final results of SkyFive's campaign will be revealed at next week's World Aviation Festival in Lisbon, with the aim of allowing airlines "to benchmark their existing inflight Wi-Fi service against competitors, and help unconnected airlines understand what the market currently offers", SkyFive chief commercial officer Dirk Lindemeier tells Runway Girl Network. "We also wanted to learn best practice, and finally calibrate our model for price elasticity of demand."
With less than 30% of aircraft connected in Europe, there appears to be ample opportunities to further penetrate the market. But will traditional GEO satcom-based IFC solutions continue to dominate?
A2G, also known as ATG, and LEO satcom are both heralded for their low-latency, and, says Lindemeier, "latency is what impacts passenger experience and applications usability much more than throughput — a well-known fact in the telecommunications industry, but not a widespread insight in the aviation world yet.
"We therefore think that LEO satcom, once mature enough for being used in aviation, could establish itself, provided that service providers can shoulder the colossal cost of their constellations and stay committed to the high specialized aviation market. We regard LEO satcom more as a replacement for GEO satcom, likely not cheaper but at least faster. And generally, both satcom and A2G will have their place in the market, sometimes even working in tandem as hybrid systems," he tells Runway Girl Network. The European Aviation Network, for instance, is a hybrid S-band satellite/A2G solution, of which SkyFive is a key technology partner. The kit is installed on hundreds of jets in Europe.
Going forward, SkyFive says it will continue to track and promote inflight Internet adoption, and work to achieve an objective of executing commercially viable IFC strategies that can increase penetration in Europe to at least 60% by the end of the decade. It also intends to provide relevant benchmarks from other markets.
Related Articles: