Viasat, Inc., a global communications company, today announces the findings of its 2023 Passenger Experience Survey — which surveyed more than 11,000 people worldwide who have travelled by air in the last 12 months.
As passenger numbers reach near-record levels and global travel is firmly back on the cultural agenda, the findings show that passenger expectations are starting to increase in turn. In fact, 83% of those surveyed reported they are more likely to rebook with an airline that offered quality Wi-Fi, while 81% said Wi-Fi was important to their onboard experience, a 4% increase since 2022.
Half of respondents say they are less likely to connect to in-flight Wi-Fi if they had to pay. Moreover, 3 in 10 passengers surveyed (29%) are willing to pay more for their ticket to benefit from free Wi-Fi. Other than ticket price, free in-flight Wi-Fi has become the most influential factor for passengers when choosing an airline (22%) — ahead of free food and drink (18%), legroom (13%), and free entertainment (9%).
In the US, demand for free in-flight Wi-Fi increased by 50% since 2022's survey, with India seeing a 42% increase, and Brazil 35%. Half of passengers worldwide (50%) now say Wi-Fi should be free on all short-haul flights and more than eight in ten (82%) for long-haul flights.
But access to free in-flight Wi-Fi is only the tip of the iceberg. 47% of passengers want unlimited social media access in the skies, while 1 in 5 want to game (22%), demonstrating the desire to be connected and not to miss out on life on the ground.
This 'fear of missing out', or FOMO, is especially prevalent for sports fans. That's why 4 in 5 passengers (81%) say they would pay for access to live sport during a flight — with the FIFA World Cup the most in-demand (45%), followed by the Olympics (28%) and the NBA (25%).
However, to benefit from reliable Wi-Fi and edge-of-your-seat experiences, the vast majority (89%) would be willing to make some sacrifices, with 42% happy to see advertisements, and a third happy to give up alcoholic beverages (34%) or loyalty points (33%) in exchange. And when it comes to enjoying free connectivity onboard, 88% of passengers would expect some restrictions, such as advertisements (38%).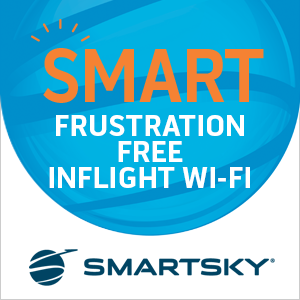 "These findings give us a fascinating insight into the minds of passengers at a critical time for the aviation sector," said Jimmy Dodd, SVP & President, Global Enterprise & Mobility at Viasat. "It is encouraging to see passenger numbers close to pre-COVID levels; and the 2023 Passenger Experience Survey shows how quickly travelers have adopted to digital nativism, including expectations for free, fast Wi-Fi and edge-of-your-seat experiences, like Live TV and Live Sport at 30,000 feet."
About Viasat
Viasat is a global communications company that believes everyone and everything in the world can be connected. With offices in 24 countries around the world, our mission shapes how consumers, businesses, governments and militaries around the world communicate and connect. Viasat is developing the ultimate global communications network to power high-quality, reliable, secure, affordable, fast connections to positively impact people's lives anywhere they are — on the ground, in the air or at sea, while building a sustainable future in space. On May 30, 2023, Viasat completed its acquisition of Inmarsat, combining the teams, technologies and resources of the two companies to create a new global communications partner.
About the 2023 Passenger Experience Survey
Research for this report was conducted by Censuswide on behalf of Viasat in July 2023. The researchers survey a statistically representative sample of 11,053 respondents, all of whom had flown within the last year. This was made up of 2,002 respondents in the UK, 2,504 respondents in the US, 500 respondents in Brazil, 1,255 respondents in Germany, 1,263 respondents in Turkey, 502 respondents in South Korea, 500 respondents in Singapore, 500 respondents in the UAE, 1,527 respondents in India, and 500 respondents in Hong Kong.
Press Release Forward-Looking Statements Template
This press release contains forward-looking statements that are subject to the safe harbors created under the Securities Act of 1933 and the Securities Exchange Act of 1934.  Forward-looking statements include, among others, statements that refer to expected performance of Viasat in-flight connectivity and services. Readers are cautioned that actual results could differ materially and adversely from those expressed in any forward-looking statements.  Factors that could cause actual results to differ include: risks associated with the construction, launch and operation of the satellite(s) used to supply these services, including the effect of any anomaly, operational failure or degradation in satellite performance; contractual problems; product defects; manufacturing issues or delays; regulatory issues; changes in relationships with, or the financial condition of, key suppliers; technologies not being developed according to anticipated schedules, or that do not perform according to expectations; and other factors affecting the aviation sector generally. In addition, please refer to the risk factors contained in our SEC filings available at www.sec.gov, including our most recent Annual Report on Form 10-K and Quarterly Reports on Form 10-Q. Readers are cautioned not to place undue reliance on any forward-looking statements, which speak only as of the date on which they are made. We undertake no obligation to update or revise any forward-looking statements for any reason.
Featured image credited to istock.com/Pollyana Ventura