The European Union's General Data Protection Regulation (GDPR) could stymie adoption of SpaceX's portal-free, 'frictionless' Starlink Aviation service in Europe, Lufthansa Technik's head of products and program, special engineering services, Lukas Bucher has suggested.
Under GDPR, which extends to all flights to and from the EU, as well as EU-registered aircraft, any data that can be assumed to be from EU residents must be processed according to the regulation, including its provisions for obtaining consent. The GDPR does not apply to anonymized information. But if the user cannot be identified, that may limit appeal for airlines with frequent flyer programmes.
"I see a difference between a JSX-type push operation where you are still in a business jet-ish payment scheme, compared to what we do see for airlines where I believe most airlines want and maybe must maintain the direct relationship to the end customer, to the passenger, certainly because of GDPR. Unless you do have obviously the buy-in of the individual passenger that the airline is allowed to communicate to you, I guess we all know that this is, at least for Europe, not already an option," Bucher told Runway Girl Network at the Aircraft Interiors Expo.
And so, we're left to ask: is there an easy way that SpaceX can obtain passenger consent to use their data, whilst remaining frictionless (portal-free)? Will SpaceX simply assure that all data will be anonymized in line with GDPR when accommodating European airlines? Is SpaceX content to support the European market with a less frictionless experience, inclusive of airline portals? We've sought comment from the satellite operator and aero ISP.
Bucher also cautioned about judging Starlink Aviation based on its implementation aboard JSX's ERJs, noting that the load on the network is, for example, far different than widebodies flying internationally, and he suggested that SpaceX's decision to launch on JSX is telling.
I believe there is a reason for the real kind of launch customer being JSX and not being an airline. Any other connectivity offering made its appearance first on an airline, mostly on a big airline somewhere on the planet.
When your author pointed out that SpaceX has secured four (publicized) airline customers, including Hawaiian Airlines, Bucher said he has been following the published press releases and noted that they are "pretty old already and haven't really materialized".
To his point, Hawaiian Airlines has confirmed to Runway Girl Network that the installation of SpaceX's Starlink Aviation inflight connectivity system on its transpacific fleet has been pushed back to early 2024, with its Airbus A321neo twinjets expected to be fitted first.
The Starlink Aviation website currently urges operators of Bombardier and Gulfstream aircraft to get in touch. (Pertinent to business aviation, specifically, Gogo CEO Oakleigh Thorne opined on the firm's recent earnings conference call that Starlink seems more focused on other verticals right now where there is less demand for customer service and more revenue opportunities.)
"Taking a disruptive approach to getting new technology, a new level of services into the aviation industry might prove harder due to the core of 'it must be safe', compared to what we see in other industries, in other verticals," noted Bucher in the context of our conversation about Starlink Aviation certification work.
Those choke points…again
As both an installer of IFC systems, and a member of the broader Lufthansa Group, Lufthansa Technik could be seen as having unique visibility into why passengers often face difficulty when using onboard Internet systems, including GEO satellite-powered solutions. Bucher points to software and payment mechanisms — and not antenna or modem hardware — as the main choke points to getting connected.
"Since we do the installations, and therefore can access the system not only by the publicly available way that a passenger would have during a flight, what I observed on a multitude of systems is that the connection, the capability of the antenna to talk to the satellite to the ground and as such, is there," said Bucher.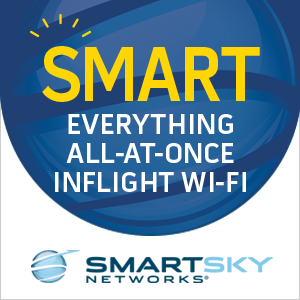 Whilst acknowledging that satellite coverage issues are in some instances to blame for IFC outages, he added that: "More often what I've observed is that the problem is not really the physical connection of data being capable to go from a modem on an aircraft to the ground and the other way around, but that it really is whatever the software pieces that are on the aircraft or on the ground where you have payment portals, and so on.
"So, it's not really the problem of having a connection, it's the problem of getting 'triple A' done to have somebody to authenticate themselves, to then grant access, or eventually a third [party] to do the accounting, then we can pay for it."
These are the very choke points that SpaceX seems keen to avoid.
There's little doubt that the 'free and frictionless' model holds appeal. "I believe everybody would love to have that," agreed Bucher, adding: "Somebody's got to foot the bill."
And what we obviously see is that the willingness to pay is not high. And if you look at companies like Starlink that want to take a different approach — make everything very easy; to get rid of a lot, including payments and portals — that sounds very nice. But eventually we all know that somebody's got to foot the bill.

Doing stuff that you and I have at home for like $30 a month is not $30 bucks a month in the air, as we all know. Unless you get the pickup rates up to 45%, 50%, 55%, then that would be a very simple calculation eventually. It goes back to the famous [saying]: 'if every passenger would pay $1, everything would be paid for.' But that's not realistic.
At present, he continued, there is only "one way" to get resolution to the software/payments problem. "And that's going back to the activities of Seamless Air Alliance."
Lufthansa Technik became a member of Seamless roughly four or five years ago. "We've been following some of the working groups and especially the ones that [are] distinguishing between Quality of Service (QoS) and Quality of Experience (QoE), I believe is the one where I do see the potential to generate kind of a measurable, well if you want to call it KPI, but a mechanism that will allow to differentiate the experience that the passenger is able to have.
"Do I see that it will [be] applied by all the companies especially the existing connectivity companies? No. But you do see that Panasonic is active… Telesat has been very active and I think that is a smart thing to do. I believe it will, in the long run, change the behavior in the industry, but it will unfortunately take time."
Related Articles:
Featured image of a Lufthansa A321, equipped with Inmarsat GX IFC, as installed by Lufthansa Technik, credited to Mary Kirby