With "full-flat' and "direct aisle access" hard product features largely seen as baseline requirements for business class seats, airlines are increasingly differentiating their premium offerings through exceptional soft product, Michelin-quality meals and attentive crew.
But novel wine experiences such as booze-free bubbly, onboard tastings, and thoughtful food pairings can also be a recipe for success at the top of the market, as was evident at the World Travel Catering and Onboard Services Expo in Hamburg.
Nonalcoholic bubbly
For sober (and sober curious) passengers, whose numbers are growing, solid wine alternatives on board are frustratingly scant. That's because it's difficult to create an alcohol-free wine that offers texture and depth, and doesn't taste like grape juice. 
However, French nonalcoholic bubbly producer So Jennie Paris has developed one of the most convincing options with its Premium Luxury Bubbles.
Served in Qatar Airways' premium cabins for the last decade, this exceptional sparkling wine uses organic grapes with pedigree to produce a refined alcohol-free experience. Pleasingly presented in a traditional Champagne bottle, it has the added benefit of also being low in calories, and halal.
In a taste test, your author found So Jennie's white sparkling wine to be very persuasive. Featuring a blend of sauvignon blanc and chardonnay, the wine has a brioche and aniseed aroma on the nose, moving to a full, tart and deep biscuit and peach flavour with fine bubbles.
So Jennie is certainly no poor relation to its alcoholic sisters, and could be served at any time of day to bring a touch of class to travel. 
Onboard tastings
For those who still like a buzz with their bubbles, there is more to life than Moët & Chandon. For example, Maison Malard, a family Champagne house that will be familiar to French readers, offers a broad range of cuvées — from fresh and creamy blanc des blancs to the mature depth of a millésime — that can be changed seasonally.
Notably, Maison Malard offers tasting guides with its Champagne, which is a simple and fun way to introduce people to the world of wine tasting (or oenology for those already inducted) — something that Virgin Atlantic has trialed on board its Airbus A350s plying leisure routes. 
Proper pairings
Whether alcohol free or full fat, the pairing of wine with food to match is an essential part of the onboard experience, but it can be tricky to execute on short flights or those with variable menus.
That's where The Drinks Bakery comes in. This established UK brand offers the opportunity to elevate the drinking experience with four types of savoury biscuits designed to accompany various beers, wines and cocktails.
Whilst the taste profile of the pecorino, rosemary and Scottish seaweed biscuit was too complex for this journalist to deconstruct, it proved to be a delicious accompaniment to the Negroni I selected for the test.
Packaged in small, colourful boxes, it's not difficult to see why Aer Lingus is already serving these biscuits in business class. 
Canned delights
But what about economy class? Forgettable wines served in plastic cups do little to inspire. But it doesn't have to be that way.
Uchronic, which creates certified organic wine, offers a high-quality canned option with an instagrammable design.
Your author tried both the Uchronic merlot and chardonnay, with the merlot being a real standout. A blueberry and redcurrant flavour was light on the palate.
It's apparent Uchronic is producing wines that are equal to those found in a bottle at the supermarket.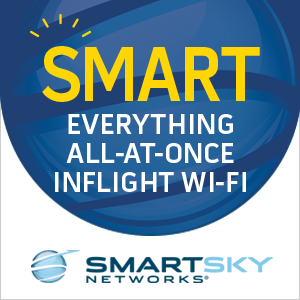 For the onboard wine experience to evolve, it needs to diversify.
For non-drinkers, airlines can offer an elevated pre-departure drink, and provide better pairing options with meals, by embracing convincing alcohol-free alternatives.
What's more, wine tastings and seasonal menu changes allow passengers to try new things and learn in the process.
Whilst most of us can only dream of drinking Krug in a first class suite, we should still be able to enjoy a glass of good wine whenever we fly today. 
Related Articles:
Featured image credited to Fintan Horan-Stear