Drinking habits in the western world are changing, with more and more people drinking less or not at all, and Gen Zers embracing sobriety faster than their predecessors. There is also a social movement afoot towards "sober curious" living.
With these trends altering how people drink on the ground, expectations are changing in-flight, with passengers craving an improved slate of non-alcoholic choices on board.
Fortunately, during this month's World Travel Catering & Onboard Services Expo (WTCE) in Hamburg, many beverage makers demonstrated they're ready to meet the challenge by offering elevated booze-free beverages and brand new concoctions.
Creating a drink for passengers to sip and savour, without the "bite" provided by a booze base, is not necessarily an easy task. But Milan-based The Perfect Cocktail Co, which has worked with ITA Airways, has created a line of mocktails that recreate classic cocktails using mixologist principles.
Ensuring that the drinks are not only appetizing but also visually appealing is key to ensuring a premium experience for passengers, company brand marketing manager Rebecca Merenda explained to Runway Girl Network.
Your author sampled the firm's alcohol-free Negroni, and it was truly delicious! A floral nose gave way to the sort of rich aromatic bitters that one would expect from the alcoholic version, whilst avoiding the cloying sweetness often found in mocktails.
For certain sober passengers, the idea of a mocktail might be unappealing as it seeks to mimic an alcoholic beverage. But airlines can diversify here as well, moving beyond just "Coke or Sprite". Da Da, a French soft drink manufacturer whose beverages are available in domestic supermarkets, offers fruit flavoured sodas that look as good as they taste.
Using unique clear plastic packaging and instagrammable graphics, Da Da presents itself as an exciting and fun brand that one could immediately see being sipped on board a leisure flight to the Mediterranean.
In addition to having fun branding, the Da Da drinks themselves are delicious. A mojito flavoured beverage was especially divine, with the mint and lime tasting fresh and natural without presenting as a faux-cocktail.
Da Da chief executive Mohamen Ghobni anticipates its drinks will be sold as part of airlines' buy-on-board menus rather than as part of a meal service due to brand expectations. But your author reckons that airlines may wish to offer these in all segments, as a way to stand out from the crowd.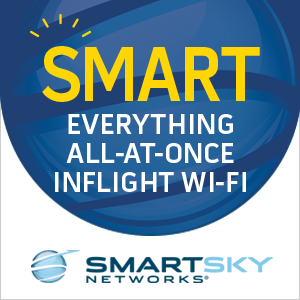 "Alcohol-free" and "sober curious" lifestyle choices are often linked to healthy living and wellness. Finding virtue in taking care of yourself is no bad thing, and many leisure passengers are taking vacations to revitalise themselves. But this can start on board the aircraft too, with smoothies and juices providing a hit of nutrients.
James White, the makers of Big Tom tomato juice, offer a compelling product in the form of Zinger shots, a compact blend of juices and other natural ingredients that provide rejuvenation.
Already popular in the UK, Zinger shots have not yet arrived on board. But head of sales Gary Fowler sees an opportunity to present these beverages as a "revival shot", providing a boost of perceived energy and wellness in-flight. That tracks nicely with the well-being trend that took on a new significance during the Covid pandemic.
One could easily imagine a James White juice blend being served by a transatlantic carrier as a mid-flight refresher or a quick pick-me-up just before landing versus, say, the breakfast Bloody Marys that might have tempted the tastebuds just a few years ago.
For many passengers, a gin and tonic on takeoff is part of the charm of air travel. But for those who want to savour the occasion without consuming alcohol, the options are presently minimal.
To be sure, some carriers have already gotten the memo. Singapore Airlines has for many years offered a wide variety of non-alcoholic beverages, and Japanese airlines are particularly good at providing non-alcoholic options too.
JetBlue Airways offers Mint passengers a truly outstanding mocktail version of its signature Mint cocktail, and it recently began offering Athletic Brewing Company's award-winning Upside Dawn Golden beer (with just 0.5% alcohol) on all domestic US flights.
But more airlines can close that gap and differentiate their service by offering tasty mocktails, unique and exciting soft drinks, non-alcoholic beers, and revitalising juices.
As evidenced on the show floor of WTCE, it's now possible to offer a compelling drinking experience for sober passengers and, perhaps, even their non-sober companions as well.
Related Articles:
Featured image credited to JetBlue