In an effort to ensure greater representation of women in the aviation industry, particularly in leadership positions, IATA has announced the launch of a new "25by2025" initiative which sets concrete targets for participating airlines to increase the number of women in their organizations, and will also offer the first airline metrics on diversity.
This is the sort of accountability that can lead to positive change, addressing the call for gender parity made by ICAO Secretary General Dr. Fang Liu during the 74th Annual General Meeting (AGM) of IATA in 2018 in Sydney.
"[A]ir transport connects people, cultures and businesses across the globe, and strengthens socio-economic development worldwide, at the same time it has not been very successful at providing an open, inclusive working environment for women," Dr. Liu said. "In China, for instance, there is a proverb which states that women hold up half the sky, but in aviation today, whether we are talking pilots or airline CEOs, women are only making up one-twentieth of these positions."
The initial targets of the IATA 25by2025 campaign are moderate: increasing the number of women in senior positions as well as the number of women in underrepresented jobs (such as pilots and operations) by 25% against currently reported metrics or to a minimum representation of 25% by 2025. Participating airlines will report annually on key diversity metrics in their organizations.
While 25% is only half-way to a true reflection of the gender balance in society, IATA estimates that women currently only represent around 5% of the global pilot population and 3% of airline CEOs. The 25by2025 campaign is a launching point, but IATA is aiming higher for the future, as it should.
"The 25by2025 campaign provides a global context and encouragement for the many initiatives our members are already taking to address the gender imbalance. I am confident that 25by2025 will be a major catalyst for progress – progress that will set the industry up to achieve even more in this important area. Our work will not be done in 2025, in fact, this is only the beginning. Our ultimate aim is of course for a 50-50 gender split with equal opportunities for everyone in every part of our industry," said Alexandre de Juniac, IATA's Director General and CEO when the campaign was announced.
IATA has made its own commitment to increase representation within the organization by boosting the number of women in IATA senior management from today's 19% to 25% by 2025; encouraging airlines to appoint more women to IATA governance roles and raise representation from the current 17% to 25% by 2025; ensuring a greater representation of women as panelists/speakers at IATA conferences, with a minimum of 25% by 2025; and creating a forum for diversity and inclusion initiatives as well as sharing best practices across the industry and publishing annual statistics on gender diversity.
Runway Girl Network reached out to IATA to learn more about the genesis of this 20by2025 initiative and about their commitment to go beyond 25 to 50 or higher.
IATA director, learning & development Jane Hoskisson explained that the initiative was inspired by Air New Zealand's former CEO Christopher Luxon, who challenged the industry to do better during his acceptance speech for the IATA Diversity & Inclusion awards at this year's AGM in Seoul.
"That planted the seed for 25by2025," Hoskisson said. "We recognize that achieving 50/50 would be quite some time, and for it to happen, there is a need to provide a framework towards achievable measurable targets. We tested this idea with some of our D&I colleagues in the airlines and the feedback we received was that this would be a stretch target, it was achievable."
The proposal for what was to become the 25by2025 campaign then went to the Chair Committee of the IATA Board of Governors for approval.
"The ultimate target is 50%. But we recognize we needed intermediate steps in that direction. We felt achieving 25% by 2025 is a good number to start with," Hoskisson added. "The 25by2025 commitment is flexible enough to be embraced by airlines who are advanced in their gender diversity journey – by committing to a 25% improvement – or those who are just starting this journey by committing to 25% representation."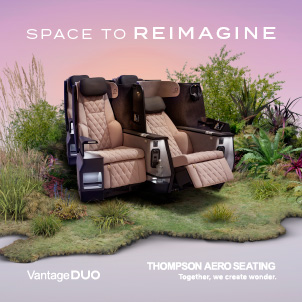 Hoskisson tells us that there are some challenges recruiting women to different roles in aviation, and the aim of the campaign is to give airlines a framework to get started. "We can share best practices, and in some instances encourage airlines to work more effectively together to address significant challenges in recruiting."
IATA has also announced the start of a new Executive Leadership Program for Women in Aviation, run by IATA training and intended to help women working in aviation to rise to higher positions.
"It is designed to support women moving into leadership roles. The program has been developed to sharpen the leadership skills of women in the workplace, while strengthening their aviation knowledge and analytical skills," Hoskisson said.
Three airlines were named as participants in the program during the launch: China Eastern, Lufthansa Group and Qatar Airways. IATA said other member airlines are participating and they will be announced in due course. Airlines which commit to 25by2025 will report on diversity in their organization, measured against key metrics. The first collective report will be published during the World Air Transport Summit in Amsterdam scheduled for June 2020 and will be updated each June thereafter.
Related Articles: