KANSAS CITY — When it opens to the public on 28 February, the new $1.5 billion, one million square foot single-terminal Kansas City International Airport (MCI) will replace an outdated 50-year-old facility with one that is, for now, one of the most accessible and inclusive in the United States.
That inclusivity is by design and, as with the best designs, the inclusive and accessible features in the new terminal will make travelling easier for people of all abilities. 
Many of those features got a test run on Valentine's Day, when close to 700 volunteers arrived at the shiny new terminal for a simulated operational test. Some 12,000 people had applied to test the terminal, and many of the volunteers were chosen because they had a travel challenge. 
"We were looking for people with knee replacements, service dogs, wheelchair users, older people, those with visual impairments, and the like," explained Justin Meyer, deputy director of aviation for the Kansas City Aviation Department. "If we can get it right for them, we can get it right for everyone."
Here are some of the accessible amenities that travelers will find:
More restrooms including all-gender facilities
"One of the things that Kansas City has not had enough of is toilet fixtures in the gate areas. This new terminal solves that problem with three times as many toilet fixtures beyond security than what we've had in the past," said Meyer in a video detailing the changes. He continued:
Each restroom core on each concourse [A and B] comes with a few key amenities, including a family restroom, a nursing room, a water bottle refill station, and regardless of gender, a baby-changing table because dads can change diapers too.

On each concourse there are three restroom cores, two of which are gender-specific and one of which is a multi-user all-gender facility. The multi-user all-gender restroom includes a few other key amenities including additional family restrooms and a family restroom with a universal sized changing table.
Not only do these all-gender restrooms provide a welcoming and inclusive space for all travellers, regardless of their gender identity or gender expression, they can make travel easier for, say, a mom who doesn't want to send her 10-year-old son into a men's restroom alone. Enclosed individual stalls give users the sort of ample privacy that many European restrooms have long offered.
The universal changing tables, meanwhile, can accommodate babies, children of all ages, and indeed adults who travel with a caretaker.
A dedicated play area
The bright Children's Play Zone (Concourse B) was also designed to be inclusive and includes an accessible play-sized aircraft and air traffic control tower.
Large sign language and communication boards let all kids know that they are welcome to be active and social, and that they belong.
Kansas City Air Travel Experience
For adults and children who are new to or wary about traveling, the new Kansas City Air Travel Experience, located just past security in the Concourse A Concessions Atrium, offers a safe and supportive simulated journey through the airport and onto an airplane.
For these reservation-only practice flights, passengers experience checking in at a kiosk, presenting their ticket at a gate, and then, thanks to realistic wall graphics, walking to the airplane on one of the airport's new glass jet bridges. 
At the end of the 'jet bridge' is the salvaged front section of a retired Airbus A321 airplane. 
Once on the plane, practice passengers can check out the (non-working) lavatory, sit in real seats, buckle up, and then listen to and watch a video of a flight attendant going through the safety briefing. 
Using a game development programme, "we recreated the new airport and the area around it," said Chris Riebschlager, director of creative technology for Dimensional Innovations, the local design firm that created the flight simulation experience.
"We recorded what would be seen out of the windows of the pretend flight and play that video back through the window."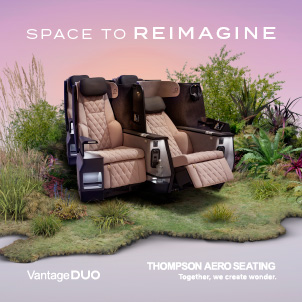 To add to the authenticity of the simulator, there is ambient audio that includes true-to-life sounds of people on the jetway and, in the cabin, engine noise and the sound of people getting settled and opening and closing the overhead bins. 
"There's even the occasional cough," said Riebschlager and the smell of the plastic from the real airplane cabin, "but we did spare people the smell of the guy who decided to bring the fish sandwich onto the plane."
The new terminal also includes a Quiet Room (Concourse A) that can be used for prayer, but also for relaxing activities such as yoga or just sitting quietly before heading into a hectic travel day. 
There's also a Multi-Sensory Room (Concourse B) designed for children and adults with autism, dementia, or sensory processing disorders. And a realistic video of the ramp and takeoff plays in the windows. 
Kansas City International Airport is clearly setting a new standard for accessibility and inclusivity in the US, and we're here for it.
Related Articles:
Featured image credited to Harriet Baskas