Beef with vegetables and mashed potato. Chicken with vegetables and mashed potato. Pasta with tomato and/or cream sauce. It's 2023 and airlines are still being incredibly lazy about their premium cabin catering, especially in business class. 
All too often, menus feature the normal boring choices: beef, chicken, perhaps fish as an option, and pasta for vegetarians. As someone who hails from the sort of British/American culture where this kind of food was once — maybe half a century ago — something of a TV dinner norm, or at least a pastiche of it was, it feels like business class food has failed to keep up with food trends, and to a much greater extent than in economy.
There's no other place in the world, outside an airline cabin, where what's supposed to be a premium dining experience is stuck in this weird time loop of Hungry-Man frozen dinners — where the interchangeable and usually badly cooked lump of meat protein is accompanied by a gravy of its own flavour, a separate scoop of beige carbohydrate, and a helping of Industrial Frozen Vegetable Mix numbers 1 through 7.
It's lowest-common-denominator stuff — not even that, it's lowest-common-complaint stuff, where the metric is the fewest number of people objecting rather than the greatest number of people enjoying. The goal is inoffensiveness, but this kind of food is so blah that it spins around the back of the offensiveness spectrum to reach "terrible".
To me, the biggest problem is a lack of flavour, and thus a lack of taking into account the substantial amount of food research done in the past decades. Industrial quantities of grilled meat, boiled vegetables and mashed potato aren't exactly laced with the umami elements that we now know are what our tastebuds register at the altitude of pre-787, pre-A350 cabins, let alone the new lower cabins of these aircraft.
The thing is, this shouldn't be that difficult to make wildly successful. Every airline's home culture has foods that can be packed full of flavour. And with cultural and gastronomic migration worldwide, the flavours of myriad cultures are now familiar to passengers. 
I was struck recently by how good some of LATAM's new Premium Business menus sounded even in the spectrum of beef-chicken-fish-pasta:
Grilled beef steak with lomo saltado (Peruvian stir-fried steak and potatoes) sauce, tricolor quinoa risotto, and sautéed vegetables
Grilled chicken thigh with hot huancaína sauce, ollucos cake, and grilled vegetable sticks
Perico, grilled tropical fish with macho sauce, and sautéed vegetables 
Baiao de Dois: rice and beans with seafood (a signature dish in collaboration with Chef Nara Amaral)
With the growth in demand for vegan, vegetarian and plant-based food, LATAM's approach to salads also seemed smart.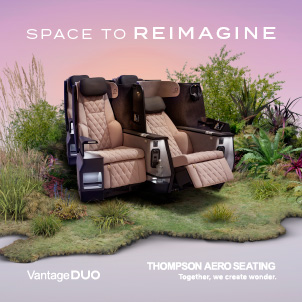 Meat-eaters or pescatarians can add a protein (serrano ham, pastrami, or roasted shrimp) to what sound like delicious, substantial salads that already feature non-meat protein sources like walnuts, chickpeas and either goat or feta cheese.
This is exactly the kind of experience that airlines need to focus on.
Many passengers want to choose and customise their meals, and the ever-growing integration between carriers, catering providers and passenger-focussed airline apps means that more and more passengers have experienced the benefits of booking their meal in advance. 
Moving towards further customisation of meals, with some elements that can be selected in advance and some that can be chosen on the day according to what passengers might already have eaten or feel like after a day of travel, will get airlines even closer to the personalised travel goal.
Related Articles:
Featured image credited to LATAM