TORONTO — Gearing up to soon deploy its new 132-seat, all-economy Embraer E195-E2s on flights from Toronto Pearson to Calgary, Edmonton, Halifax, Montreal and Ottawa, Porter Airlines this week gave journalists and its business partners the opportunity to experience a two-hour flight aboard its first E2 twinjet, as well as the carrier's new all-inclusive PorterReserve bundle.
"Over the next several years, Porter will be rolling out up to one hundred E195-E2 aircraft and we are very proud to be the launch customer in North America for the aircraft," said a Porter spokesperson at the event, which was held at Skycharter 's FBO at Toronto Pearson. Additional new services are expected to be announced in time, including E2 flights to US sunspots.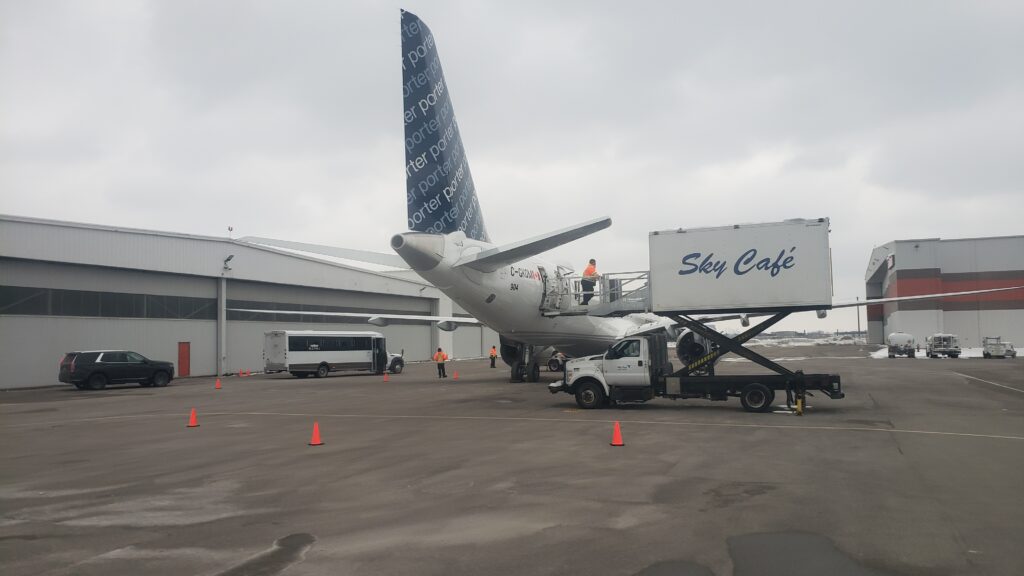 Onboard the 2-2-configured E2, which boasts 18.3"-wide seats throughout the aircraft, your author was seated in 3B, which is part of the PorterReserve extra legroom section. The 16 seats in this four-row section are pitched at 36 inches. And each seat has the ability to recline up to six inches.
There was plenty of room to move around, and I did not feel as if I was encroaching on my neighbor. Notably, the seatbelt was long, and I did not require a seatbelt extender. Seatbelt length can be a stressor for passengers of size like myself so I was grateful for that additional slack built into the seatbelt.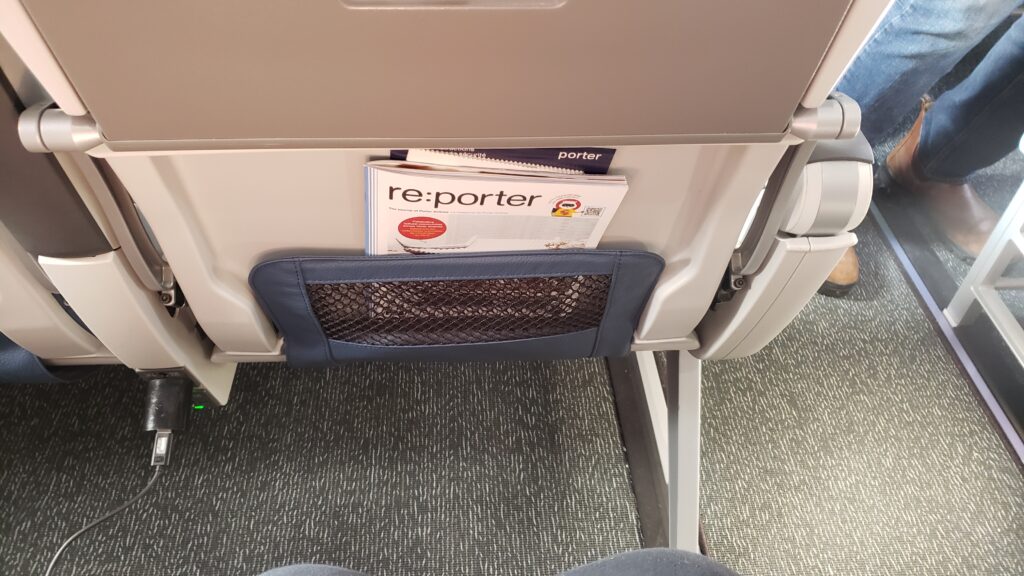 Immediately behind the PorterReserve seats up front, you'll find three rows of what Porter is calling its PorterClassic Stretch seats, offering a still-generous 34" seat pitch. Two exit rows are also listed as PorterClassic Stretch. The remaining 24 rows of seats are dubbed PorterClassic, and offer a tighter 30" seat pitch.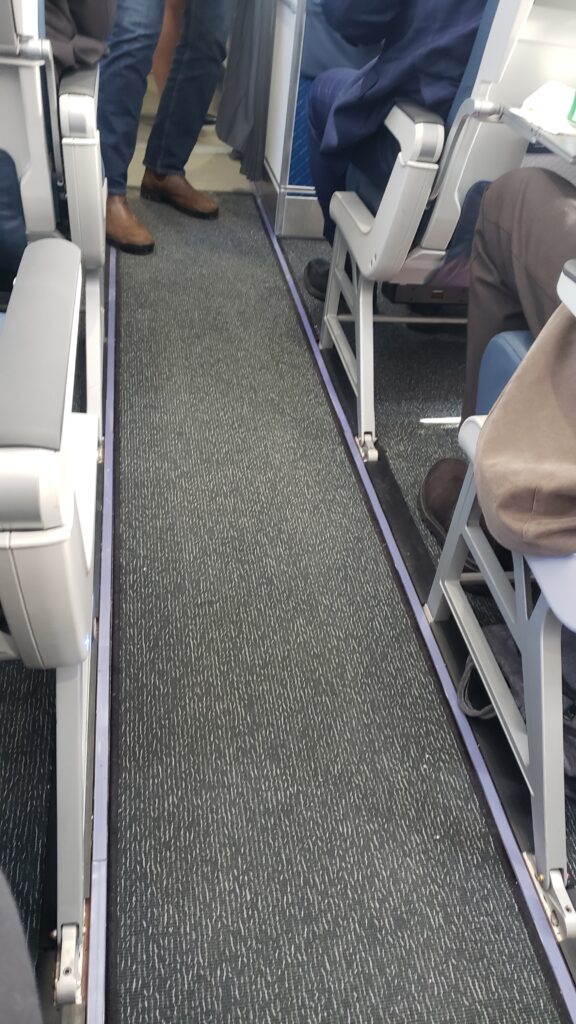 In addition to an extra-legroom seat, the PorterReserve bundle includes dedicated airport check-in, early boarding, free cocktails (in addition to the carrier's usual free beer, wine and premium snacks), two checked bags and the ability to change flights without a fee.
On longer flights of more than 2.5 hours, passengers flying in PorterReserve can also expect to receive fresh meals as part of their package (these meals are offered as a buy-on-board option for other passengers).
But all passengers on board this particular sneak-peek Embraer E195-E2 flight were treated to the soft product part of the PorterReserve experience. The trolley service started shortly after takeoff, featuring catering from Sky Café with a focus on Canadian-sourced snacks and meals.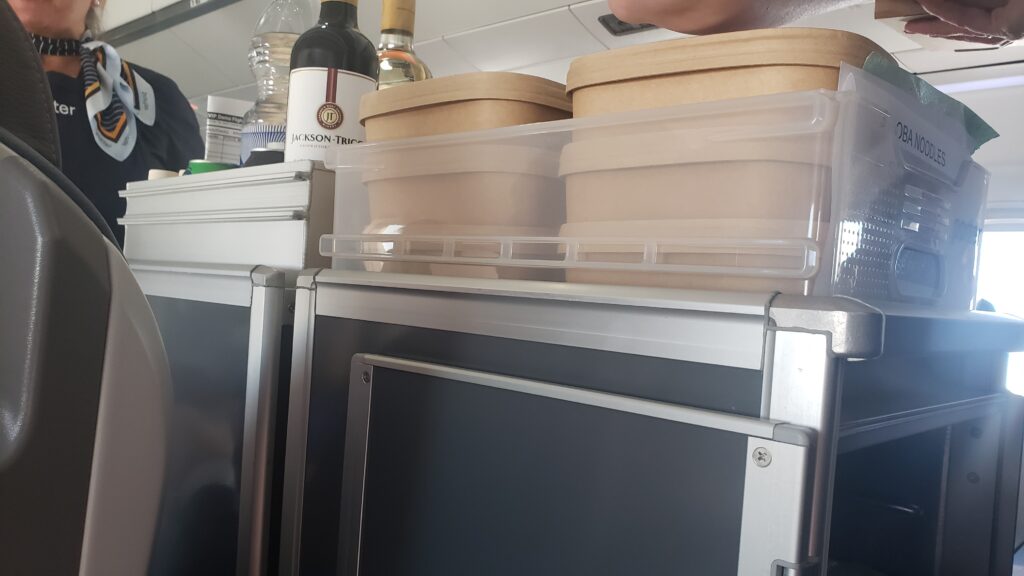 For a starter, Porter offered three snack choices: banana bread, a premium nut mixture, and, sensibly, a gluten- and nut-free option of roasted fava beans.
Next came a snack box containing crackers, a seven-layer Mexican dip and olive puff pastries.
The box is entirely made of cardboard to meet Porter's sustainability goals, whilst the cutlery is made of agave fiber which is fully compostable. The cutlery is wrapped in a 100% cotton napkin that can be repurposed.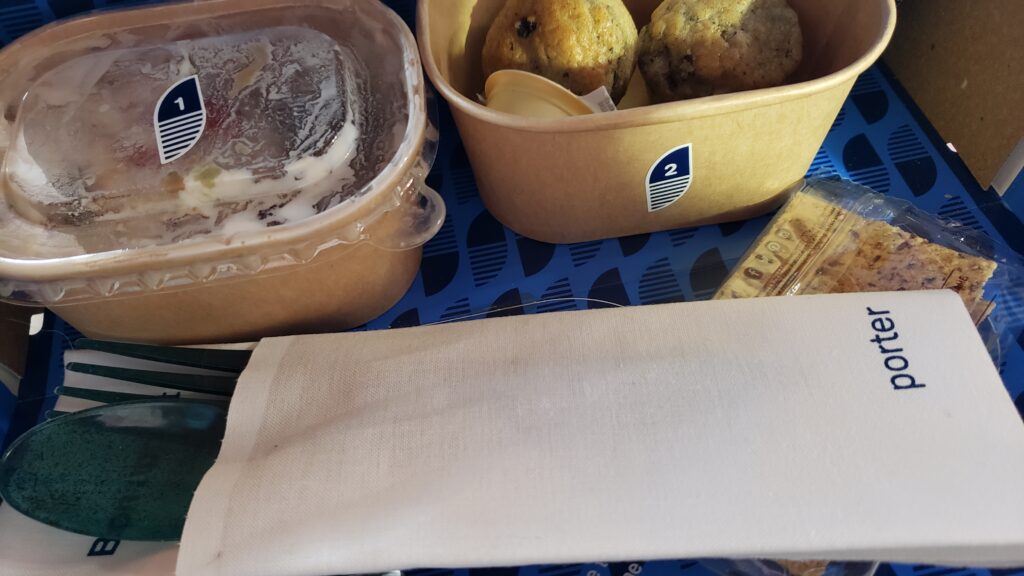 Interestingly, a cardboard PED holder was offered as part of this snack box. Porter is certainly thinking about the small but important PaxEx details, like the need for passengers to be able to have a hands-free entertainment option during their meal.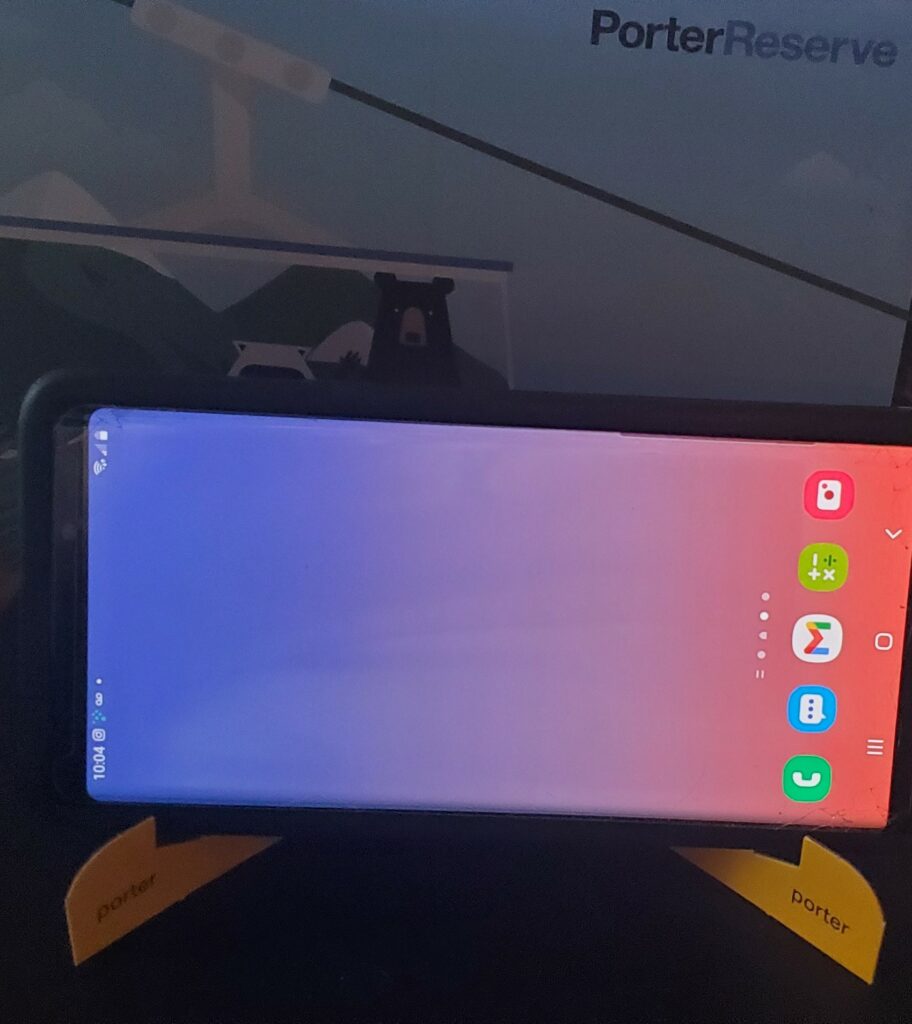 The main course arrived in its own 'Plane Brown Box'. We were offered a choice between a soba noodle bowl, tropical salmon poke, or a croissant sandwich from Toronto's Nadège Patisserie.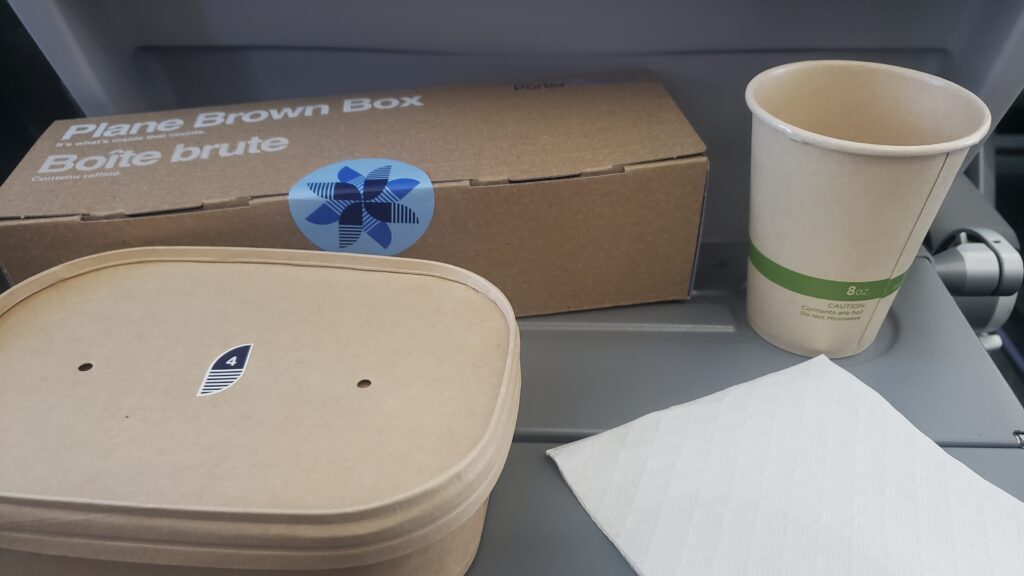 No matter where you sit on the aircraft, Porter offers a selection of free wine or beer in glassware.
Another service offered to all passengers on board the E2 is free broadband Internet, powered by Viasat's high-capacity Ka-band satellite service.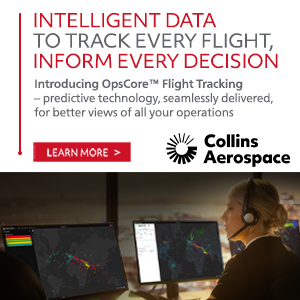 If you are not a member of Porter's  loyalty program, VIPorter, then you will be prompted to watch an advertisement every 30 minutes to continue using the free Wi-Fi. I watched advertisements for both Viasat and Greater Toronto's Chop Steakhouse and Bar.
VIPorter members, on the other hand, encounter only one ad for the entire flight duration.
The Internet connectivity was indeed very fast, especially given the fact that everybody on the flight was using it!
An Ookla speedtest showed a 58.9 Mbps download speed. Somewhat amusingly, one of the targeted advertisements within the Ookla ecosystem was for SpaceX's Starlink terrestrial connectivity service, which is currently available in parts of Canada (and whose inflight connectivity counterpart, Starlink Aviation, now competes with Viasat for aircraft tails).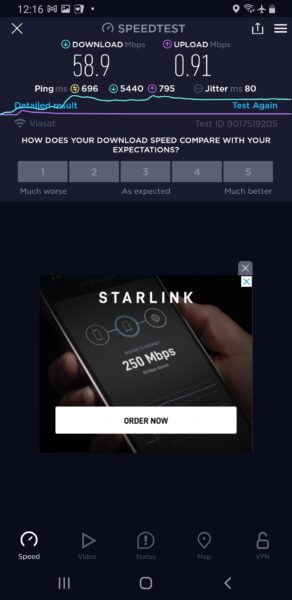 I was able to send messages, share photos on social media sites and stream YouTube videos over the connection. I did not encounter any buffering when streaming videos.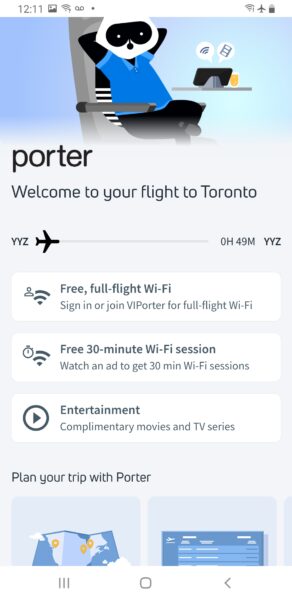 Though a partnership with airline content service provider West Entertainment, Porter is also offering some cached content via an onboard server; this enables passengers to stream a variety of movies to their own devices, including recent titles like Elvis, the biopic.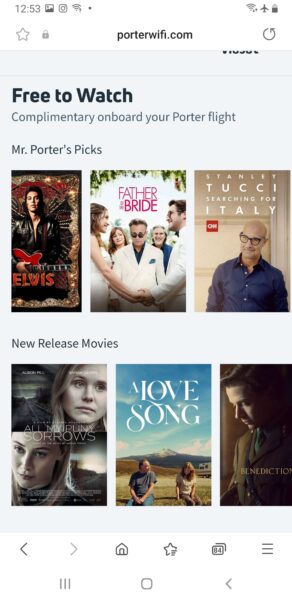 In-seat 110V AC power outlets are available, ensuring that passengers' devices can stay charged up. The power ports are located on the seat double in front of each passenger, in a very convenient location.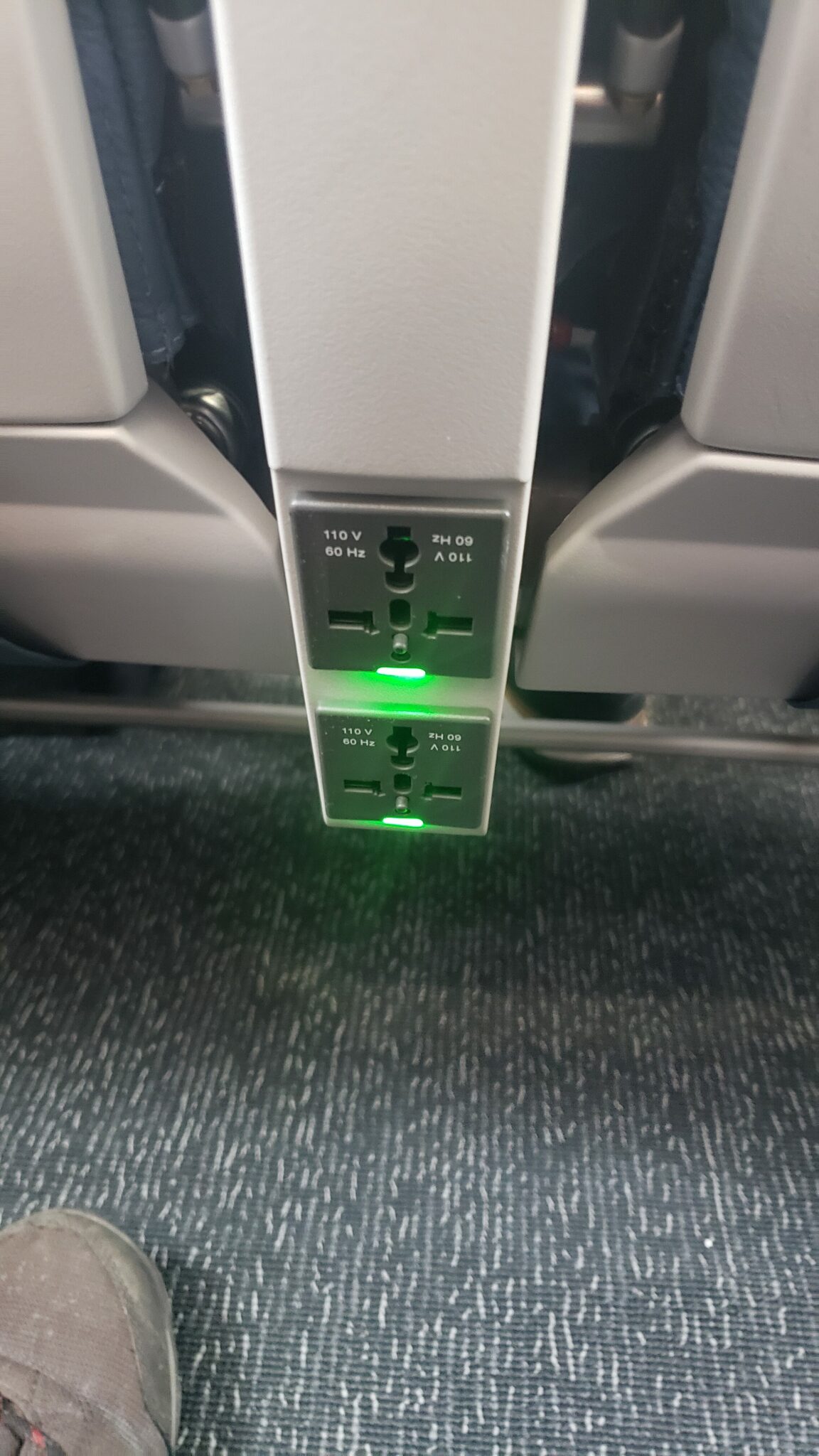 The lavatory up front is fairly compact. At the risk of sharing too much information, but in the interest of full disclosure, I can confirm that, when seated on the toilet, my knees were maybe an inch away from the door. Taller passengers might encounter some challenges, as might larger passengers.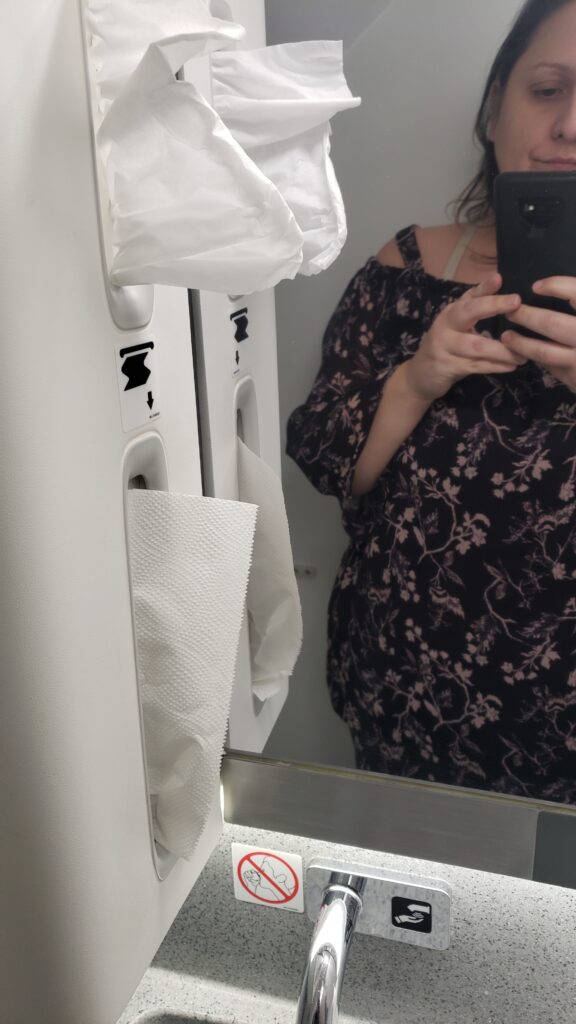 All in all, Porter is offering a compelling product on the all-economy E2. And the PorterReserve bundle certainly makes sense for those who need or want extra room and something akin to a full-service dining experience on board.
But by offering free, fast Wi-Fi, streaming entertainment and in-seat power to every E2 passenger irrespective of their seat, Porter is moving to set itself apart from other Canadian airlines. And what's not to love about that?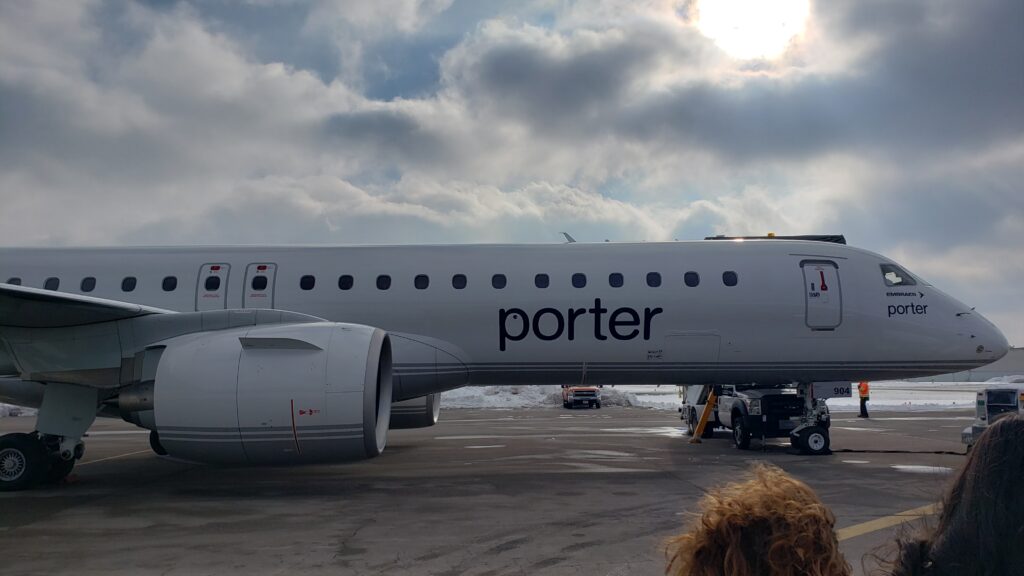 Porter Airlines facilitated this media flight. However, as ever, all opinions are the author's own.
Related Articles:
All images credited to the author, Becca Alkema