Canadian all-economy operator Porter Airlines has long sought to differentiate itself by offering free beer, wine and premium snacks in a bid to attract everyone from leisure to business travelers. But as new low-cost carriers enter the market — and as Porter readies to implement its own expansion plan with longer-range aircraft — the regional carrier is focused on further setting itself apart. On 6 December, it announced that travelers now have the option to pay for an "all-inclusive economy experience" called PorterReserve, which adds a number of perks including enhanced legroom, and fresh meals on longer flights.
Porter currently operates Q400 turboprops on intra-Canadian and US transborder routes from Toronto's downtown Billy Bishop airport — a facility that does not accept jets. During the Covid pandemic, Porter refurbished the Q400s with new, pre-reclined Expliseat lightweight slimline seats, and pitched the lion's share of them at 30 inches instead of its prior 32-inch pitch. This retrofit project, which also saw the installation of new carpeting, LED lights and lavatory enhancements, enabled Porter to add four more seats to each turboprop for a total of 78 seats onboard in a standard 2-2 layout.
Before the end of this year, the carrier is slated to take delivery of the first of what has grown to be a 50-strong order for Embraer E195-E2 aircraft, which will be pressed into service on new flights from Toronto Pearson to Vancouver, Ottawa and Montreal-Trudeau beginning in February 2023. Ultimately, the E2s are expected to help Porter expand from Pearson to US sunspots, the West Coast, Mexico and the Caribbean. 
Brad Cicero, who serves as director, communications & public affairs at Porter, tells Runway Girl Network that as the airline takes delivery of the E195-E2s, it "will continue offering a full network of regional routes from Billy Bishop for passengers who value access to downtown Toronto. The E195-E2s are not able to operate at Billy Bishop and we are not pursuing any changes to this effect." Porter will face some competition at Billy Bishop when new entrant Connect Airlines launches service to Midwest and Northeast US cities with Q400s.
But with new birds in the wing in the form of the 132-seat E195-E2 twinjets, Porter has embraced the opportunity to bolster its value proposition. While the carrier's traditional economy experience, with a few tweaks, is still available as PorterClassic on both aircraft types, the PorterReserve bundled offering includes dedicated airport check-in, early boarding, free cocktails (in addition to the usual free beer, wine and premium snacks), two checked bags and the ability to change flights without a fee.
An extra legroom seat is also part of the PorterReserve package, with Porter promising to park PorterReserve passengers in a 36-inch pitched seat in the first four rows of the E2 cabin, and a 32-inch pitched seat in the first two rows of the Q400 (the slim design of the Expliseat seat is marketed as offering better overall legroom despite a tighter pitch down back.)
Passengers traveling in PorterClassic, irrespective of aircraft type, will have 30 inches of seat pitch.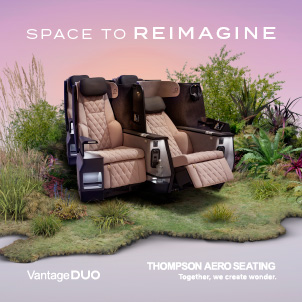 The E2s are arriving from Embraer with reclinable "Z2+ model" economy seats from Safran Seats, says Cicero. In addition to enhanced legroom, PorterReserve customers on the E2s will enjoy a greater recline (of up to 6 inches). Safran Seats and predecessor Zodiac Aerospace have long provided economy seats as certified linefit equipment on E-Jets.
A third seating option for E2 passengers is called PorterStretch and comprises 20 seats pitched at a minimum of 34 inches.
Importantly, Porter's E2s are being delivered with Viasat's Ka-band satellite-supported inflight Internet system, as fitted at the factory by the Brazilian airfamer. And all passengers onboard the E2s, specifically, will have access to free web surfing. A cached content library will augment the live connectivity solution aboard the E2s, confirms Cicero.
On longer flights of more than 2.5 hours, "fresh" meals will be offered as part of the PorterReserve bundled fare, and as a buy-on-board option for other passengers. And, in a nod to the growing interest in plant-based food, Porter's menu is designed to include a vegetarian option as one of the meal boxes, Cicero tells RGN.
"For passengers who require gluten free, nut free or vegan options, there are snacks that meet these requirements," he says. "Additional snacks are provided to passengers if they prefer not to have a meal box. There will be an upcoming announcement that specifically outlines all of the catering partners and menu options."
It sounds like PorterReserve is being positioned as *almost* a business lite product, but no segregated lounge access is in the offing, with Cicero telling RGN: "Porter is operating an all-economy configuration with elevated services and amenities. No lounge access is planned, as this isn't something typically associated with economy travel and many who are interested in this service already have options via credit cards or other arrangements."
Whether you're flying in PorterClassic or PorterReserve, the carrier offers various fare options. And there is ample opportunity to upgrade during the booking process.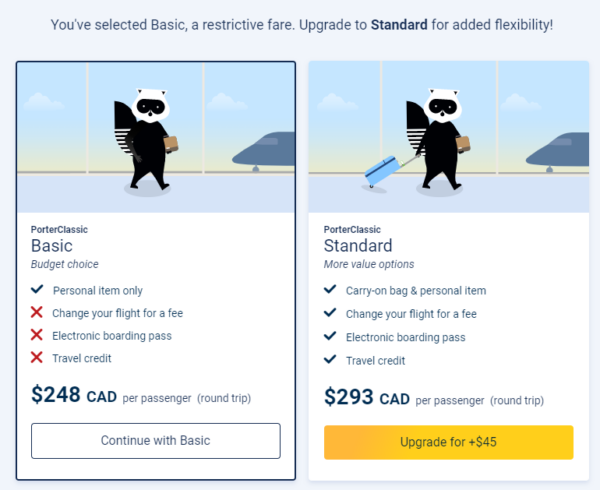 Related Articles:
All images credited to Porter Airlines