Air Canada's reveal of its first Airbus A220-300 on 15 January in Montreal was a proud moment for this Canadian citizen. Developed and manufactured in Canada, the A220 was, of course, once known as the Bombardier C Series. And while reports broke yesterday that Bombardier is mulling ending its involvement in the A220, the twinjet's birthplace will always be the Land of the Maple Leaf.
Given the opportunity to tour the A220, I jumped at the chance, flying from my hometown of Toronto to Montreal, courtesy of Air Canada.
The A220 is known as being a passenger-pleasing aircraft due to multiple factors, including roomy overhead bins, large windows, a 2-3 configuration in economy class (meaning more passengers have a chance to snag a window or an aisle seat) and wider seats in economy due to the aircraft's cross-section.
That last bit is really important to me. I am 5ft 4in tall and wear a pant size 24. Legroom in economy is rarely a problem, but when it comes to seat width, I'm the gal who worries if the seatbelt will fit without an extender, or if my thigh will encroach on a seat mate's living space.
Air Canada's A220 features two cabins – 12 seats in business class in a 2-2- layout, and 125 seats in economy class, with the latter measuring a glorious 19 inches of width each (slimline armrests apparently aided this achievement).
For comparison purposes, the standard seat size on the Boeing 737 is 17 inches, and on the Airbus A320 is 18 inches. A 19-inch width is akin to what is found on many premium economy class seats.
During my tour of the A220, I tested the seatbelts in both business and economy. They fit around my waist. Phew. Seatbelts aren't standardized so one never knows.
Seat pitch, however, was a snug 30 inches in the regular economy class seats aboard Air Canada's A220.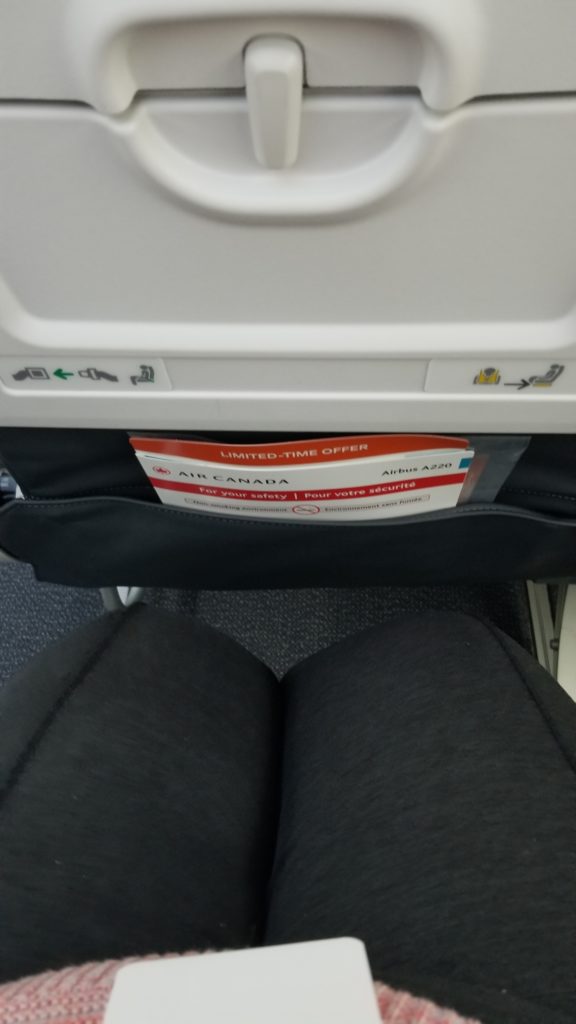 Interestingly, legroom at the bulkhead seat in business class also seemed a tad constrained (not unlike the situation observed on Delta's new A220). Indeed, when I stretched out at the bulkhead seat, my toes touched the structure. Like Delta's A220, Air Canada's A220 would benefit from a cut-out for passengers' feet.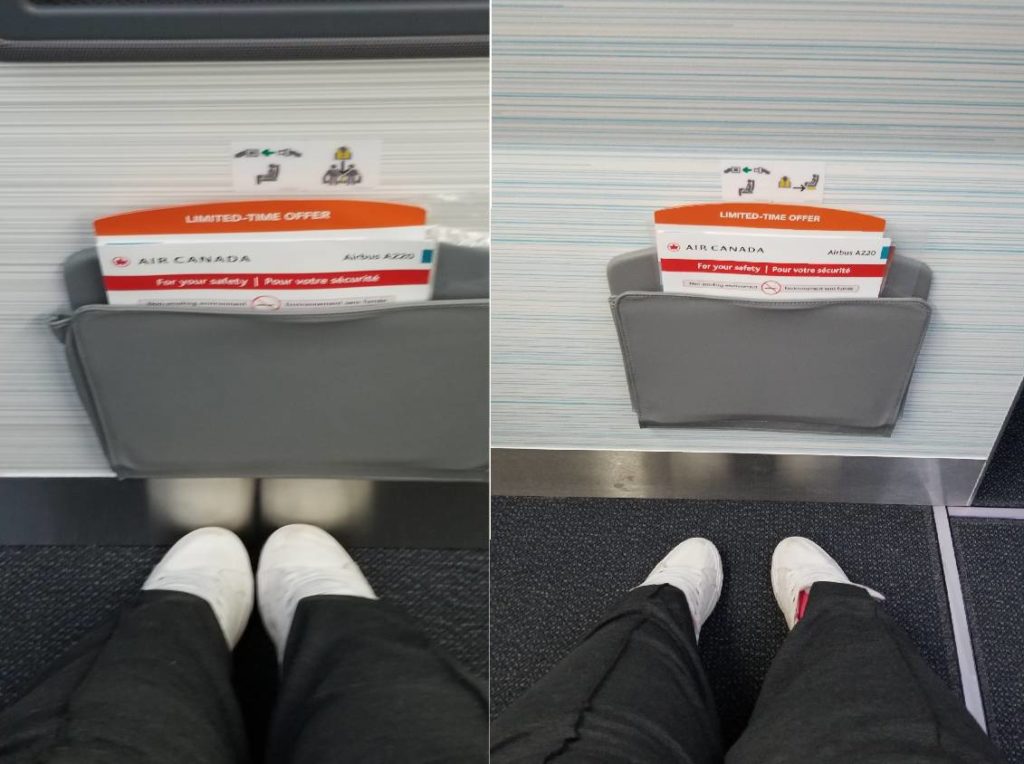 If you're tall, I'd recommend opting for rows 2 or 3 in business class, or the extra-legroom Preferred Seats in economy (the green seats on SeatGuru's handy map). I had significantly more legroom in the first row of economy class (which are Preferred Seats) than I did at the bulkhead seat in business as seen in the photo above; yes, the left photo is of business class.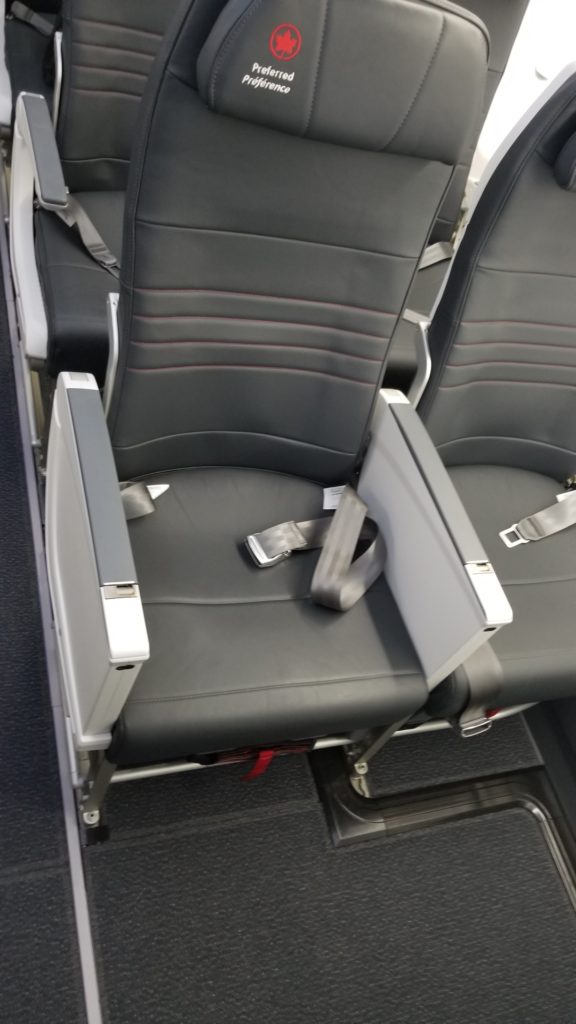 Bolstering the overall "premium" feel of this aircraft are sparkling new inflight entertainment systems at every seat, including 12-inch displays in economy class.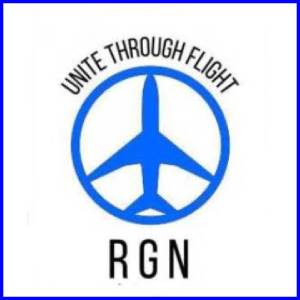 Air Canada has long been committed to providing passengers with seatback IFE, even on its large regional jets. And its decision to honor that heritage on the A220-300 is most appreciated indeed.
After all, IFE is not just a nice-to-have. It can serve as a distraction for passengers who are anxious flyers or feel uncomfortable in confined spaces.
The Panasonic Avionics eX1 system is more inclusive than some of Air Canada's older embedded IFE systems, boasting 15 languages, closed captioning for the deaf and hard of hearing, and accessibility for visually-impaired passengers.
It's great to see airlines like Air Canada take the initiative to ensure accessible IFE for passengers.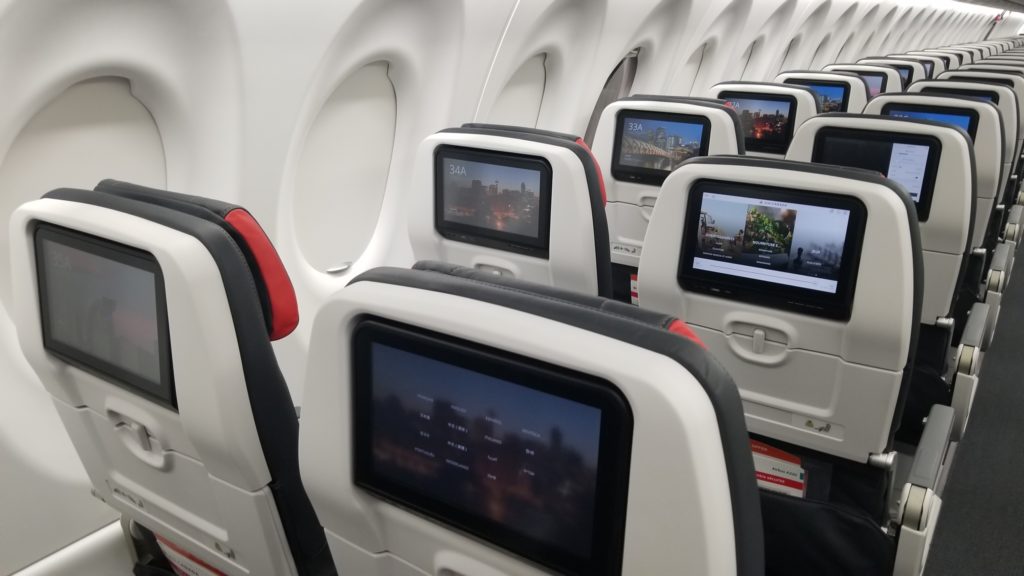 USB charging ports can be found at every IFE screen. And 110v power is on offer, attached to the seat leg in front (so be prepared to crouch down a bit). The high-speed Internet is powered by Gogo 2Ku satellite-based connectivity.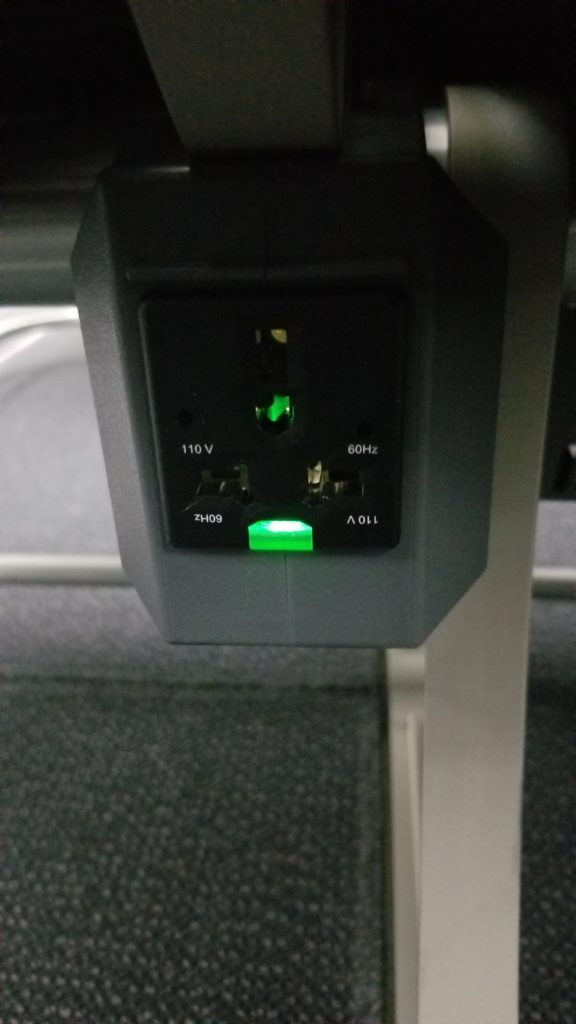 All seats on board the Air Canada A220 are provided by Collins Aerospace, an Air Canada spokesperson confirmed to me. Collins also provides the avionics for the A220, giving it profound nose-to-tail content on this new twinjet. New deliveries will replace Air Canada's Embraer 190 fleet.
As you can see, there are notable #PaxEx pluses on Air Canada's A220-300, and the carrier overall should be lauded for its efforts. But I was disappointed by one facet.
The two small lavatories at the back of the aircraft were a very tight fit for me. So much so that I had to turn sideways to enter the door. And once inside, it was nearly impossible to maneuver around.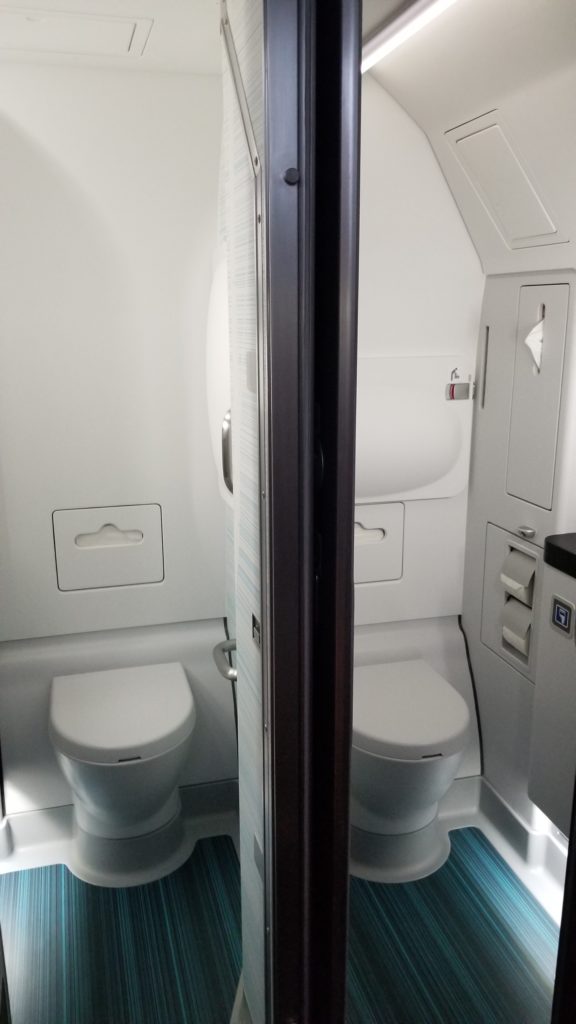 These two lavs can be modified to accommodate passengers with reduced mobility – an inner door opens up between them. But you still need to be able to squeeze into the front door of one of the lavs to use this functionality.
If I was even an inch larger, I simply wouldn't fit through the door, and wouldn't be able to use the bathroom. So if you're a larger passenger booking the A220 because of its larger seats in economy class, you might be surprised that the economy lavs don't share this design ethos.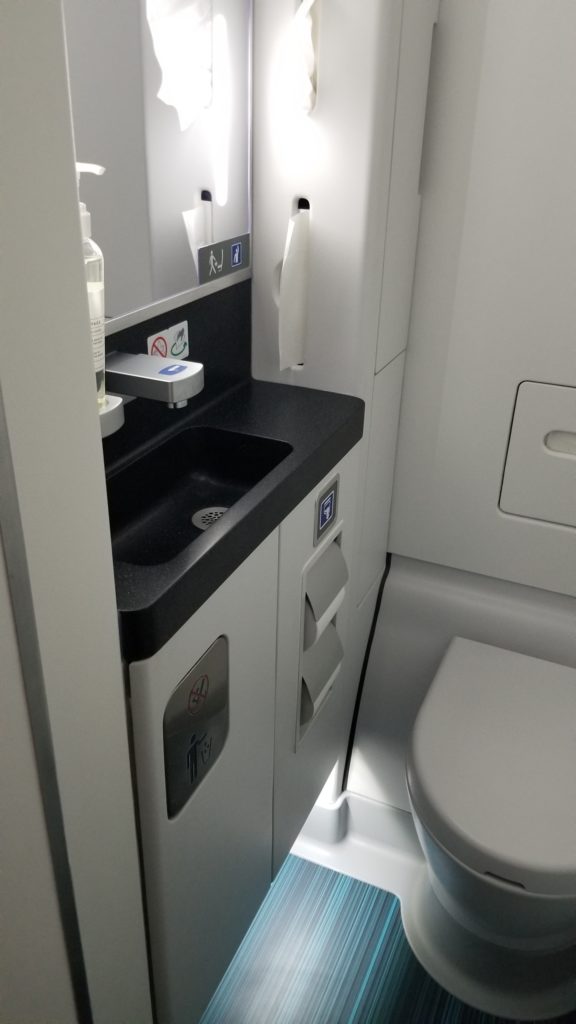 An interesting design note for parents – the lavs feature changing tables which are shaped like a shallow bowl to effectively cup the child for added safety. However, here again, the lack of space in the lav is a concern, as I am certain that a plus-sized mother would have very limited ability to move when the table is pulled out.
Overall, the aircraft is impressive. And I was not alone in feeling some homegrown Canadian pride in Air Canada's big reveal, and the fact that it is the first North American operator to fly the A220-300 series. Delta launched the A220-100.
Indeed, Air Canada CEO Calin Rovinescu noted that the airline's order for the A220 – when it was known as the C Series – was made "at a crucial juncture in the aircraft's history".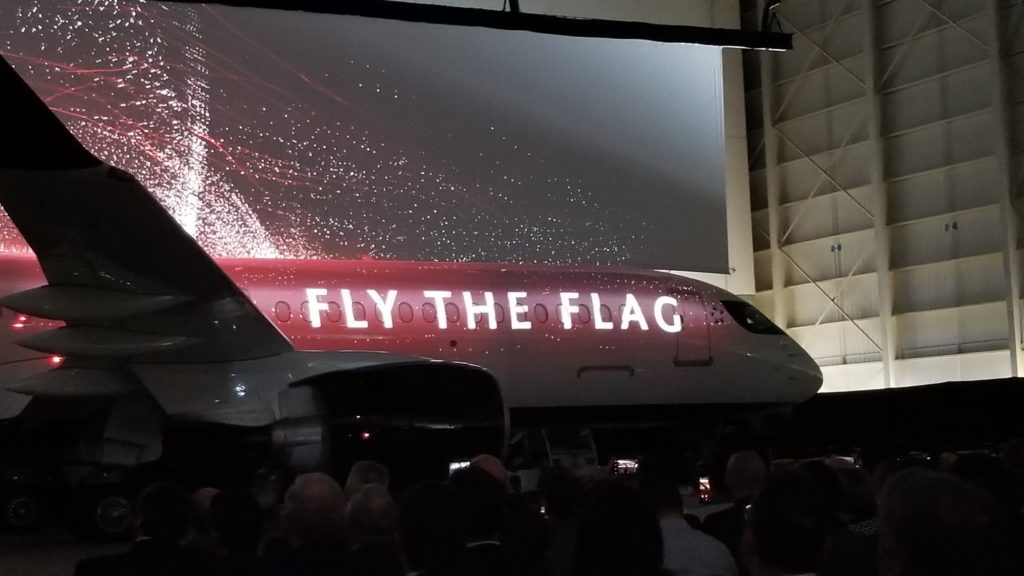 He said: "As the first North American carrier to place a firm order, we helped put the program on solid footing encouraging other global carriers to have confidence in placing orders that the aircraft model would survive. In this way we feel … we are proud that we played an important role in keeping Canada on [the] leading edge of innovation in the aerospace industry, which is certainly where the A220 places Canada."
Air Canada yesterday launched its first A220-300 revenue flight, from Montreal to Calgary. The aircraft is set to operate between Montreal and Seattle, and between Toronto and San Jose, California starting 4 May 2020.
Related Articles: