With the first flight of my Canadian Air Carrier Extravaganza, West-Coast edition in the books, it was time for me to head back to Vancouver from Calgary.
Though I had tried Lynx Air on the outbound, I reserved Flair Airlines for the return. An ultra low-cost carrier based in Edmonton, fast-growing Flair serves a number of destinations in the United States, especially since receiving the first of over a dozen leased new Boeing 737 MAX twinjets last year — an arrangement that appears to be an area of focus for the Canadian government as it reviews Flair's ownership structure. 
But for the purposes of this trip report, the important part is that the carrier currently flies a few times a day between Calgary and Vancouver, which is what I needed. The prices mentioned in this review are in CAD.
I booked the ticket a month in advance on the company's website, which at the time was offering a low base fare of $65. Like almost every ULCC, the first thing I encountered was bundled packages designed to reduce decision points and streamline the purchasing process, and which may or may not end up working out in favor of one's wallet. 
Flair's cheapest bundle included both a carry-on and checked bag for $51.77. If I had needed both, it would have been a great deal: checked bags alone start at $51.45 and go up from there, while a carry-on is $30.45: a savings of $30. I only needed a carry-on so a bundle would have seen me overpaying.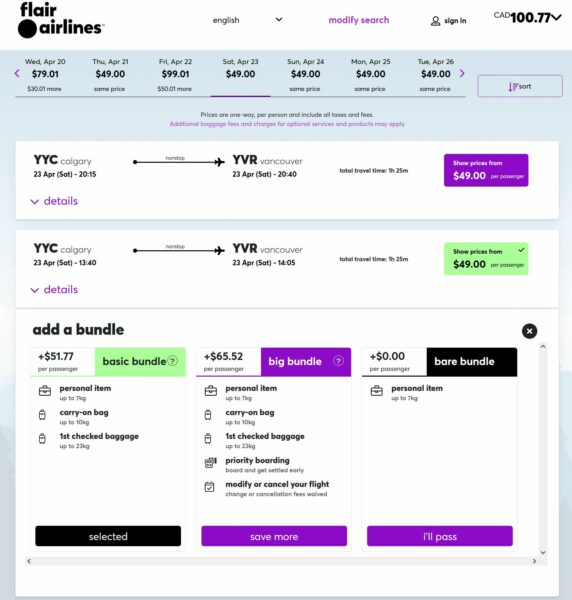 The site did not go out of its way to tell me about such unbundled savings. But for those, like myself, with the fortitude to resist pop-ups attempting to drive you back to the bundles, it turns out you can piece together your needs 'a la carte'.
Seat selection came up first. Extra legroom options like row one and emergency exits cost more ($37 and $26, respectively), while standard seats ranged from $11 to $16. The airline also has an extra legroom section, weirdly located only in the first six rows on the right hand side of the plane. An extra-legroom seat was $26 more. I chose one with a good engine/wing view for $16.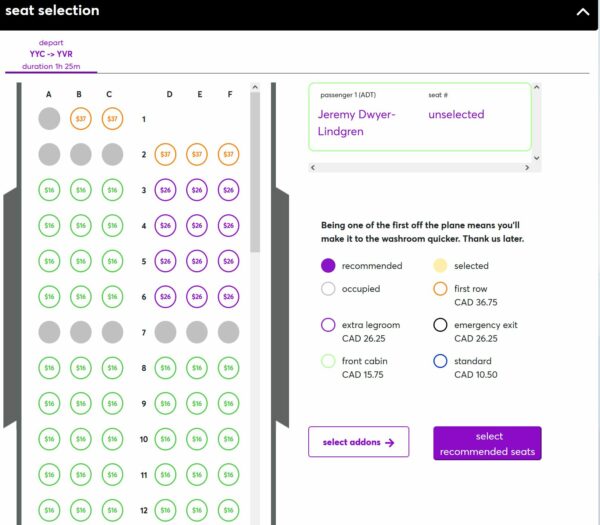 The full 'a la carte' menu appeared next, offering everything from bags to priority boarding to pets in the cabin. I only needed the one carry-on, adding $30.45 to the price. And lo, the cost came out to be $10 lower than the cheapest bundle. In fairness to Flair, that gap is considerably smaller than some other ULCCs, where I've seen spreads of $30-plus.
As always, slow down and run the math when booking with ULCCs, especially when traveling light. It will often – but not always – save you money.
Online check-in opened the day before the flight, and a reminder email popped into my inbox. Flair charges $25 plus tax to use the airport counters in any way, including to print a simple ticket. Needless to say, I stuck to online only and added the pass to my Apple wallet.
Having arrived in Calgary on Flair's newest competitor, Lynx Air, only a few hours earlier, traversing security was not necessary. Given how sleepy the airport was on a Saturday late morning, I don't think it would have mattered anyways.
Boarding began for folks who needed extra time, folks who paid for priority, and then starting from the back rows moving forward. A friendly crew member greeted me as I boarded. My roller bag fit easily into the large overhead bins while crews made announcements about downloading the airline's app to access some inflight entertainment. I quickly downloaded it before takeoff.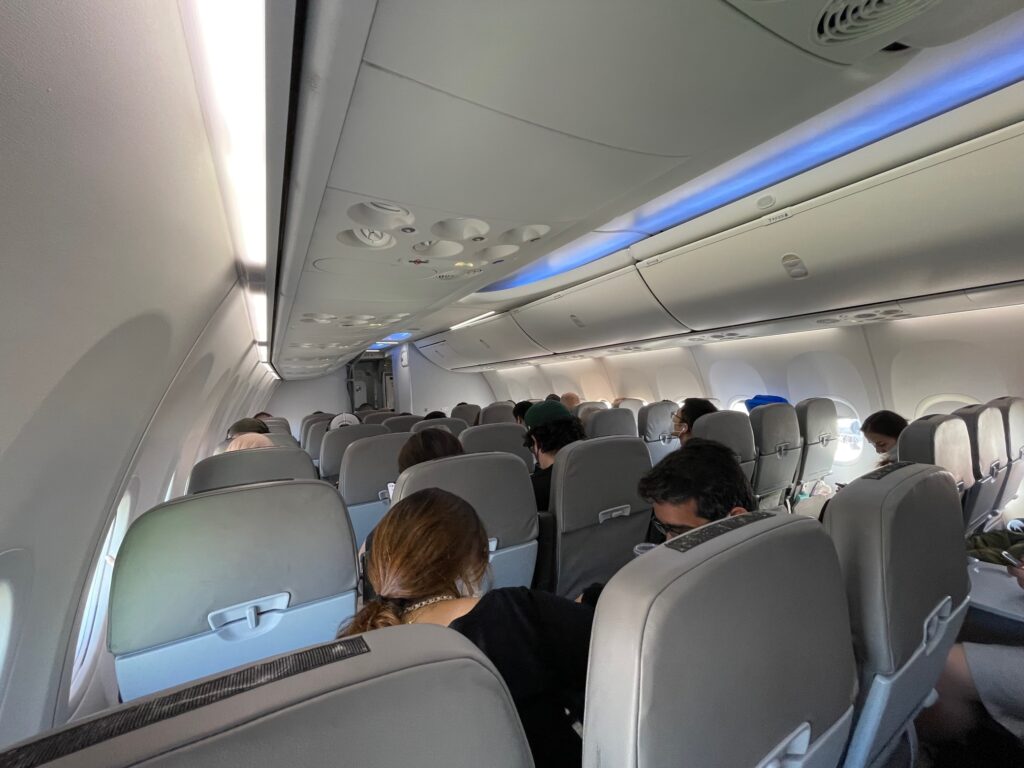 Today's seat was 8A, located ahead of the wing on the Boeing 737 MAX 8 twinjet. The seat was a bit of a curiosity; it seemed too padded to be deemed slimline, but too slim to be standard. It had a recline button, but despite repeated attempts, the recline never worked for me.
There were no power ports that I could find, which I don't understand given the airline's app-driven inflight entertainment strategy (this is the same long-time gripe that passengers have about US low-cost carrier Southwest Airlines).
Seat pitch wasn't clear either, and it doesn't appear that Flair publishes those numbers. It's a sticking point given that the carrier offers several extra legroom options but no apparent way to determine exactly how much extra legroom you'll end up getting. I'd guess my seat came in closer to 29", maybe 30". It felt tight, but that may also be a reflection of the full cabin.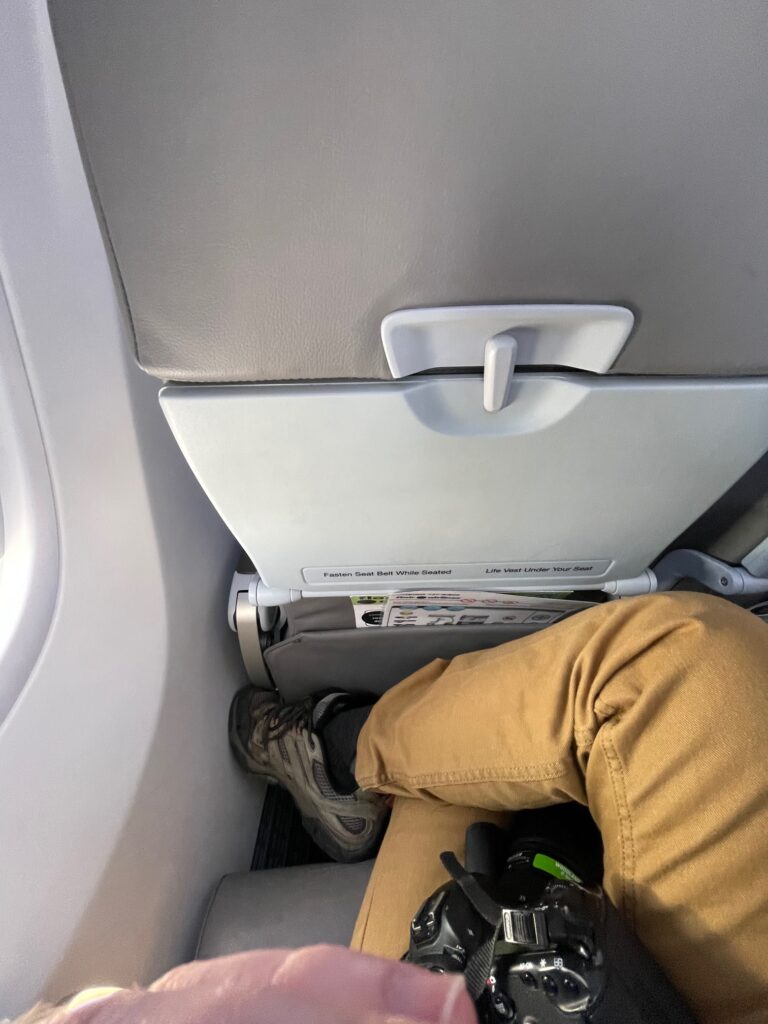 The temperature in the cabin rose to what felt like sauna-level temperatures as boarding took longer than planned, delaying departure by 35 minutes. Even as the aircraft climbed out over the Great Plains of Alberta, the temperature didn't go down that much.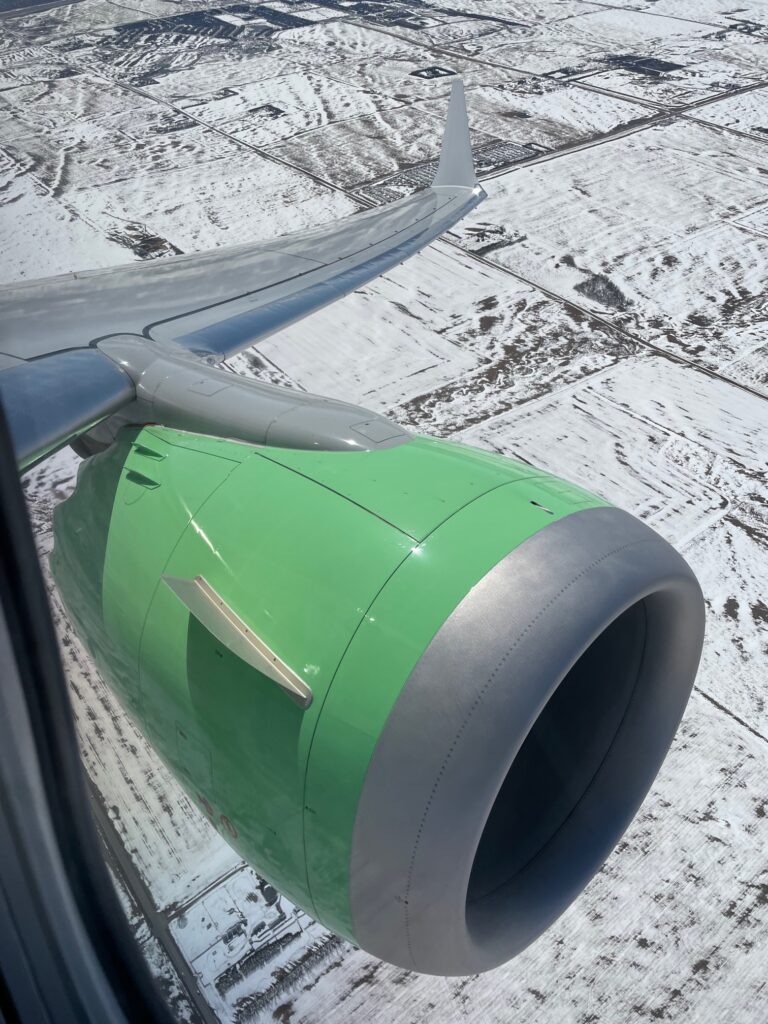 The cabin crew came through shortly after takeoff to offer snacks and beverages for purchase. Flair maintains a modest menu, offering juices and sodas for $3.50 and tea/coffee for $3. Small snacks like beef jerky and Kit Kat bars range from $3.50 to $5.50 while hot snacks including noodle bowls and breakfast muffins are more. A handful of combo deals save a few bucks. You can also order anytime via the app, and a flight attendant will drop off your order to your seat.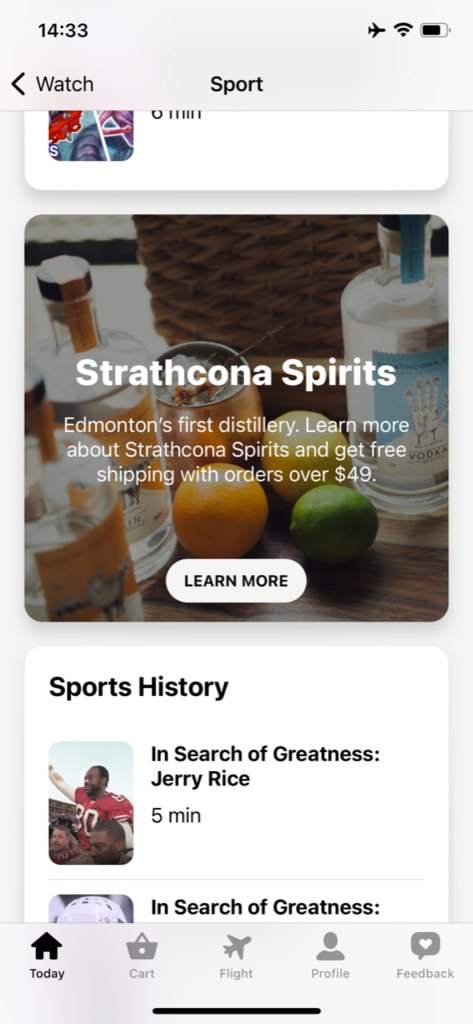 Related, the app took awhile to get going, but once up and running it was a welcome addition to pass the time. I enjoyed one of the dozen or so games on offer, and browsed through a number of video content options.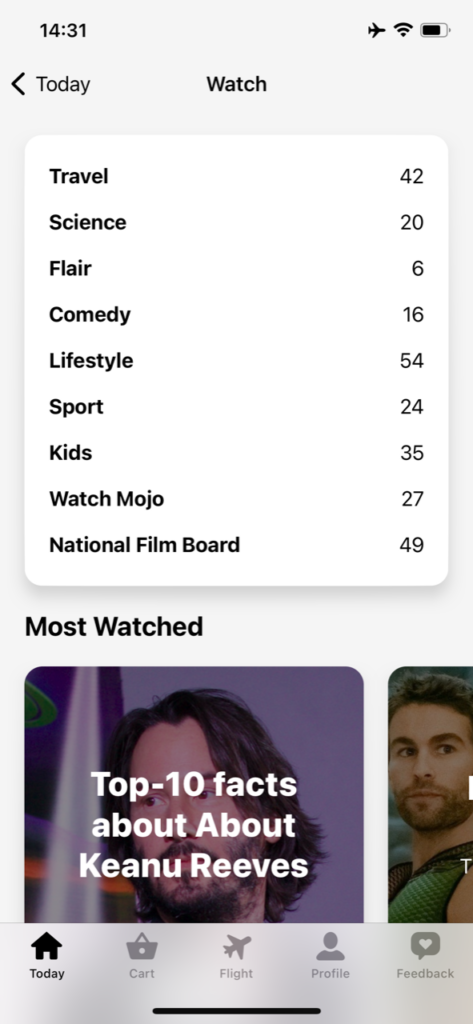 If there were movies, I couldn't find them. Most of the options were clip reels alongside some short original content. Some of them looked pretty interesting, especially the destination-related content. Onboard Internet was not available.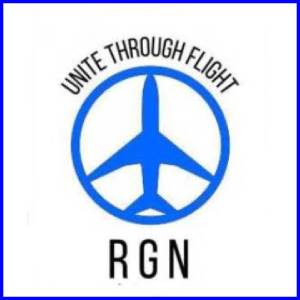 The flight landed a bit behind schedule in Vancouver.
At the end of the day Flair was a mixed experience. I strongly dislike the airline's purchasing process and what seem to me to be pushy tactics. I realize Flair is hardly unique in that regard. But certain ULCC competitors manage to avoid those traps and still appear to make money, showing it can be done.
The onboard experience, though, was rather pleasant, albeit tight. Though I didn't make use of them, I appreciated the buy-on-board food options. The app was a nice addition, and a perfect way to help pass the time. The only real complaint was how warm the cabin remained throughout the flight.
And much like Lynx, Flair is often head and shoulders cheaper than Canada's legacy carrier options. As the passenger next to me remarked, "this flight used to be $500 before these [low-cost] airlines came in. Now it's half that or more."

Related Articles:
All images of Flair credited to the author, Jeremy Dwyer-Lindgren